Want to take your furry friend with you when you go for a bite or for a drink? I put together a list of more than 70 places where you can bring your dog! Disclaimer: sometimes this applies to their terrace only, so make sure to check with the staff.
I have added Tried and Trusted behind the places that I have seen dogs at myself, or know someone who goes there with their dog. If you are going for a lunch or dinner at a restaurant below, make a reservation beforehand and mention that you will bring your dog, so that they can pick out a suitable table for you. If you know of a dog-friendly place that is not on the list, drop me a line and I'll add it!
A furry friend at Barna Brew, Barcelona. Photo © Barcelona Food Experience.
71 DOG-FRIENDLY BARS AND RESTAURANTS IN BARCELONA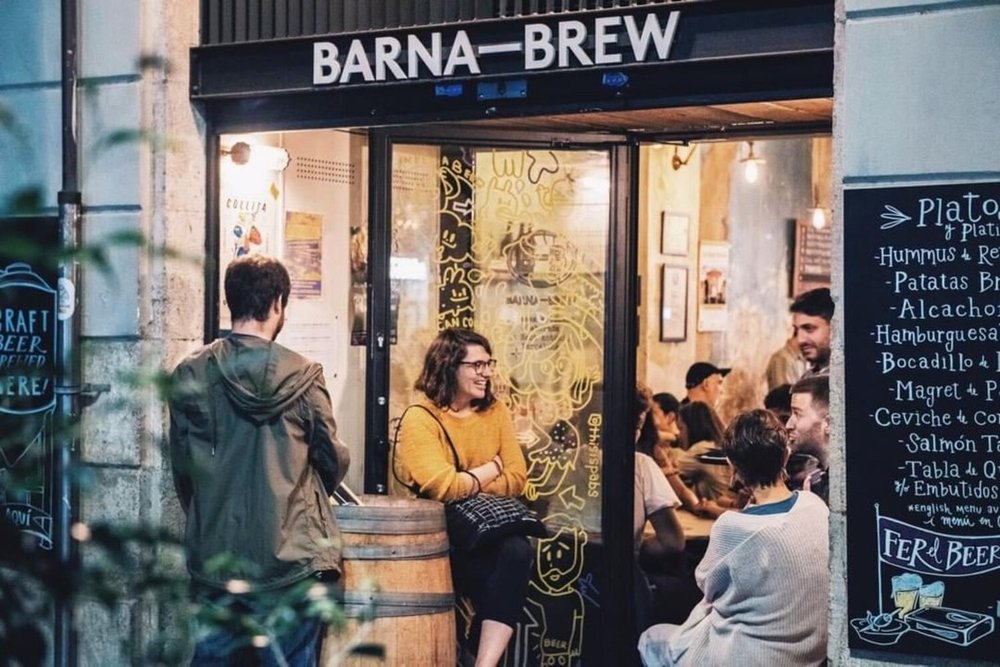 Barna Brew, Barcelona. Photo © Barcelona Food Experience.
Barna Brew is a cozy brewpub in Sant Antoni that I cannot get enough of. There's something about distressed walls and a relaxed atmosphere that really invites to stay and hang out for a while. Barna Brew is not your typical brewpub where only beer geeks (my husband is a confessed one, so no criticism whatsoever to them! 🙂 hang out, it attracts people from near and far, and has become somewhat a Sant Antoni neighborhood hangout. Read my review here. It is very common to see furry friends here, both large and small! Make sure to check out their Soirees, where they invite different bands to play. Carrer de Parlament 45 (Sant Antoni). (Tried and Trusted)
Pit Stop Pizza – Authentic pizza portafoglio with the best Italian ingredients that are kind of out of this world. The place is small but they create magic here. They have a little terrace and they are very dog friendly. Carrer de Sant Antoni Maria Claret 238 (Eixample). (Tried and Trusted.)
Bērytī Bistro – A new, modern Lebanese bistro that welcomes dogs on Travessera de Gracia 228 (Gracia). (Tried and Trusted)
La Suissa – This cute cafe offers specialty coffee, smoothies, pastries and a lunch menu, and is very pet friendly: you can see lots of photos of adorable dogs in their Instagram feed! Carrer Major de Sarrià 1 . (Sarria-Sant Gervasi). (Tried and Trusted).
Little Fern Café – An adorable café in Poble Nou that has pretty much everything one might want. No doubt one of my absolute favorites in Barcelona, I love everything about it. Read my post on Little Fern Cafe here. Carrer de Pere IV 168 (Poblenou). (Tried and Trusted)
The Egg Lab Brunch – One of my favorite brunch places in Barcelona is also dog friendly! C/ de Sepúlveda, 80, Local 2 (Sant Antoni). (Tried and Trusted).
Brew Wild Pizza Bar – A very new addition to the scene in Barcelona, Brew Wild offers amazing pizzas and excellent local craft beers. Carrer del Consell de Cent, 255 (Eixample). (Tried and Trusted).
Chivuos – Chivuo's has one of those concepts that's just what Barcelona needs: inexpensive street food made with a lot of love, and good craft beers to go with it. Read my review here. Carrer del Pintor Fortuny, 15 (Raval), Carrer de València, 204 (Eixample), Carrer del Torrent de l'Olla, 175 (Gracia).
La Carioca – In addition to really yummy Brazilian inspired food and tasty drinks, La Carioca also welcomes dogs both outside on their terrace, and inside, too! Read more here. Plaça de Pau Vila 1 (Barceloneta). (Tried and Trusted)
San Pedrito – This cool Mexican restaurant in the Born is great for tasty food and drinks, too. C/ Fusina 6 (Born).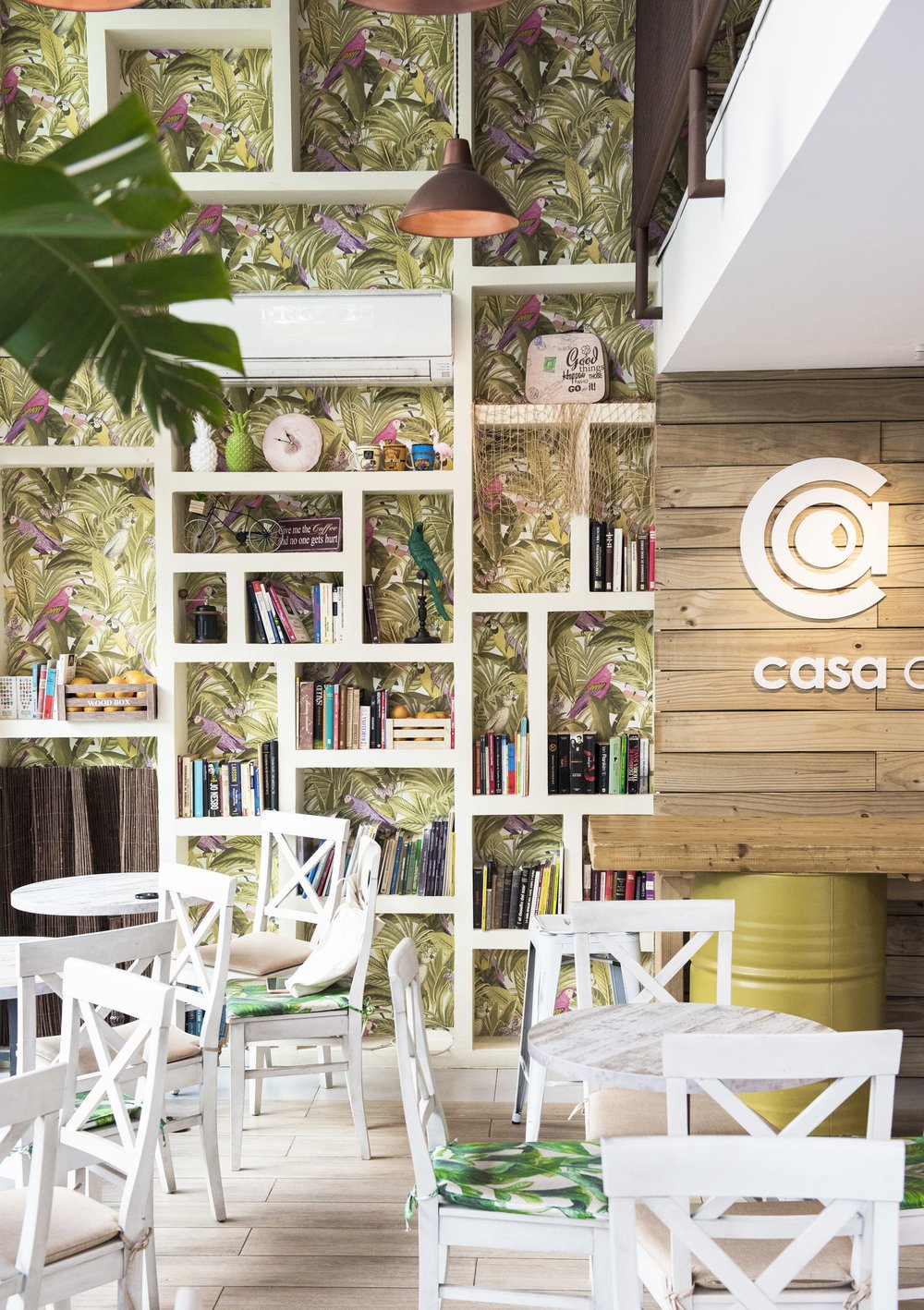 Casa Do Açai has made a name for themselves by bringing excellent quality açai to Barcelona, they are the açai dealers for many cafés and restaurants here, but now they have opened their own brunch place! Read my review here. Avenida de Roma 43 (Eixample). (Tried and Trusted)
Monocrom – This wine bar is lovely, the food is good and they welcome dogs! Plaça de Cardona, 4 (Galvany). (Tried and Trusted)
Hammock Juice Station – Tasty juices, smoothies, pancakes are served here, and dogs are welcome too! Carrer de Mallorca, 308 (Eixample). (Tried and Trusted).
Auto Rosellon – It used to be a car repair shop, and now it's a cool little restaurant with the freshest produce. A perfect place to bring your dog. Carrer del Rosellón, 182, Barcelona (Eixample). (Tried and Trusted)
Centric – This bar is a Raval classic, and has been around since 1940. Go here for good tapas, a beer, and bring your dog with you if you wish. C. de les Ramelleres, 27 (Raval).
La Cava Cakery – Gorgeous cupcakes and cava are the protagonists in this cute shop! They are also dog friendly. Read my review of La Cava Cakery here. Passeig de Sant Joan 111, Barcelona (Eixample). and L'Illa Diagonal shopping center (Tried and Trusted).
Eroica Caffè – Delicious food, coffee and a meeting point for cyclists (and furry friends). Consell de Cent 350 (Eixample).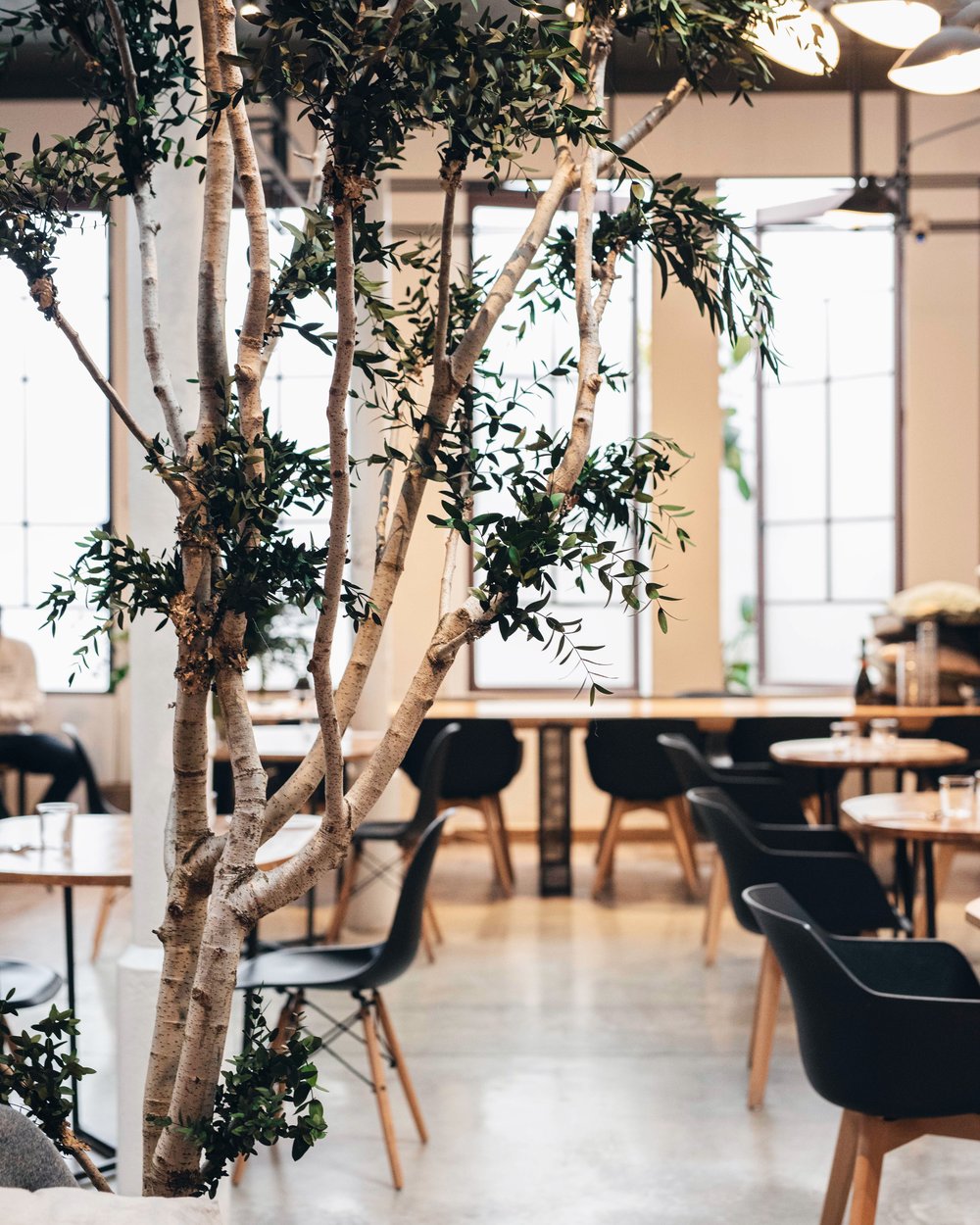 Roots & Rolls – A fun and different proposal like theirs cannot be missed. They are very unique in Barcelona: Japanese/Asian fusion, all plant based. And they are very dog friendly! Read my review here. Carrer del Consell de Cent 401, Barcelona (Eixample). (Tried and Trusted)
Metric Market – An urban market, restaurant and cocktail bar on Avda. Diagonal 505 (Les Corts).
Funky Bakers Deli – This dreamy deli even has dog treats by the cashier! C/ de la Diputació, 347 (Eixample). (Tried and Trusted).
Orval – Specialty coffee, plants and much more is awaits you and your dog, in this cozy cafe. Read my review here. Carrer de Buenaventura Muños 31 (Fort Pienc). (Tried and Trusted).
Ale & Hop – At first sight it looks like a bar with lots of craft beers, which is already great! But then you notice that they do food too: very tasty vegetarian food! The nachos and the black bean burger are very recommendable. Read my review here. Basses de Sant Pere 10 (Born).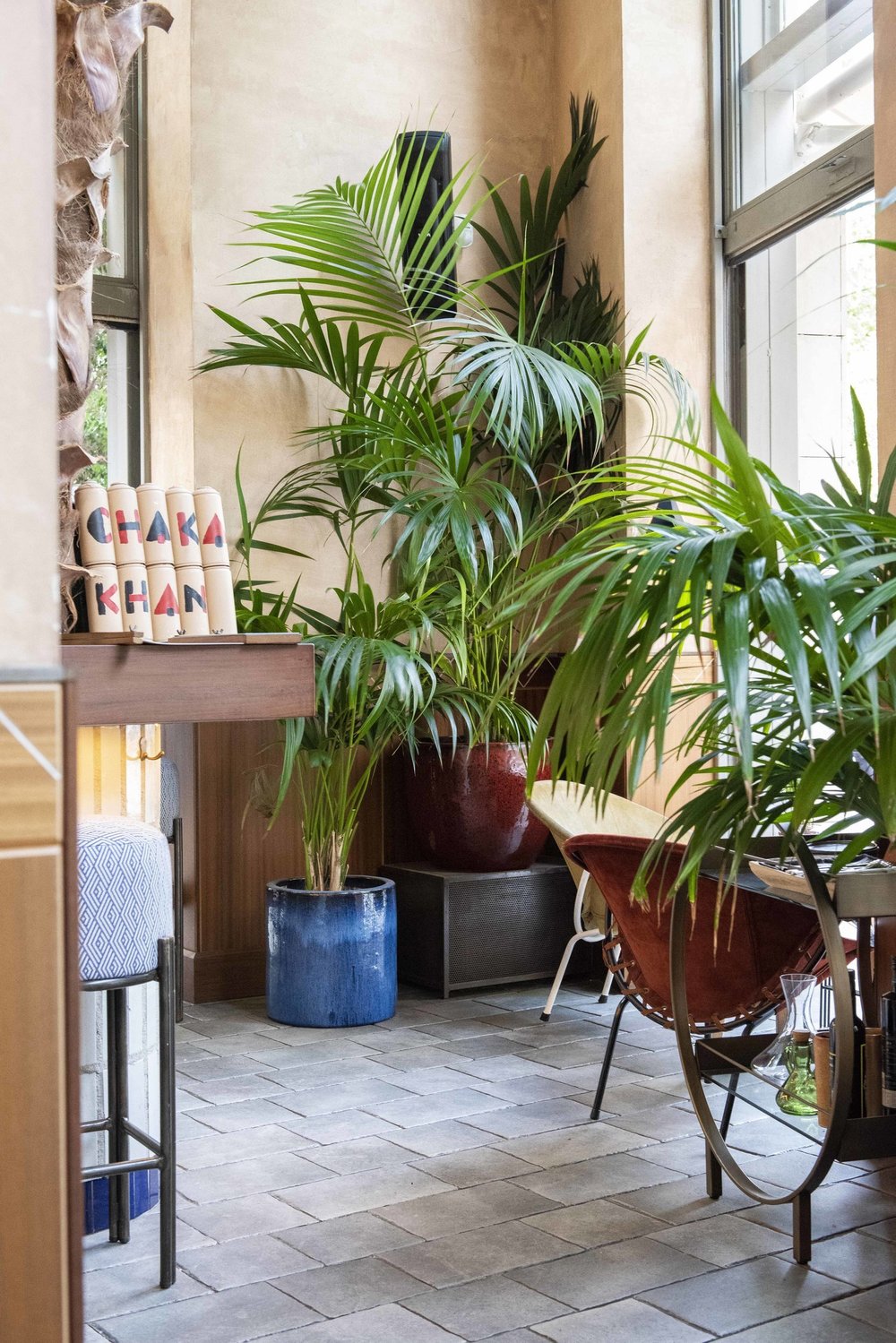 Chaka Khan – This exotic Raval outpost is a wonderfully charming bar and restaurant that has it all: brunch, cocktails, and dinner, in two different variations. Chaka, the downstairs bar and restaurant, is casual, while the upstairs gastro bar Khan is an intriguing surprise with tasting menus. Read my review here. Carrer de l'Hospital 104 (Raval).
The Cakeman Bakery – Hayden makes amazing cakes and pastries in his cafe and bakery in Poblenou, Carrer Amistat 18 to be more precise. And of course it's super dog friendly! (Tried and Trusted).
Xalet de Montjuic – Beautiful views AND dog friendly? Yup, that's right! Beautiful Xalet de Montjuic welcomes both dogs and hungry humans. Avinguda Miramar, 31 (Montjuïc). (Tried and Trusted.
La Cerveseria Clandestina – Beer, live music, art exhibitions…And they welcome dogs! Carrer de Còrsega, 611 (Eixample). (Tried and Trusted).
Boa-Bao – Already popular in Lisbon and Porto, Boa-Bao has opened its doors in Barcelona, offering Asian food in a cute space. Plaça del Dr Letamendi 1 (Eixample).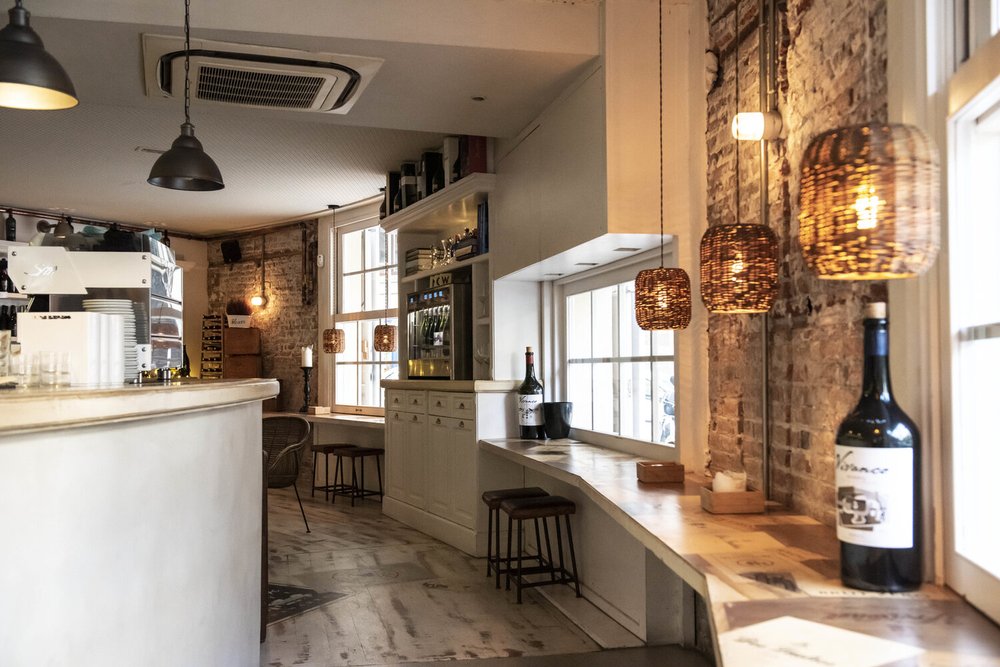 NOW – Not Only Wine – This gorgeous restaurant has a great lunch menu, excellent wines, and a lovely and calm terrace outside. Carrer d'Hercegovina, 28 (Sarrià-Sant Gervasi).
Otra Cosa Taberna – Dishes to share and natural wines, what's not to like? A perfect place to bring your furry friend. Carrer Gran de Sant Andreu, 45 (Sant Andreu).
Libertine – Already from the street Casa Bonay where Libertine is situated the place oozes of New York vibes. The hotel also hosts Satan's Coffee Corner, and a restaurant called King Kong Lady. At Libertine they arrange cool events on a regular basis, sign up to their newsletter for all the info. Gran Via de les Corts Catalanes, 700 (Eixample).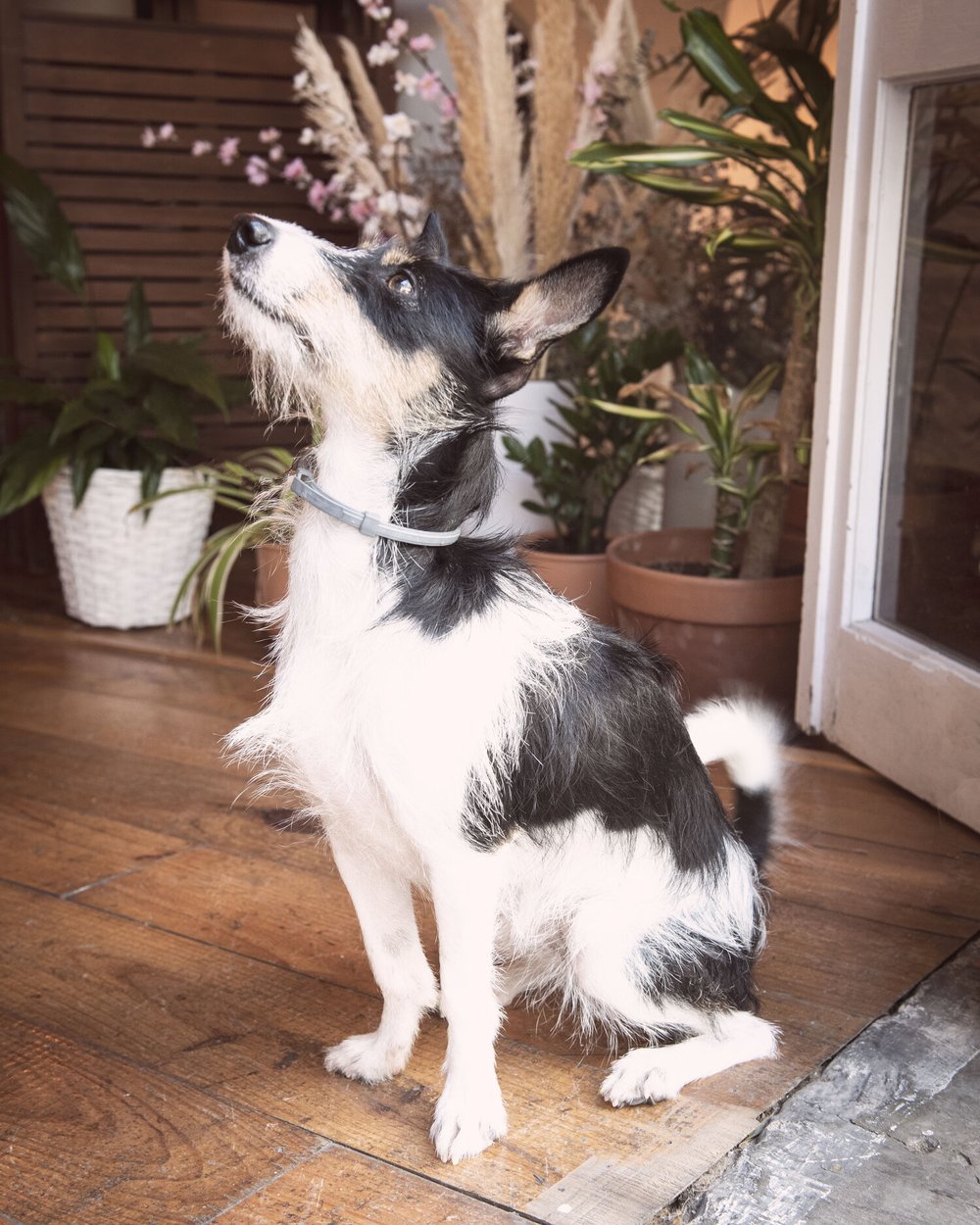 El Mercader Del Eixample – This cozy restaurant has a dog-friendly terrace. Carrer de Mallorca, 239 (Eixample). (Tried and Trusted).
Akashi Gallery – This sushi restaurant is also a photo gallery! Roselló 197 (Eixample).
Palo Cortao – Hidden away inside super cool Hotel Brummell you'll find friendly Palo Cortao, a restaurant offering tasty southern Spanish dishes and interesting wines. The patio is perfect for bringing your dog. Carrer Nou de la Rambla, 174 (Poble Sec). (Tried and Trusted).
Lúcuma y Camote – Peruvian and Mediterranean meet in this new restaurant on Avenida Icaria 132 (Vila Olimpica). (Tried and Trusted).
Alma Barcelona – Stylish Alma has a beautiful outdoor terrace that not many people know about. Carrer de Mallorca, 271 (Eixample). (Tried and Trusted)
El Filete Ruso – Classy and tasty burgers with a slow-food focus and a dog-friendly terrace. Carrer d'Enric Granados, 95 (Eixample). Tried and Trusted)
Lascar 74 – A popular ceviche and pisco bar located in Poble Sec. Carrer Roser 74, Barcelona (Poble Sec).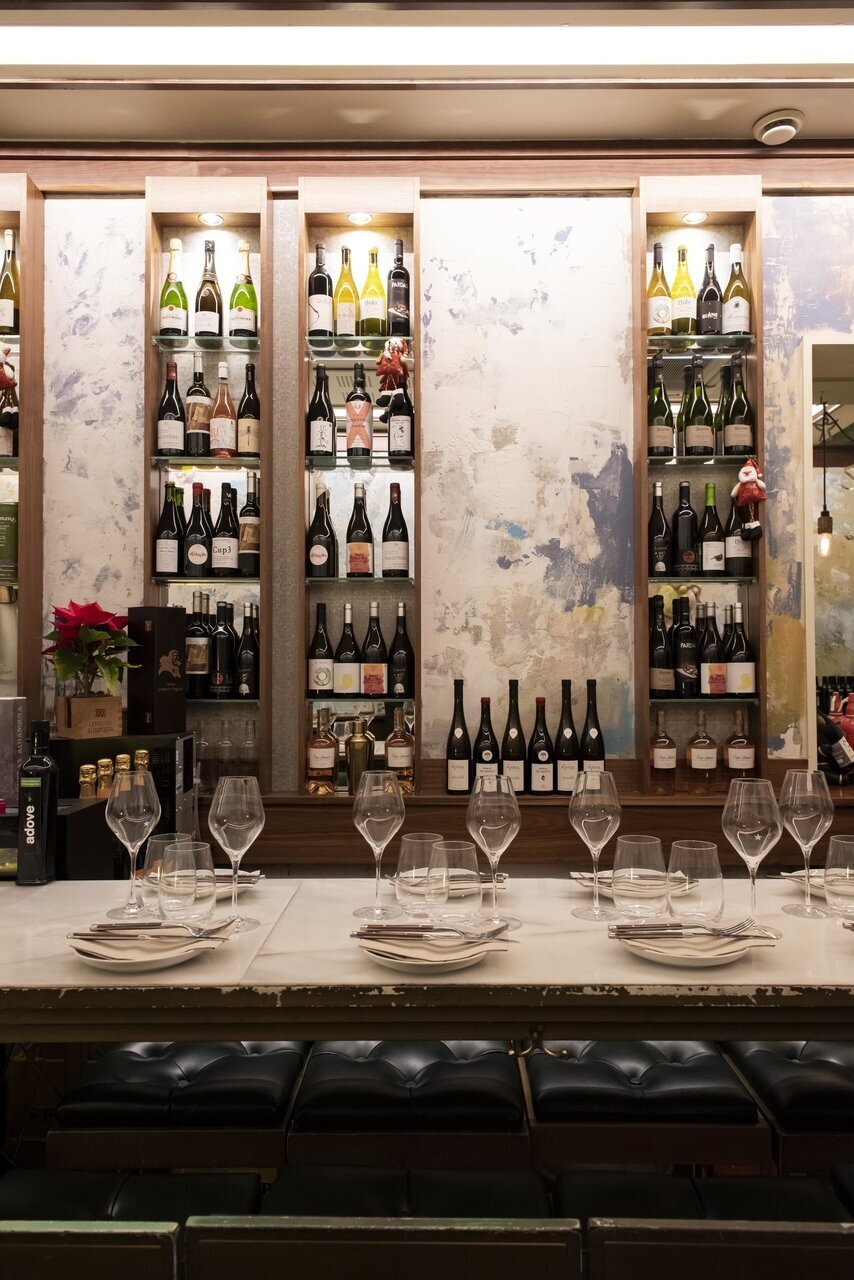 Denassus – Two friends and sommeliers put their heads together and created Denassus: a fun and cozy place to discover both local and foreign wines, paired up with dishes that are perfect for sharing with a friend. Their natural wine selection is very much on point. They have a terrace on the street that is perfect when you bring your dog. Carrer de Blai, 5 (Poble Sec).
Las Sorrentinas – A cosy Italian restaurant located in the Born. Plaça de Sant Pere nº5, Barcelona (Born).
Els Sortidors del Parlament – Charming doesn't quite cut it when you want to describe Els Sortidors del Parliament: it's much more than that. Sit by a barrel, enjoy a glass of tasty wine, and pair it with a cheese board. This is happiness you guys. Read my review of Els Sortidors del Parlament here. Carrer del Parlament, 53 (Sant Antoni).
Bar El Velódromo – Local brewer Moritz has restored this historical Art Deco tavern, that is famous for its tapas. Carrer de Muntaner 213 (Eixample).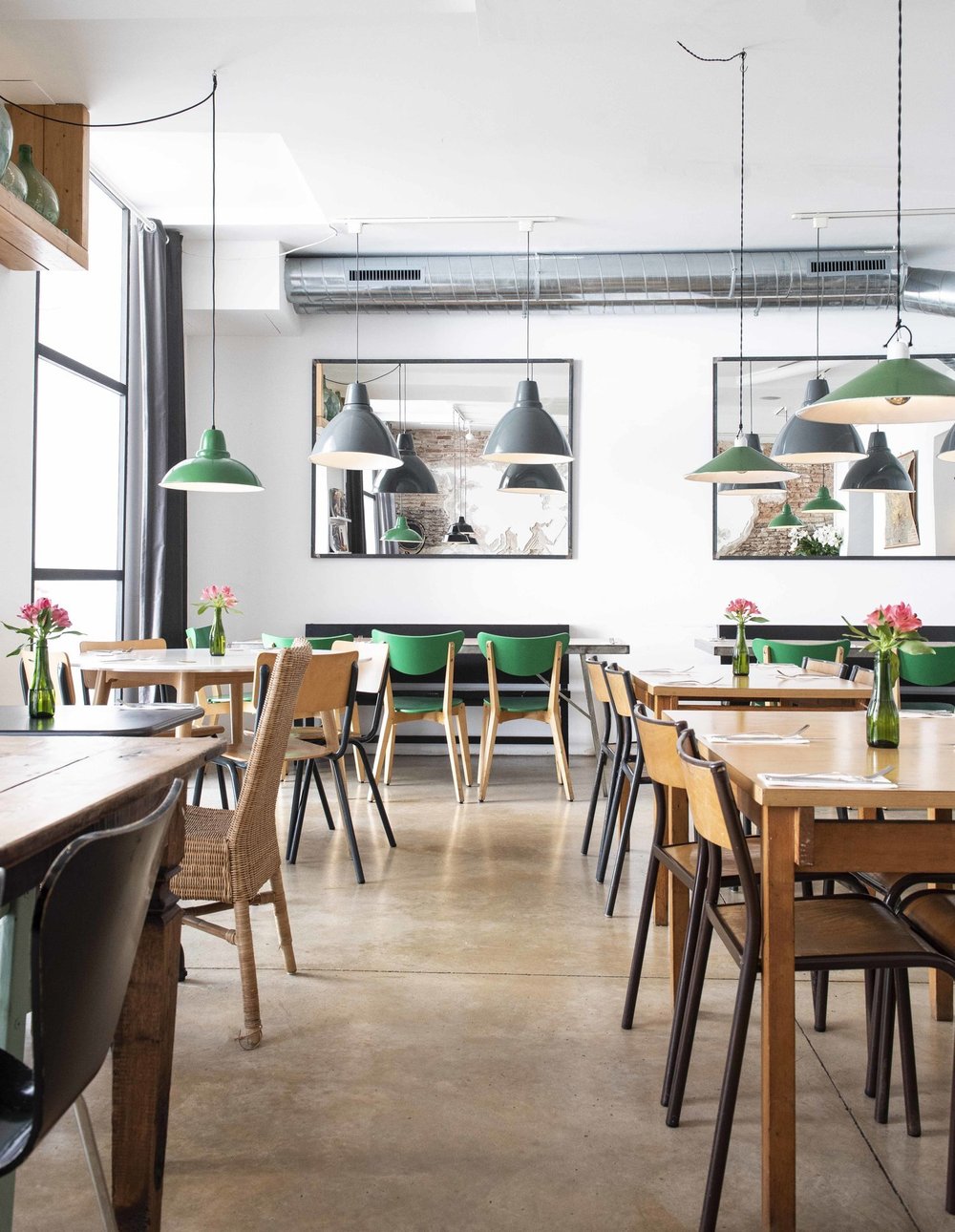 Trópico -The menu has influences from all over the world, and the food is both tasty and fun. All the items on the menu are available all day, which is perfect if you come hungry and are looking for some sustenance. Read my review here. Carrer del Marquès de Barberà, 24 (Raval).
Bistrot Levante – For a Brooklyn kind of vibe but with a homey feeling head to Bistrot Levante, where you are guaranteed value for money. Elaborated, beautiful dishes (and great wines!) in a pretty little place. Placeta de Manuel Ribe, (Gótico).
Bar Lobo – Located just next to the Ramblas this tapas bar is always busy, and frequented by plenty of tourists. But the quality is good, and they have a nice terrace if you'd like to catch some sun too.  Bar Lobo belongs to the Tragaluz group, and all of their restaurants welcome dogs. Read more here. Carrer del Pintor Fortuny 3 (Raval). (Tried and Trusted)
Ancestral bar – Such a surprising place, in a surprising location right by the Diagonal, and it has its own terrace! Wines, craft beer, and a little something to snack on too. Carrer de Provença, 340 (Eixample).
Bar Calders – A Sant Antoni classic. It is very popular, and it can sometimes be difficult to find a seat, especially on the terrace. Go here for tapas and good vermouth. Parlament, 25 (Sant Antoni).
Isabella's – A cozy Italian restaurant with a very cool interior. Carrer de Ganduxer, 50 (Sarrià – Sant Gervasi).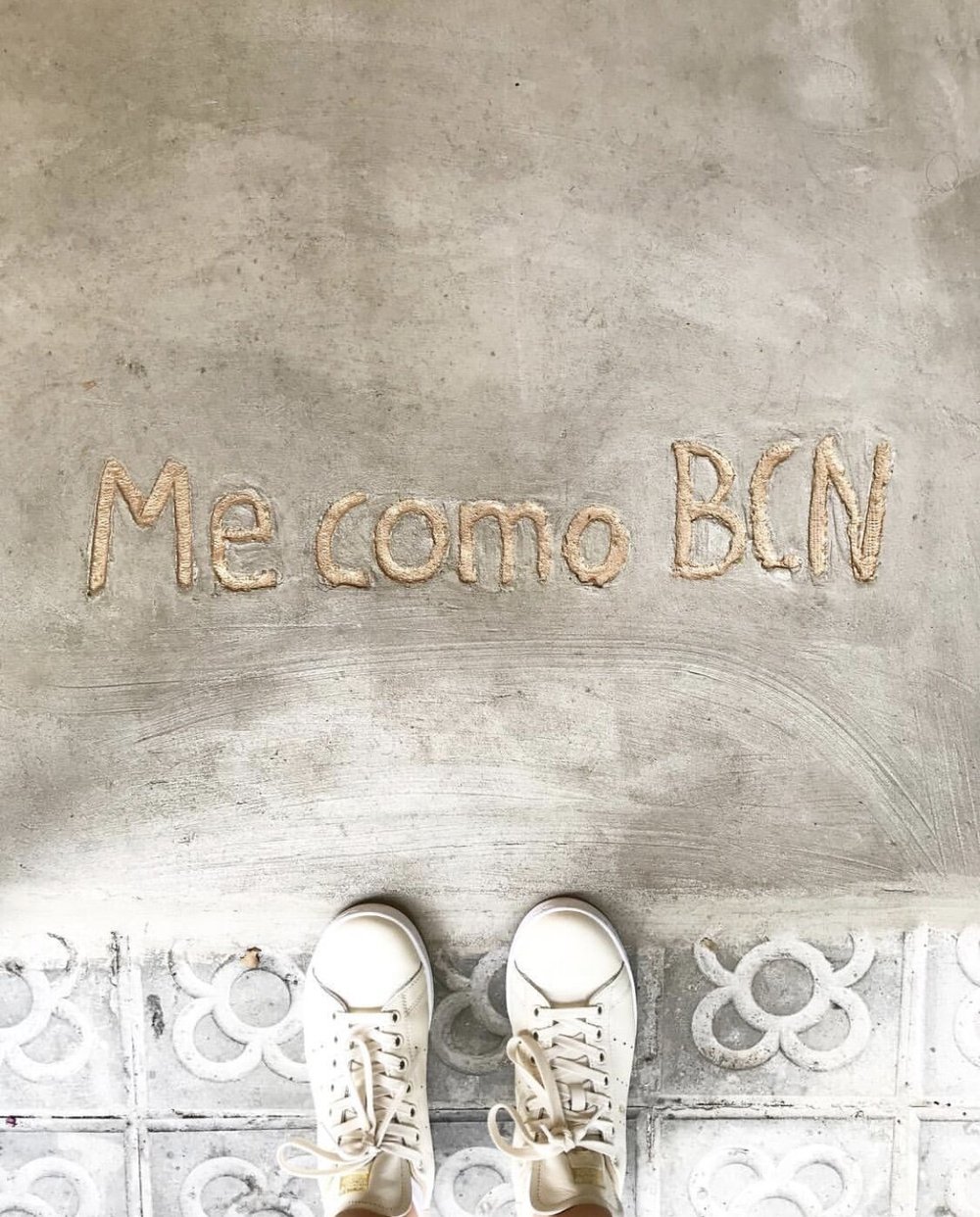 Cookona – The concept here is cookies and cookie dough, and they create pretty amazing things. For a birthday party ask for the cookie pizza! Read my review of Cookona here. Carrer Roselló 160 (Eixample). (Tried and Trusted)
Fábrica Moritz – The food is really good here! The menu is very long so you're sure to find something that you like. They've got tapas, seafood, meat, snacks, you name it. On the weekends the line is long at peak hours. But if you go early you won't have a problem, and it's really worth it! Read my review here. Ronda de Sant Antoni 39 (Sant Antoni).
Rasoterra – Cool place, inexpensive, exciting food. Do we need to say more? They put plenty of focus on the slow-food concept. More info on Rasoterra here. Carrer del Palau 5 (Gotico).
Copasetic – In addition to being vegetarian it is also gluten-free. It's famous for its brunch. Carrer de la Diputació 55 (Eixample).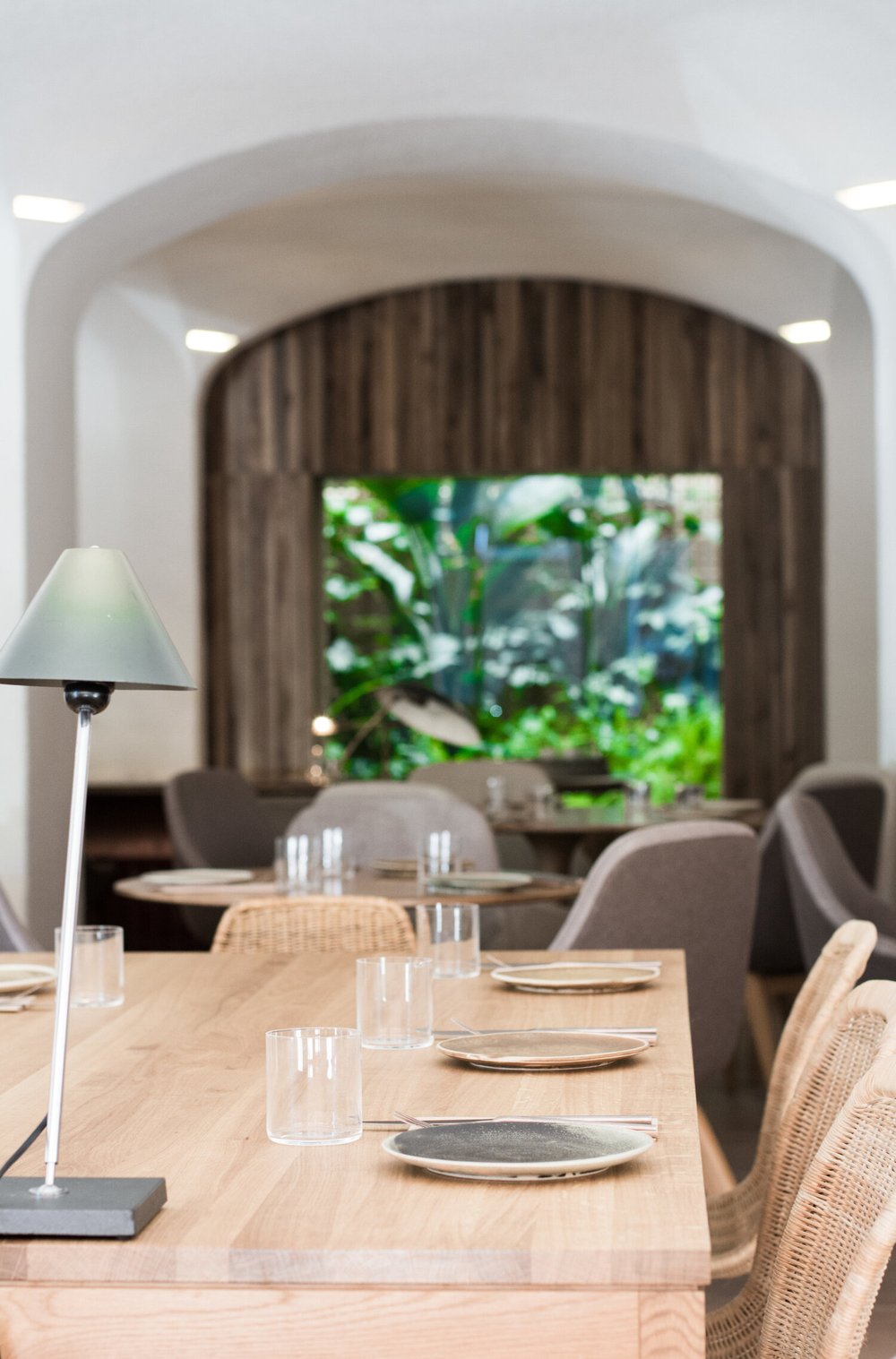 The Green Spot – Beautiful, classy place with innovative food. Read more here. Carrer de la Reina Cristina 12 (Born).
La Desayuneria – It has a wonderful diner vibe to it: it's friendly, welcoming and the menu is precisely what you'd expect and so much better. I was laughing hysterically when I got the menu: how could I choose from 8 pages of delicious food?! Their pancake options are abundant, and you can also get them gluten-free. Read my review of La Desayuneria here. Carrer del Comte Borrell 75 (Sant Antoni).
Espai Joliu, Barcelona. Photo © Barcelona Food Experience.
Joliu Studio -A space with a Berlin vibe where you can get some work done (you can book your space beforehand!), buy plants, cool magazines, art, hand-made jewellery and crafts, AND get good coffee. They have great cakes and cookies, many of them vegan. It is not uncommon for people to bring their dogs here. Read more about Joliu Studio here. Carrer de Badajoz 95 (Poblenou). (Tried and Trusted)
La Carassa – These guys are experts on fondues, and it has the feeling of an Austrian ski cottage. Low ceiling beams, candles and hand-made lace table cloths. Brosolí 1 (Born).
La Masala Café – Wonderful little place with vegetarian goodies and specialty coffee made with love with a La Marzocco. I love their home-made chai. Read my review here. Carrer d'en Mònec 6 (La Ribera).
Can Solé – The restaurant is more than 115 (!) years old, a classic in the city. Great paellas and seafood is on offer here, and they welcome friendly dogs. Blog post for more info here. C/ de Sant Carles 4, Barceloneta.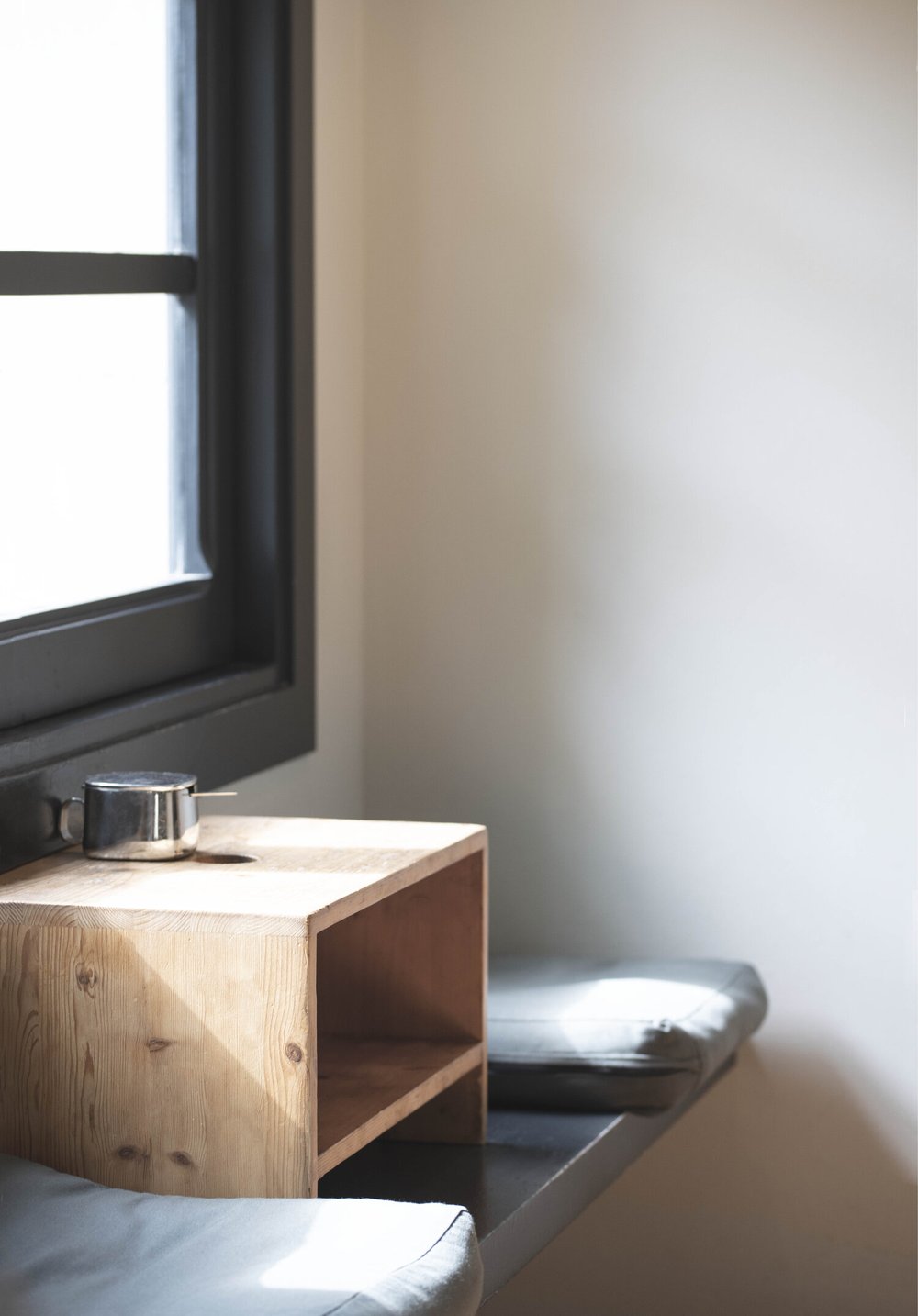 Federal Café – They have two locations, both with healthy options like avocado toasts and chia puddings (it's HUGE), both good for working, but you might have to sit at a communal table if you bring your laptop. Parlament 39 (Sant Antoni) / Passatge de la Pau 11 (Gótico).
Les Filles Café – This place is a very well kept secret, with a lush green patio and fresh and innovative dishes. You'll find spices on the menu you rarely find in restaurants around here, such as ras-el-hanout and dukkah. Carrer de Minerva 2 (Gracia). (Tried and Trusted)
Mordisco – A beautiful restaurant by the Tragaluz group that also welcomes dogs. Passatge de la Concepció, 10 (Eixample). (Tried and Trusted)
Almalibre Açai Bar – They really know their açai here (they import it themselves, and it's 100% pure and undiluted), but they also have excellent vegetarian and vegan items on their menu. Their vegan burger is delicious. Carrer de Girona 118 (Eixample). (Tried and Trusted)
Brunch & Cake – A popular brunch hangout that also welcomes dogs. Various locations.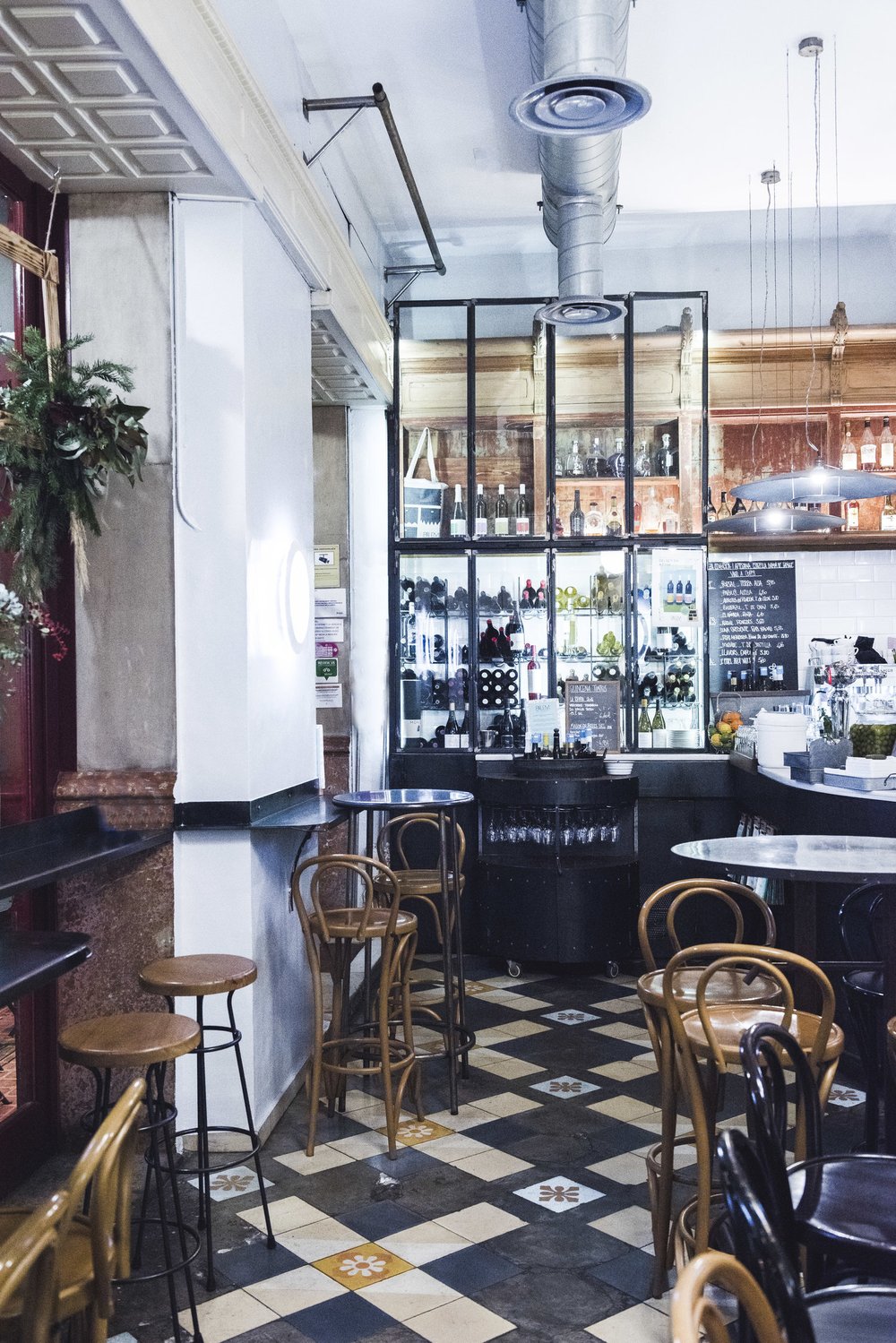 Betlem Miscellánia Gastronomica – Betlem is not the trendy place that everybody is talking about, which often is a good sign. The restaurant itself is not big (it has a private dining room upstairs you can book though), but just that perfect size for something casual. I love the atmosphere, if you come early you get some peace and quiet, and as the evening turns into night so does the volume and the fun. They have a small street-side terrace. Read my review here. Betlem, C/ Girona 70 (Eixample).
Sasha Bar – A cool and charismatic restaurant that charms anybody who visits. Carrer Margarit, 18 (Poble Sec).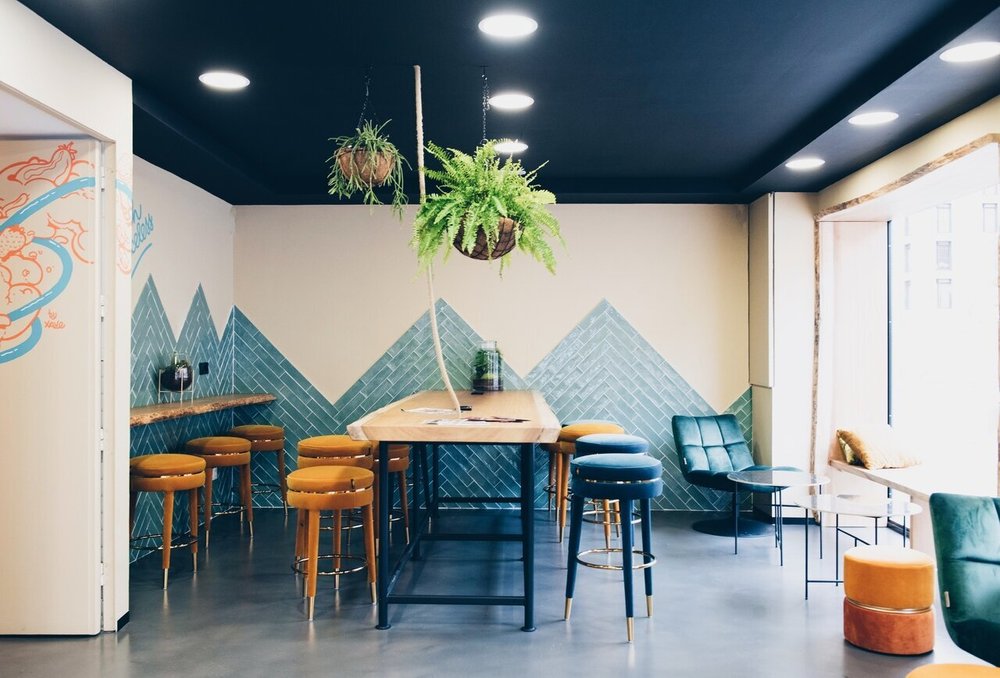 Juice Dudes – Go here for wonderful açaí bowls, smoothies and other treats, but also the very good specialty coffee. Read my review here. Various locations. (Tried and Trusted)
Sopa – It looks a bit like a school lunch room at first sight, you queue for your food and sit down at simple tables and chairs. But who cares? The food is great, and healthy! The menu changes every day, and for very little money you get a starter and a main course and you won't leave hungry. There is dessert too should you be interested, cakes and healthy smoothies and juices. You can choose to have your food to go too. Read my review here. Roc Boronat 114 (Poble Nou).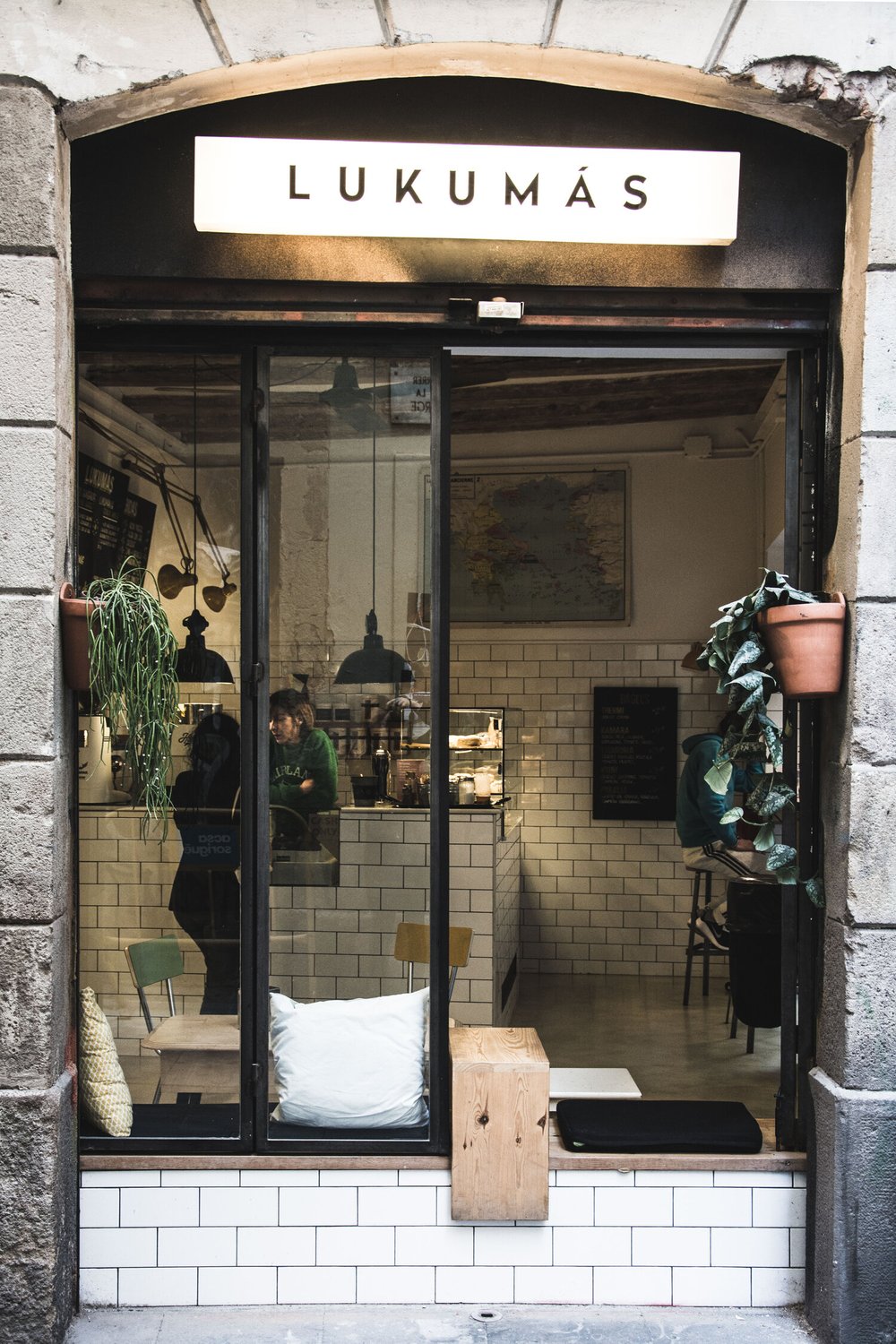 Lukumas – One of the best donuts in the city! Their shop is tiny but they have a few seats. Read more about Lukumas here. Torrent de l'Olla 169 (Gracia).
Brera – An Italian restaurant located in Sants, with delicious comfort food. They specialize in gnocchi! Carrer de l'Aliga 25 (Sants).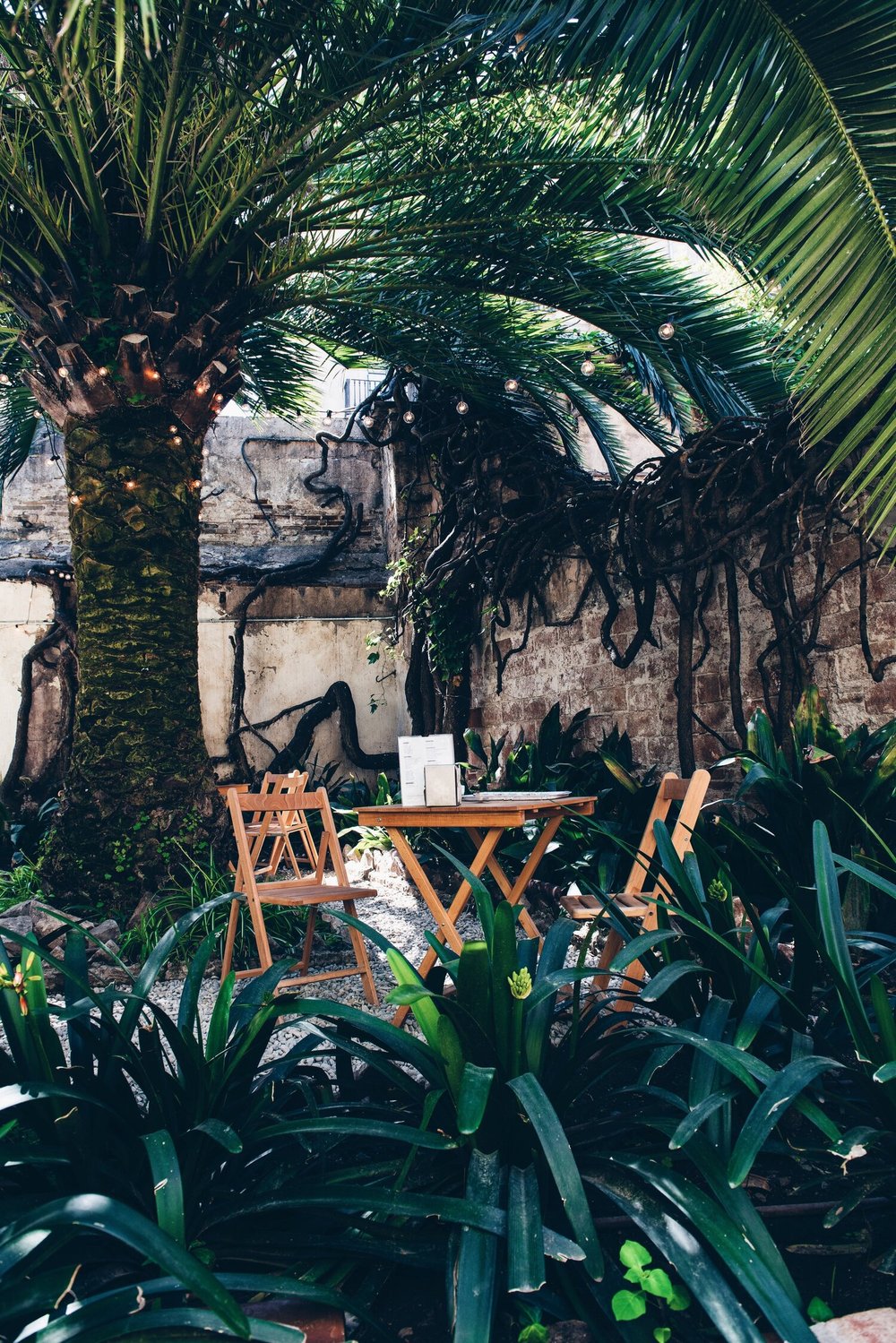 Bar Central – Somewhat of a poorly-kept secret that is very much worth a visit. This space has been renovated and opened for the public and offers a wonderful space (it even has a tiny little waterfall!) both outdoors and indoors. Great coffee is guaranteed here. Perfect place to bring a dog! Read my review here. Carrer Elisabets 6 (Raval).
Balafria – I love this friendly cafe in Putxet! They serve food and snacks, Nomad Coffee, iced tea (great teas from nearby Tetera) and more. A home away from home! Read my review here. They are very friendly with dogs. Carrer Sant Hermenegild 2 (Putxet). (Tried and Trusted)
Match from Scratch – An intriguing new restaurant serving Mediterranean cuisine with Italian influences. Aribau 146B (Eixample).
Ocaña Cafe – A casual hangout on Plaça Reial that is great for people watching. It is open all day and is perfect for a coffee, a glass of wine, a snack or a lunch. They have live music too on occasion. Plaça Reial, 13 (Gótico).
The Juice House – Everything on their menu is healthy, I love this place. Check out the beautiful mural in the back. Read more here. Carrer del Parlament 12 (Sant Antoni)
La Porca – Poble Sec hides a few well-kept secrets, and La Porca has made a name for itself with their excellent sandwiches and burgers. One of the top sellers is the recently added Triple Porca that began as a seasonal sandwich but has turned into a fixed item on the menu. Make sure to try their Bravas, they are very unique with slow-cooked tomato, a touch of chipotle, and with roasted pork on top. Read my review of La Porca here. Carrer de Mata 16 (Poble Sec).
Cremat 11 – Not only is this place hidden away on a quiet street in the Born, just a hop and a skip away from the Picasso museum, but it also has a terrace! They serve a delicious brunch, with one of the prettiest pancakes I've seen. Read my review on Cremat 11 here. Carrer Cremat Gran iXic 11 (Born).
Rare Burgers & More – Try the famed Beyond Burger, made with 100% plant-based beyond meat. The burger menu is short and sweet, but you can't go wrong here, really. The fries are excellent, and the speculoos dessert is to die for. Carrer del Casp 55 (Eixample).
EatMyTrip – A lot of love is put into this beautiful café with gorgeous cakes, healthy smoothie bowls and specialty coffee from SlowMov. Some of their dishes are really fun and crazy, like their epic French Toast..! Read my review here. Consell de Cent 378 (Eixample).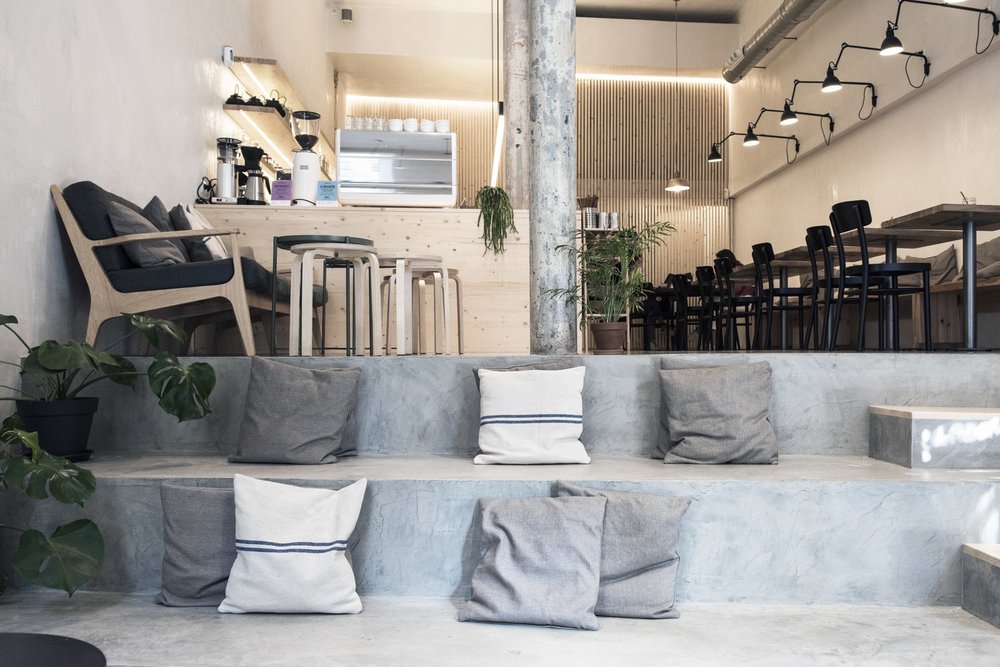 Bohl – I love this gorgeous cafe (their porridges are magnificent!), and of course they are dog-friendly too. C/Trafalgar 47 (Eixample). (Tried and Trusted)
Folks Burgers – Pretty cool looking interior in this burger joint, and the burgers look great too. Avinguda de Sarrià 69 (Sarrià-Sant Gervasi).
Bao Bao – Delicious baos in all shapes and forms! Carrer de Riego 23 (Sants).
Bar Alegria – This wonderful modernist tapas bar with plenty of history not only serves excellent food, but also has a great terrace and welcomes dogs! C. del Comte Borrell, 133 (Sant Antoni). (Tried and Trusted).
Da Me Pizzas – Great looking pizzas, home-made lemonade, and cute dogs at this fairly new pizza place on Joaquim Valls 15 (Nou Barris). (Tried and Trusted).
Arosseria Xátiva – Slightly off the beaten path, this restaurant (it has two locations, one in Gracia and one in Sants) focuses specifically on rices and paella. There are so many different ones to choose from, so you can be sure there's something to your liking. They've marked the menu for allergies, which is great if you prefer your meal gluten free. Torrent d'en Vidalet 26 and Borders 35 (Gracia and Sants).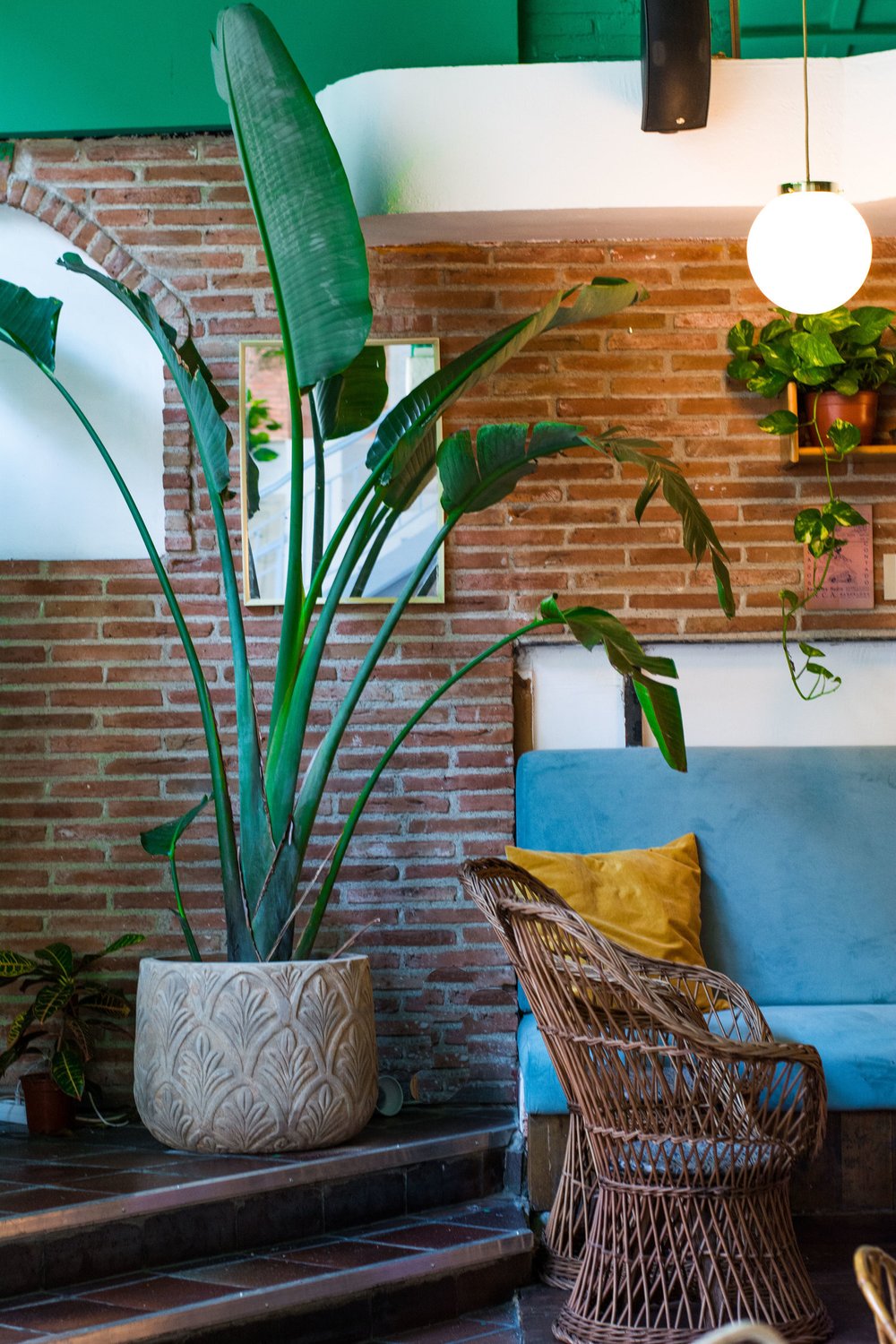 Sabio Infante – Gracia has its own living room, and that is lovely Sabio Infante. Many come here to work and eat pancakes, avocado toasts, and colourful Eggs Benedict. Read all about it here. Torrent de l'Olla 39 (Gracia) and Plaça del Dr. Letamendi, 30 (Eixample).
Can Dende – It's impossible not to fall in love with this tiny little place. The food is fantastic, the deco is lovely, and the service wonderful. A full review of Can Dende here. Carrer de la Ciutat de Granada 44 (Poblenou). (Tried and Trusted).
Eixampeling – All day brunch café and bar, that welcomes dogs with open arms. Diputación 158. (Tried and Trusted)
Intrepid de Gracia – Very good dishes to share and a staff who is very knowledgeable about wines. Torrent de l'Olla 176 (Gracia).
DISCLAIMER: This post above is based on information provided by the restaurants and bars online, I have not personally confirmed with each one of them. Those who say Tried and Trusted are confirmed.
Last updated: November 20th 2022.
Note: This article is curated from Barcelona Food Experience's RSS Feed. To read the original article, click here.