The pulsating rhythm, the scintillating dances, and the whirlwind of colors in Barcelona can only mean one thing – La Mercè is upon us.
La Merce Festival 2023 promises to be Barcelona's craziest street party, spanning five days of non-stop fun in honor of the city's patron saint, Mare de Deu de la Mercè. The celebration, which dates back to 1871, signifies the end of summer and features vibrant parades, dancing, food, and drink.
This grand cultural extravaganza has been enchanting the hearts of locals and visitors for centuries and is indisputably the most awaited event on the Catalan capital's calendar. From the spellbinding performances to the unbridled enthusiasm of every reveler, La Mercè is more than just a festival – it's an unforgettable and transformative experience.
Dates and Location of La Merce Festival 2023
The La Merce Festival 2023 is set to take place in the vibrant city of Barcelona, Spain. This spectacular event will last for around five days in September.
The festival is held at various locations throughout the city, with the main events occurring at Placa de Sant Jaume, which will host the famous Castellers (human towers) and the Gigantes (parade of giants).
As the streets will be filled with activities and performances during the festival, it's best to stay centrally and get around on foot as many roads will be closed.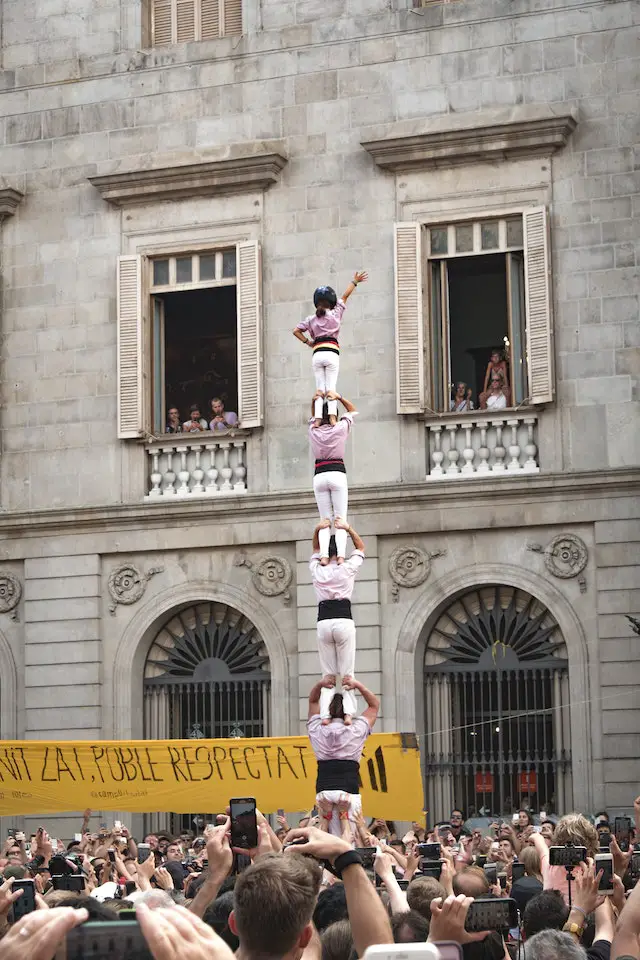 History and Significance of La Merce Festival in Barcelona
La Merce Festival is a historic event in Barcelona, celebrated every year in honor of Mare de Deu de la Mercè, the Patron Saint of the city. Dating back to 1902, this grand festivity marks the end of summer and the arrival of autumn. Rooted in religious and cultural significance, the festival showcases the diverse traditions of Catalonia.
Today, La Merce has evolved into a popular celebration, featuring a multitude of activities ranging from street parades, concerts, and traditional dances to fire runs or Correfocs. The festival has become a symbol of the city's rich cultural heritage, offering an opportunity for both locals and visitors to experience the true essence of Barcelona.
Highlights of La Merce Festival: Correfoc, Castellers, and More
One of the most popular events at La Mercè is the Correfoc, or Fire Run. This thrilling spectacle features devils, fire-breathing dragons and an abundance of fireworks illuminating the night sky.
Another highlight of the festival is the Castellers, which involves building impressive human towers. These awe-inspiring structures require excellent teamwork and coordination, and are a sight to behold as a young child climbs to the top.
Lastly, the Giants Parade captivates both children and adults alike. Towering figures of kings, queens, and nobles march through the streets, accompanied by percussion groups creating a lively atmosphere. With a varied lineup of events, La Mercè Festival offers something for everyone, making it one of the most awaited celebrations in Barcelona.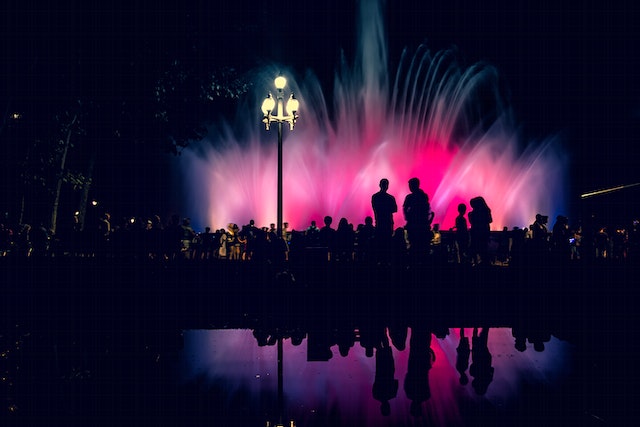 Getting Around and Accommodation During La Merce Festival
During La Merce Festival in Barcelona, visitors have several options for getting around the city. Public transportation is highly efficient and includes buses, trams, and the metro. Taxis, bike rentals, and ride-sharing services are also available for a more convenient experience.
But, with the festival bringing bustling streets filled with activities and performances, your best bet is to stay centrally and explore on foot. Keep in mind that many roads will be closed, so walking around will be more convenient and enjoyable. By staying in a central location, you'll have easy access to all the exciting events happening on the streets.
Accommodation options are aplenty, catering to diverse budgets and preferences. This includes hotels, hostels, and vacation rentals. It's advisable to book accommodations well in advance to secure the best deals and locations during the festivities.
For hotel recommendations, we have listed our preferences in this article: Hotels In Barcelona For Solo Travelers – Complete 2023 Guide
Traditional Food and Drinks to Try During La Merce Festival
During La Merce Festival, the streets of Barcelona come alive with an array of delicious traditional food and drinks. One must-try beverage is kalimotxo, a refreshing mix of red wine and cola that perfectly complements the energetic atmosphere.
As for food, be sure to indulge in some mouthwatering tapas and pinxtos. These small snacks are perfect for sharing and sampling various local flavors. Don't miss out on exploring the diverse culinary scene that truly makes La Merce an unforgettable experience.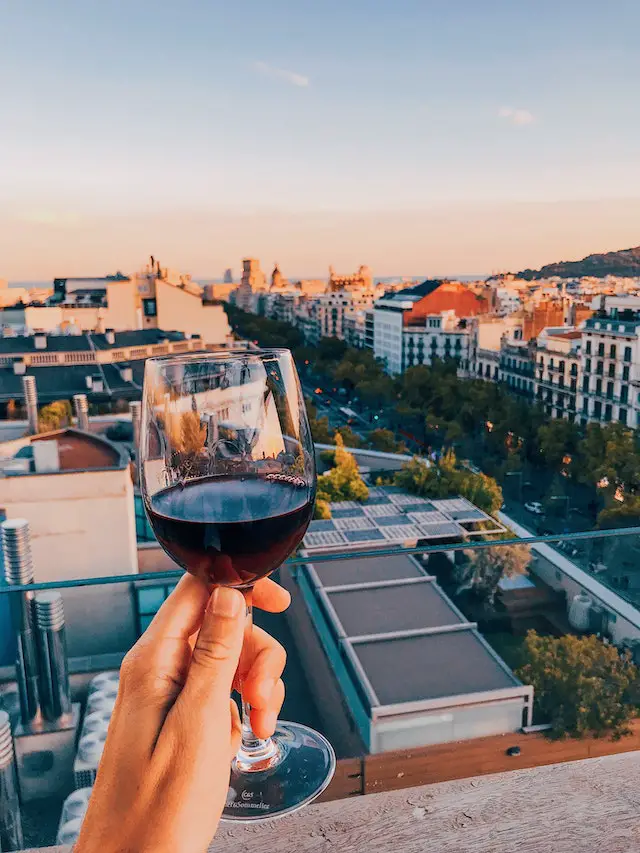 Clothing and Safety Tips for La Merce Festival
Attending the La Merce Festival in Barcelona is an exciting experience, but it's essential to wear appropriate clothing for various events and prioritize safety.
For daytime events like the human towers and the giants parade, casual and comfortable attire, like jeans and t-shirts, is recommended. However, it's crucial to wear protective clothing like hats, glasses, and long-sleeve tops during the Correfoc, where powerful sparklers are sprayed into crowds.
Lastly, wear comfortable shoes and light jackets in the evening to enjoy projection shows and concerts.
Famous Locations for Events During La Merce Festival in Barcelona
During La Mercè Festival in Barcelona, several iconic locations host vibrant events and activities.
One such spot is Plaça de Jaume, where the thrilling spectacle of Castellers, or human towers, attracts thousands of onlookers.
Another famous location is Passeig de Gracia, where the exhilarating Correfoc, or fire run, takes place.
The Giants Parade, a family favorite, marches through the streets with towering effigies of kings, queens, and nobles. Lastly, in various squares around the city, mesmerizing projection shows are held, illuminating the historic buildings and captivating the audience.
Transportation Options in Barcelona During La Merce Festival
During La Merce Festival, Barcelona's streets come alive with festivities and events, making it necessary to plan your transportation wisely. The most convenient options to get around the city are the metro, trams, and FGC trains. These services offer various ticket cards tailored to your travel needs.
Additionally, Barcelona offers a fleet of over 1,000 buses on several routes. However, as many streets are closed off during the festival, walking might be the best way to soak in the lively atmosphere.
Other Tourist Attractions to Explore in Barcelona During La Merce Festival
Barcelona is a city brimming with incredible sights and attractions that you can explore during the La Mercè Festival. The city's modernista architecture, including Gaudi's Sagrada Familia and Park Güell, should be on top of your sightseeing list.
The Gothic Quarter, with its maze of narrow streets and hidden squares, offers a unique window into Barcelona's rich history. Don't miss the chance to visit the picturesque Born district and the bustling La Rambla, a pedestrian zone filled with street performers and shops.
Art lovers should check out the Picasso Museum and the Fundació Joan Miró as they explore the city. Finally, soak up the Mediterranean sun at the beautiful beaches of Poble Nou and Barceloneta, where you can relax after a day full of festivities.