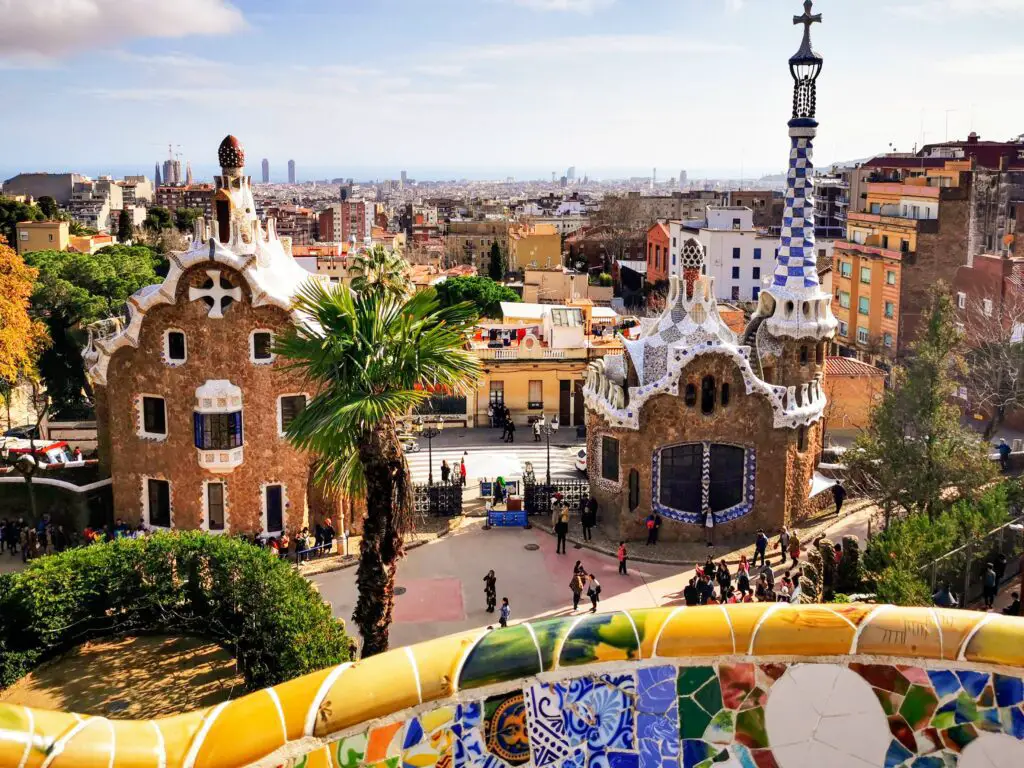 Park Güell in Barcelona is an iconic park and a UNESCO World Heritage Site that attracts a great number of people and is open throughout the year. The regulation of admission ensures the conservation and care of the monumental legacy, as well as the safety of neighbors and other visitors.
Güell commissioned Gaudi, a prominent architect and the 'face of Catalan modernism', to build the park with urbanization in mind. It was constructed between 1900 and 1914. Park Güell reflects Gaudi's aesthetic diversity, as he drew most of his inspiration from natural shapes and designs – dating back to his naturalist design phase. Thus, when walking through some of his works, you'll see the perfect blend of both architecture and nature.
Map of Park Güell | The Divisions and Access Points
Park Güell is nestled among the neighborhoods of El Coll, Vallcarca i els Penitents, La Salut, Can Baró, and El Carmel. It covers an area of 19 hectares, a comparison of 19 Eixample city blocks. 5 entrances in total are accessible by several means of transport for travelers and visitors. Check out the maps below for a better view of the entrances, exits, and more.
Barcelona City Council restricted entry to the Monumental Area of Park Güell in 2013. Their goal is to protect this iconic historic site, which is now a UNESCO heritage site. This was done to safeguard the unique history while still allowing the public to study and enjoy the works of Gaudi and Güell.
Let's dive into the details and facts you'll need to know before buying your tickets and planning your trips to this idealist dreamscape.
There are areas of the park where people gather and these areas are located in a portion with a second regulated entrance point. Visitors must take a one-way route and may have to wait and these points are Pl. Natura, the Hypostyle Room, the Laundry Room Portico, and the Dragon Stairway.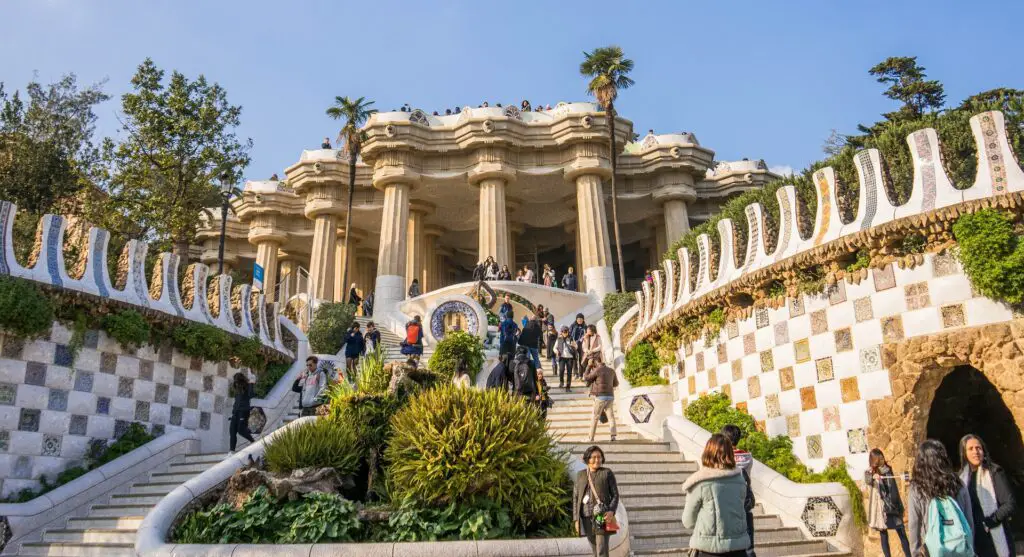 Tourist Information on Tickets for Park Güell
On July 1, 2020 – a new management model for Park Güell was implemented with the intent of helping city inhabitants rediscover and utilize the Park. Thus, the number of people on the entire site is currently restricted to reduce crowding, improve the tourist experience, provide safety and protection measures, and maintain Park Güell.
Exclusive Times for Local Residents
Bon dia Barcelona – from 7 am to 9.30 am
Bon vespre Barcelona – from 6.30 pm to 10 pm
The local residents at no cost can visit during these times mentioned above, without the need to book in advance. Tourists and solo travelers should keep this in mind when planning trips.
Ticket Prices to Enter
We've given you a breakdown of the ticket prices and different packages you'll need before you can enter Park Güell:
Free Entry
Children from 0 to 6
Gaudir Més members
People with disabilities
"Targeta rosa" card
€7 / $7.49
Over 65 and "Targeta Rosa Reduïda" card
Children from 7 to 12
Accompanying people with disabilities
€8 / $8.56
MUHBA ticket / Ruta del Modernisme ticket
€10 / $10.70
Special Ticket Information
We recommend that you purchase a ticket in advance to ensure that you can be accommodated on your preferred date. With a ticket, you can go straight to the relevant entrance points and enter smoothly without delay. You can see the different entrances and ticket-holder locations on the map provided below.
Tickets are assigned based on time slots, and you can enter the restricted area/ Monumental Area up to 30 minutes after your allocated start time. For example, if you have a reservation for 9:30 AM, you can enter the park until 10:00 AM. Once that 30-minute deadline has passed, you will lose your right to enter. It is very important to make sure you arrive at the Park with sufficient time to ensure that you do not miss your allocated visiting period.
You can take as long as you like to enjoy the brilliant architect's work once you are inside the park. But do remember that you cannot re-enter once you have left.
To benefit from any type of discount or free tickets, you will need to present relevant documentation showing that you are entitled to those discounts when purchasing your ticket.
All visitors, including children ages 0 to 6, must show the appropriate entry ticket, including where entry is free of charge (except those with a resident's card or Gaudir Més register members, who can go straight to the park's entrances).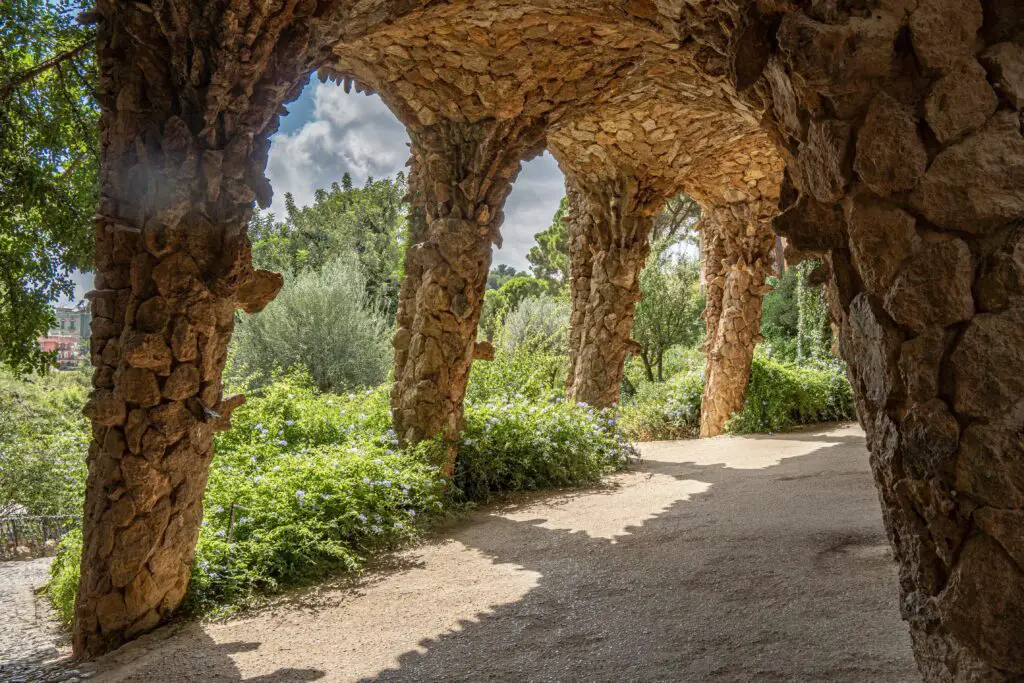 Park Güell | The Self-Guided Tour
One of the best tours in Barcelona is Park Guell: The Colorful Utopia of Antoni Gaudi. A fully self-guided private tour with an audio experience included. This 1 and a half hour phenomenon highlights, through the downloaded audio, all the exquisite detail and history that lies beneath the rich stone and earthy grounds.
From the masterpieces of Barcelona's beloved Antoni Gaudi to the sprawling panoramic vistas of the Mediterranean Sea and streets of Barcelona. Peak behind the history and indulge in a world that seems disconnected from our modern-day lives.
Each tour costs €19.50 per ticket and comes with the following:
Entrance ticket to Park Güell
Multimedia audio tour you can download on the WeGoTrip app
Step-by-step navigation through the park to help detail your route
Further location recommendations for the best spots in Barcelona
Note: Some of the links here are affiliate links. There's NO additional cost for you, but it does help our team to earn some coffee money to help write more travel guides for you.
Accessibility
Due to its architectural designs and features, including a flight of steps and uneven pathways, people with limited mobility may have difficulties navigating Park Güell. Thankfully, there is a route designed specifically for those with mobility issues.
Wheelchairs are available upon request at Park Güell. If you have any kind of special requirements, you can make special arrangements that can accommodate your specific needs. There is a tourist coach car for reduced mobility, letting anyone enjoy the spectacular wonder of this vibrant and awe-inspiring park.
Rules and Regulations For Park Güell in Barcelona
Due to the park being a famous and beloved heritage site, you should be familiar with the rules and regulations that are strictly upheld. It's always best to be aware before traveling anywhere, and we've detailed some of the important rules to keep in mind.
The rules you should know before visiting Park Güell:
Pets are only allowed if they are kept on a secure lead
Smoking is prohibited in the park
No bicycles or roller skating are allowed in the park
Shoes can't be removed and benches can't be used for lying down on
No photographs or films of a professional or commercial nature are allowed
No unaccompanied minors under 14 are allowed in the park
You can read through the full set of regulations and rules in order to ensure you won't accidentally incur any infractions during your visit to this national gem.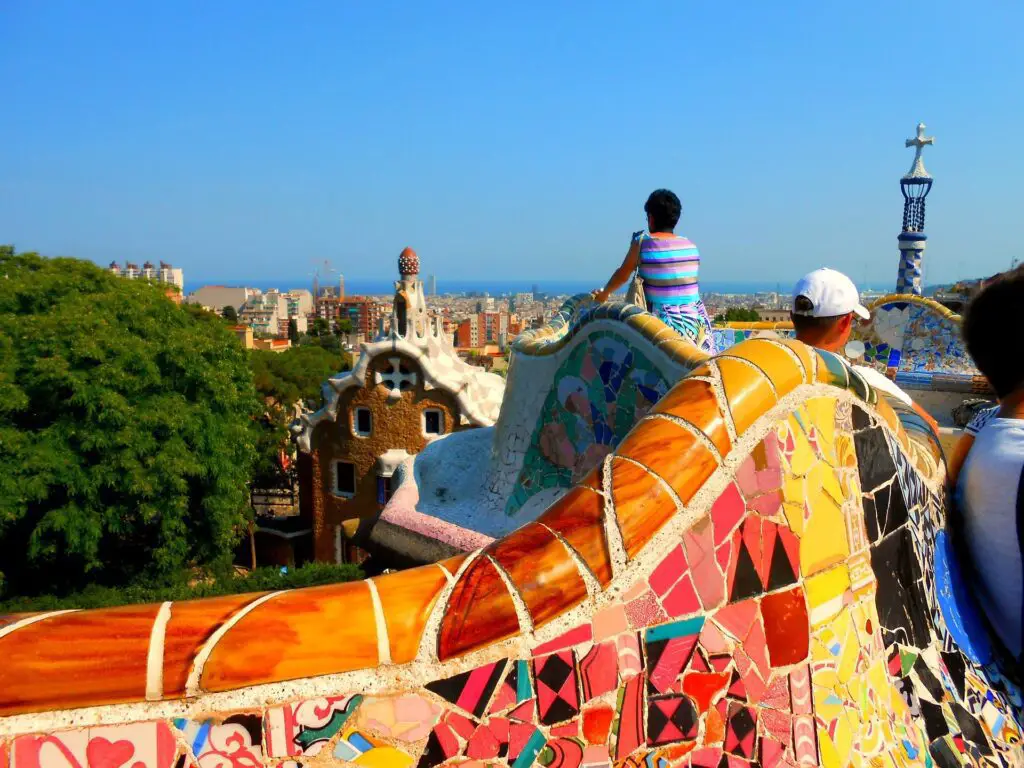 Directions and How to Get to Park Güell
You can use a map of Park Güell and the surrounding areas for the best directions. No matter where you are in the surrounding city areas, you will never be lost with the right directions and with friendly citizens almost always willing to help.
Alternative ways of traveling to Park Güell:
Metro, green line (L3), Lesseps, or Vallcarca stations
Private transportation
Bus, H6, D40 lines
Coaches for groups and tours
Taxis
Bus Turístic and Barcelona City Tour
Plan Accordingly
It's no wonder you have to often plan a little to secure your spot at Park Güell. Enriched with rich history, artistic beauty, and a relaxing ocean view, Park Güell is definitely a must-see when you visit the spectacular city of Barcelona.