Barcelona, a vibrant city known for its iconic architecture, delicious food, and passionate football culture, has another side to its artistic personality – the compelling world of graffiti. This colorful, dynamic, and often controversial art form has found a home in Barcelona's streets and alleyways, turning the city into an open-air, ever-changing art gallery.
The Rise of Graffiti Culture in Barcelona
In the past few decades, graffiti culture in Barcelona has significantly evolved. The city's tumultuous political history, coupled with its vibrant youth culture, has created a fertile ground for the growth of graffiti. From simple tags to intricate murals, Barcelona's graffiti scene is as diverse as it is abundant.
Initially, graffiti was seen as an act of resistance against oppressive political regimes, a voice for the marginalized and the discontented. However, as the city opened up to the world and embraced its artistic heritage, graffiti started to be recognized as an essential part of its urban culture. Today, it's not uncommon to see tourists and locals alike, admiring the creative explosion of colors on city walls.
Must-See Graffiti Spots
Barcelona's graffiti scene is vast and diverse, but there are certain spots that are simply unmissable. One such place is the Jardins de les Tres Xemeneies. This park, located in the Poble-sec neighborhood, is a designated graffiti area where artists can freely express themselves. Here, you can witness a constant evolution of graffiti art, as new works replace old ones.
Another must-see spot is the Raval neighborhood. Known for its bohemian vibe and multicultural atmosphere, Raval is a treasure trove of graffiti. Its narrow streets and old buildings provide a striking backdrop to the vibrant graffiti that adorns its walls.
For those looking for large-scale murals, the Poblenou neighborhood is the place to be. Once an industrial area, Poblenou has transformed into a hub for contemporary art, with street art and graffiti playing a significant role. Its 'urban district' hosts an array of colorful, thought-provoking murals that are worth exploring.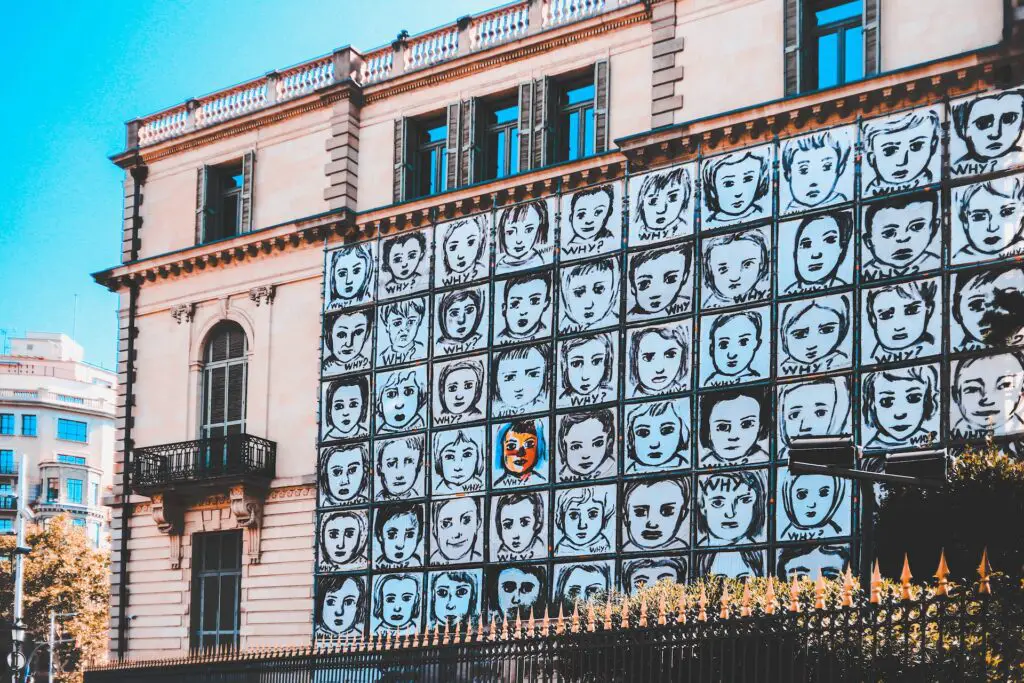 Recommended Routes for a Solo Graffiti Tour
When planning a solo graffiti tour in Barcelona, it's important to have a route in mind. This will not only save you time but also ensure that you don't miss any graffiti hotspots. One recommended route is to start in the Raval neighborhood, then move towards Poble-sec, exploring the Jardins de les Tres Xemeneies along the way.
From Poble-sec, you can head towards Sant Antoni, taking in its diverse graffiti scene. Then, make your way to Poblenou, where you can explore its 'urban district' and its impressive murals. Finally, if time permits, end your tour in Gracia or El Carmel, where you can enjoy a different side of Barcelona's graffiti scene.
Remember, while a route can guide you, part of the fun of a graffiti tour is the unexpected. So don't be afraid to detour from your route and explore the city's hidden corners. You never know what graffiti treasures you might stumble upon.
Top Graffiti Artists in Barcelona
Barcelona's graffiti scene is home to many talented artists, each bringing their unique style and perspective. Artists like Pez, known for his signature 'happy' style featuring grinning fish, and El Xupet Negre, recognized by his ubiquitous pacifier symbol, have left their mark on the city.
Then there's Konair, whose iconic ice cream pops can be seen across Barcelona. His vibrant, playful style is a favorite among locals and tourists alike. Another notable artist is Miss Van, one of the first women involved in the graffiti scene. Her sensual, mysterious female characters add a touch of femininity to Barcelona's streets.
However, among the many artists that have shaped Barcelona's graffiti scene, none are quite as influential as the late great Keith Haring. His mural, 'Todos juntos podemos parar el sida' ('Together we can stop AIDS'), located in Raval, is a powerful reminder of his impact and a must-see for any graffiti lover.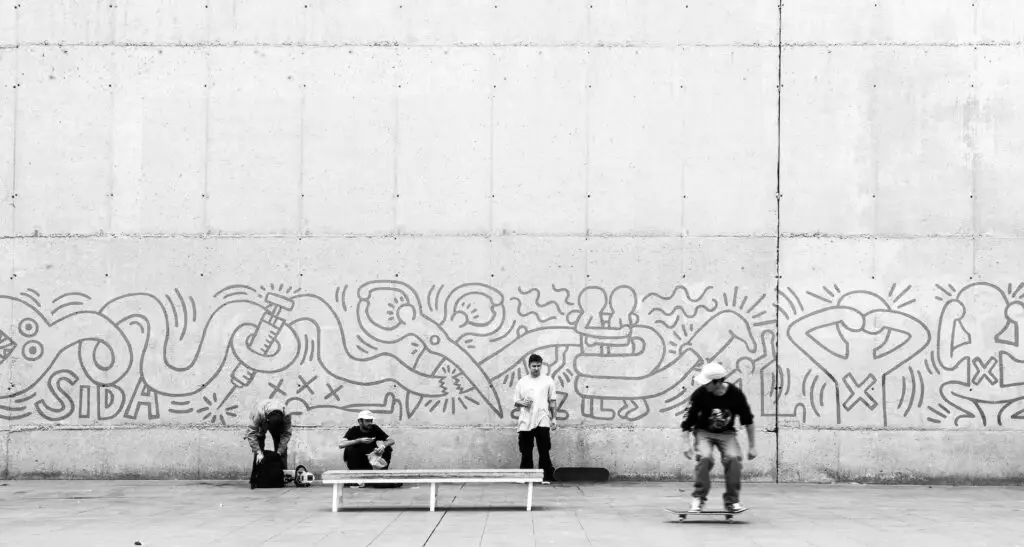 Graffiti Festivals and Events in Barcelona
Barcelona's graffiti scene is not just confined to its streets. The city also hosts several graffiti festivals and events that celebrate this art form. One of these is the annual 'Murs Lliures – Open Walls', a street art festival that brings together local and international artists to create large-scale murals across the city.
Another notable event is the 'Festival de Cultura Urbana', which celebrates urban culture in all its forms, including graffiti. This festival features live graffiti demonstrations, workshops, and exhibitions, providing a unique insight into Barcelona's vibrant graffiti scene.
In addition to these festivals, there are also several galleries and organizations that promote graffiti art. 'Base Elements', for example, is a street art gallery located in the heart of Barcelona that showcases works from local and international graffiti artists. Meanwhile, organizations like 'Rebobinart' and 'Street Art Barcelona' organize guided graffiti tours, workshops, and events, further enriching the city's graffiti culture.
Graffiti Tour Options if Going Solo Isn't for You
While a solo graffiti tour can be an exciting adventure, it may not be for everyone. Luckily, there are several guided tour options that cater to different interests and preferences. 'Street Art Barcelona', for example, offers various tours focusing on different neighborhoods and aspects of Barcelona's graffiti scene.
For those interested in the process of creating graffiti, 'BCN Spray Tour' provides a unique opportunity. This tour not only explores the city's graffiti hotspots but also includes a graffiti workshop where you can try your hand at this art form.
Then there's 'Ruta de Arte Urbano', a tour that combines graffiti spotting with a historical exploration of Barcelona's neighborhoods. This tour, led by local artists, provides a unique perspective on the city's graffiti scene and its connection to Barcelona's history and culture.
Other Attractions to Combine with Your Graffiti Tour
After immersing yourself in Barcelona's graffiti scene, you might want to explore the city's other attractions. If you're in the Raval neighborhood, for example, don't miss the MACBA (Museum of Contemporary Art Barcelona), which hosts a collection of contemporary art and often features exhibitions related to urban culture and graffiti.
In Poblenou, you can combine your graffiti tour with a visit to the 'Poblenou Urban District', an initiative that promotes contemporary art and culture in the area. Here, you'll find art galleries, creative spaces, and cultural events that reflect Poblenou's artistic spirit.
Finally, if you're in the Barri Gotic or Sant Antoni, you're close to some of Barcelona's iconic landmarks, such as the La Boqueria market or the Barcelona Cathedral. These sites offer a different taste of Barcelona's rich culture and history, providing a perfect balance to your graffiti tour.