Looking for the best brunches in Barcelona? Here we love a good brunch! And we don't have to queue outside for hours. In most places you can even book a table in advance which is wonderful. And most of the time a walk-in is fine, if you come early.
Also: if you're really into pancakes I made a list of the best ones here.
BEST BREAKFAST AND BRUNCH PLACES IN BARCELONA: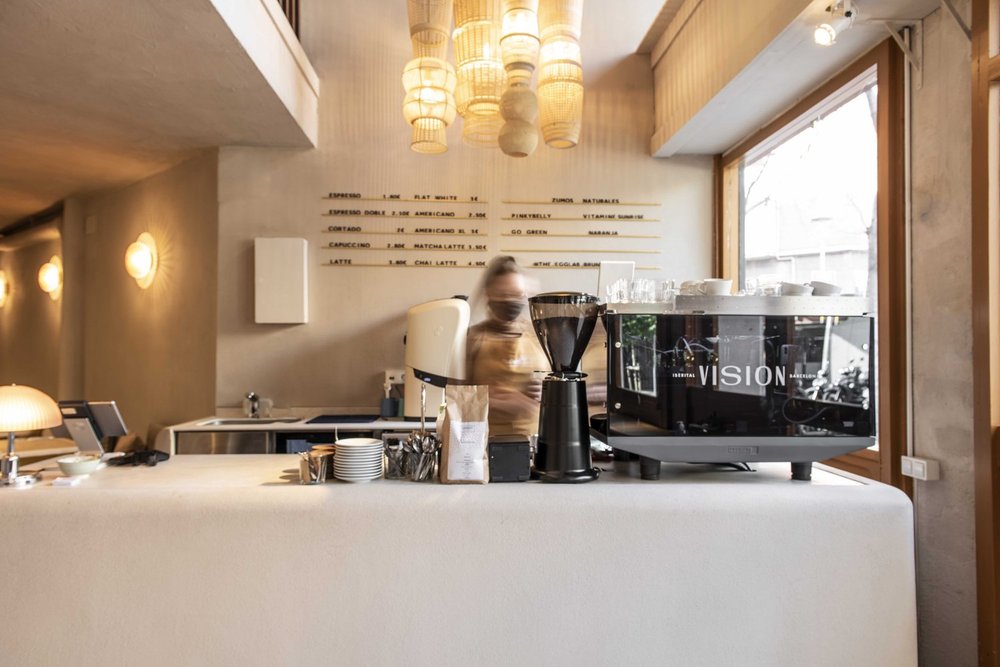 The Egg Lab Brunch – This laid-back, friendly (they're a family business!) brunch place has recently undergone a facelift and it looks absolutely gorgeous! They have also changed their menu, and it is very impressive. Your visit here becomes an experience: they make everything from scratch and you can taste it.
Make sure to try the Korean Chicken Benedict, the insanely delicious pancakes with caramelized apple and home-made dulce de leche, the specialty coffee, the cocktails (can be made into mocktails if you wish), the pastrami toast with home-made pastrami, or anything from the menu really..!
They don't take reservations so make sure you go there early!
Carrer de Sepúlveda 80 (Sant Antoni)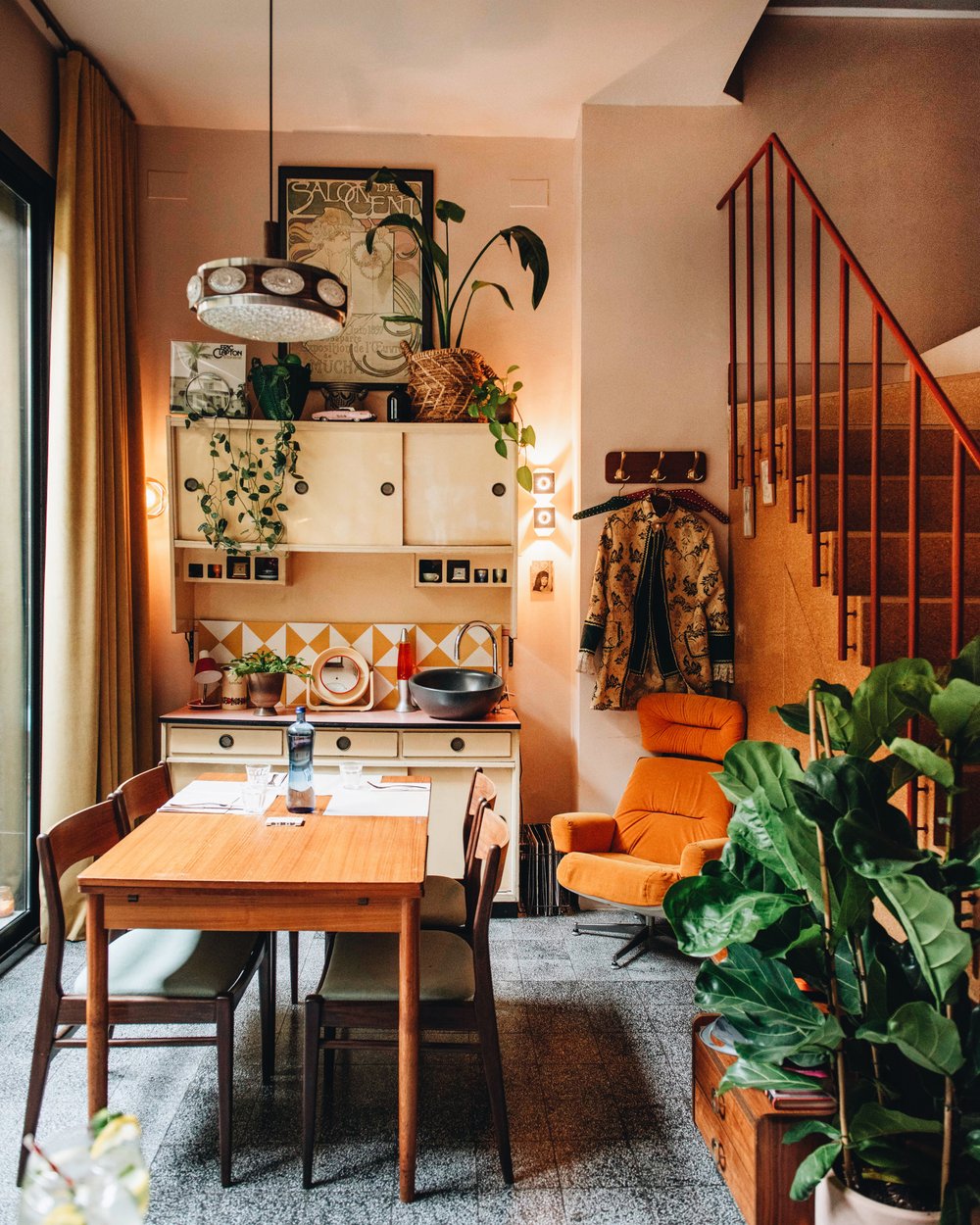 Faire. Brunch & Drinks – There are some beautiful values behind this cozy brunch restaurant. They offer vegan and vegetarian brunch dishes, made with carefully sourced ingredients. The idea is to impact the environment as little as possible, in everything ranging from the server they use for the website to composting all the food scraps.
The space is lovely: all the furniture is vintage/second hand, and the room in the back with a leafy little patio is gorgeous. They also have curbside terrace.
Carrer de Girona, 81 (Eixample Dreta)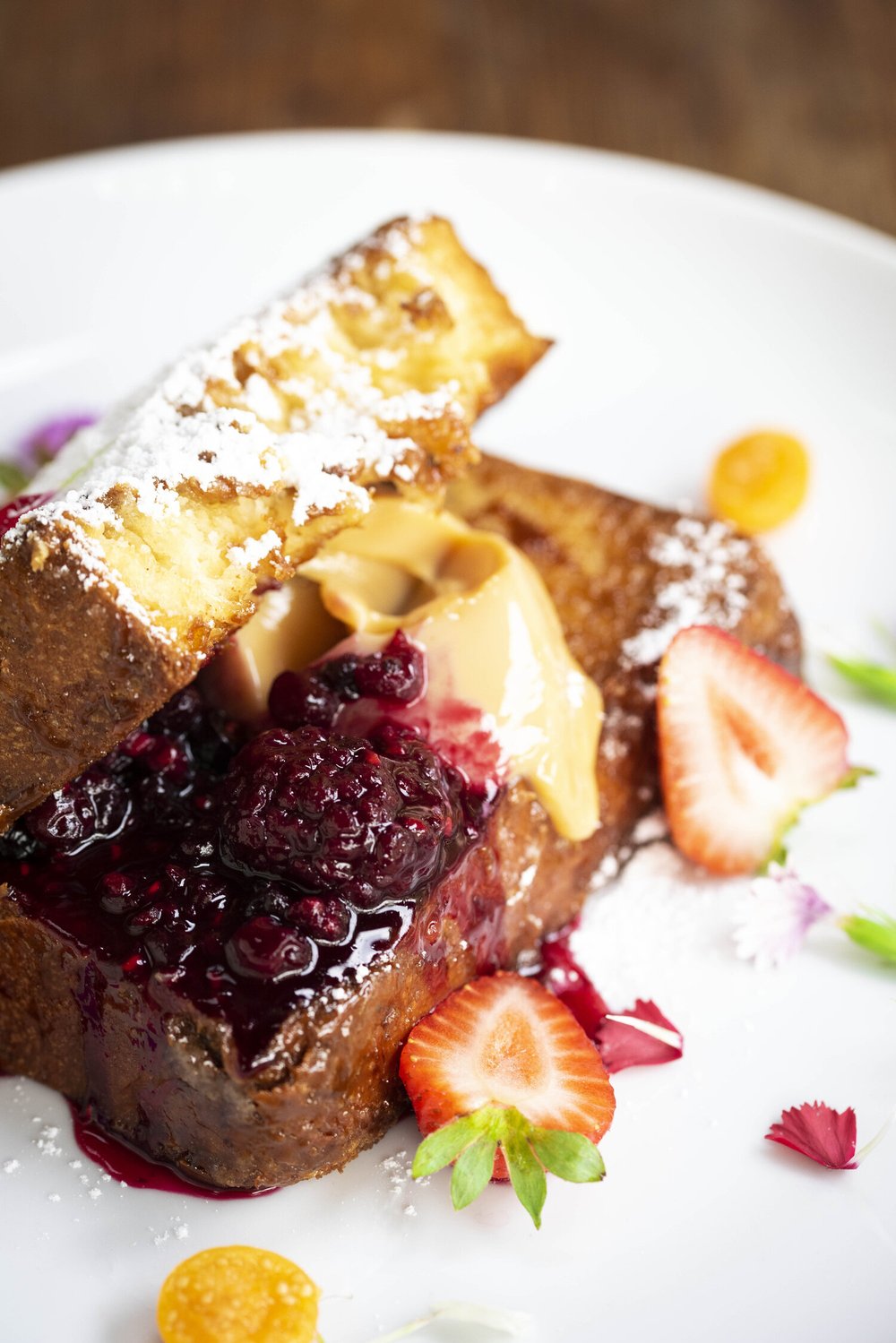 Picnic Restaurant – Who can resists pink lemonade (with vodka obviously) with your Eggs Benedict? Read more here. They have also recently opened a little sister across the street called The Little Basket.
Carrer del Comerç 1 (Born)
Funky Bakers Eatery – We all love Funky Bakers, and oh the joy when they opened both a Deli and an Eatery! The latter is wonderful for brunch: the space is so pretty, and the food outstanding. They have all the delicious baked goods from the bakery, and an interesting breakfast and brunch menu, that at noon changes for a lovely lunch menu. C/ de Bailèn, 61, Barcelona (Eixample).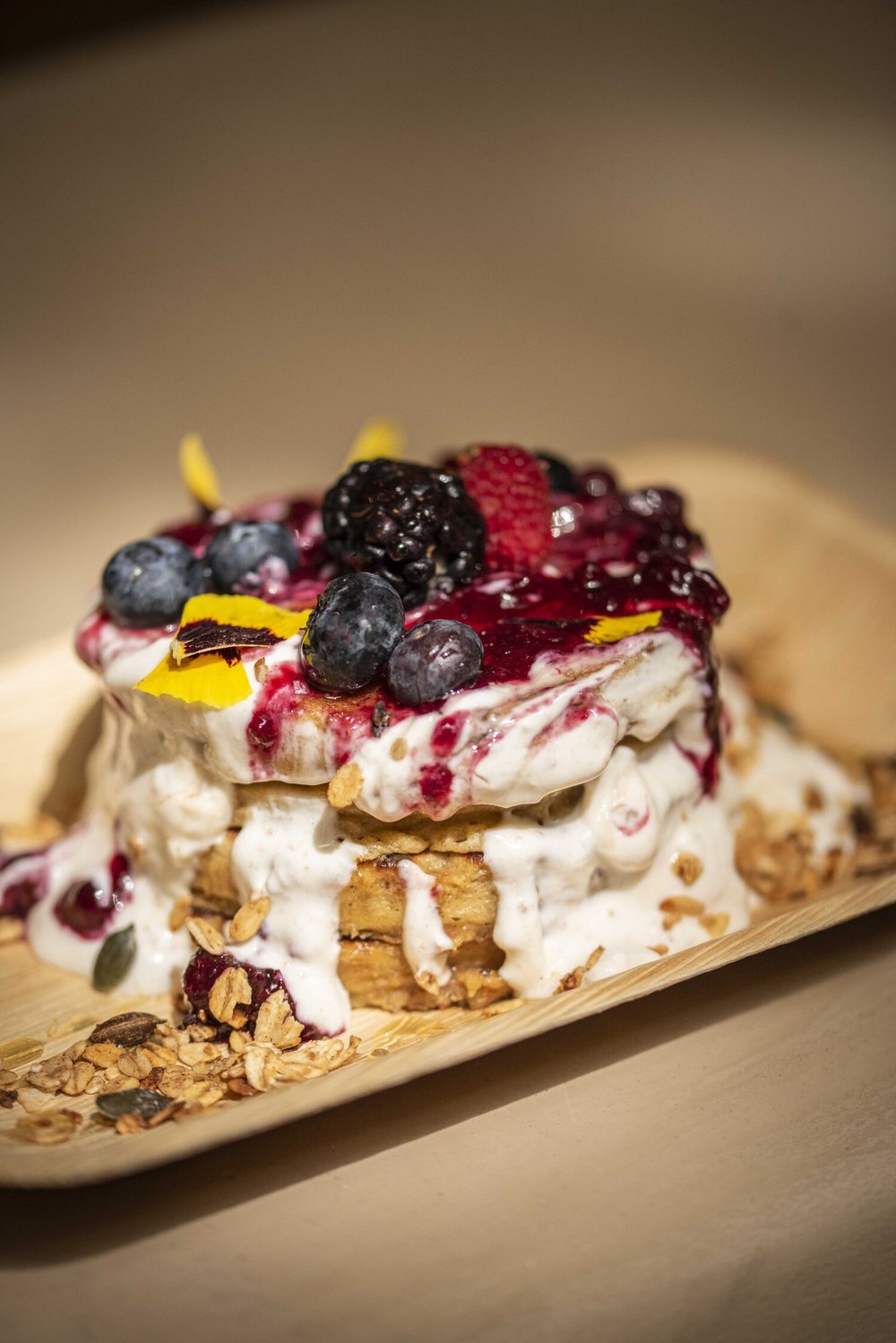 La Papa – They focus on healthy and conscious food, and they have many cool and unique options to choose from. Don't miss their pancakes! The space is absolutely gorgeous.
Carrer de Aribau 92 (Eixample)
Piñata – Mexican brunch you ask? Don't mind if I do! Piñata is a cool Mexican cantina and bar, that also opens in Friday to Sunday for brunch! The gastronomy is focused on authentic dishes, perfect for sharing. And make sure to try their top-notch cocktails, they have hundreds of different types of mezcal!
Carrer de Casanova, 19 (Sant Antoni)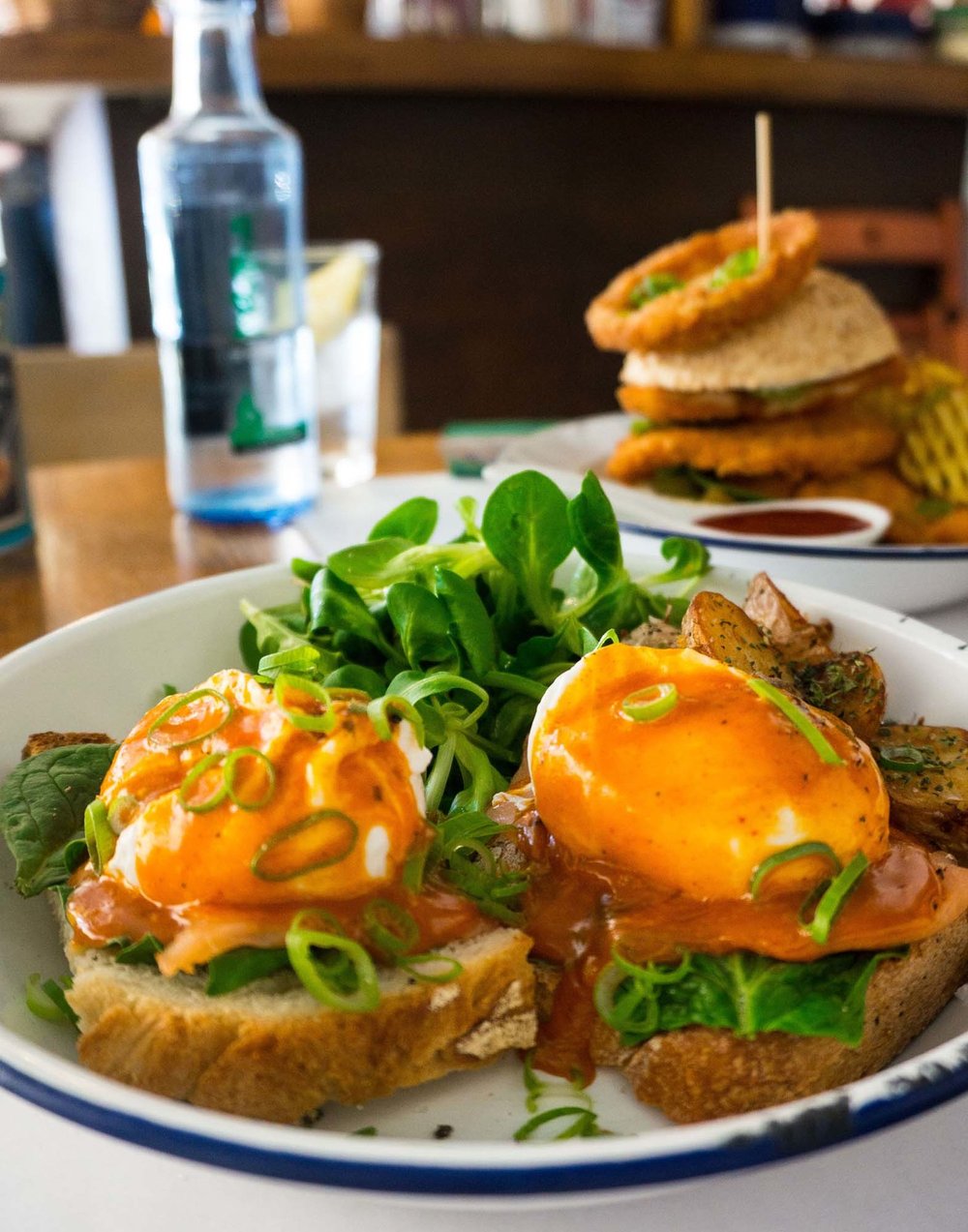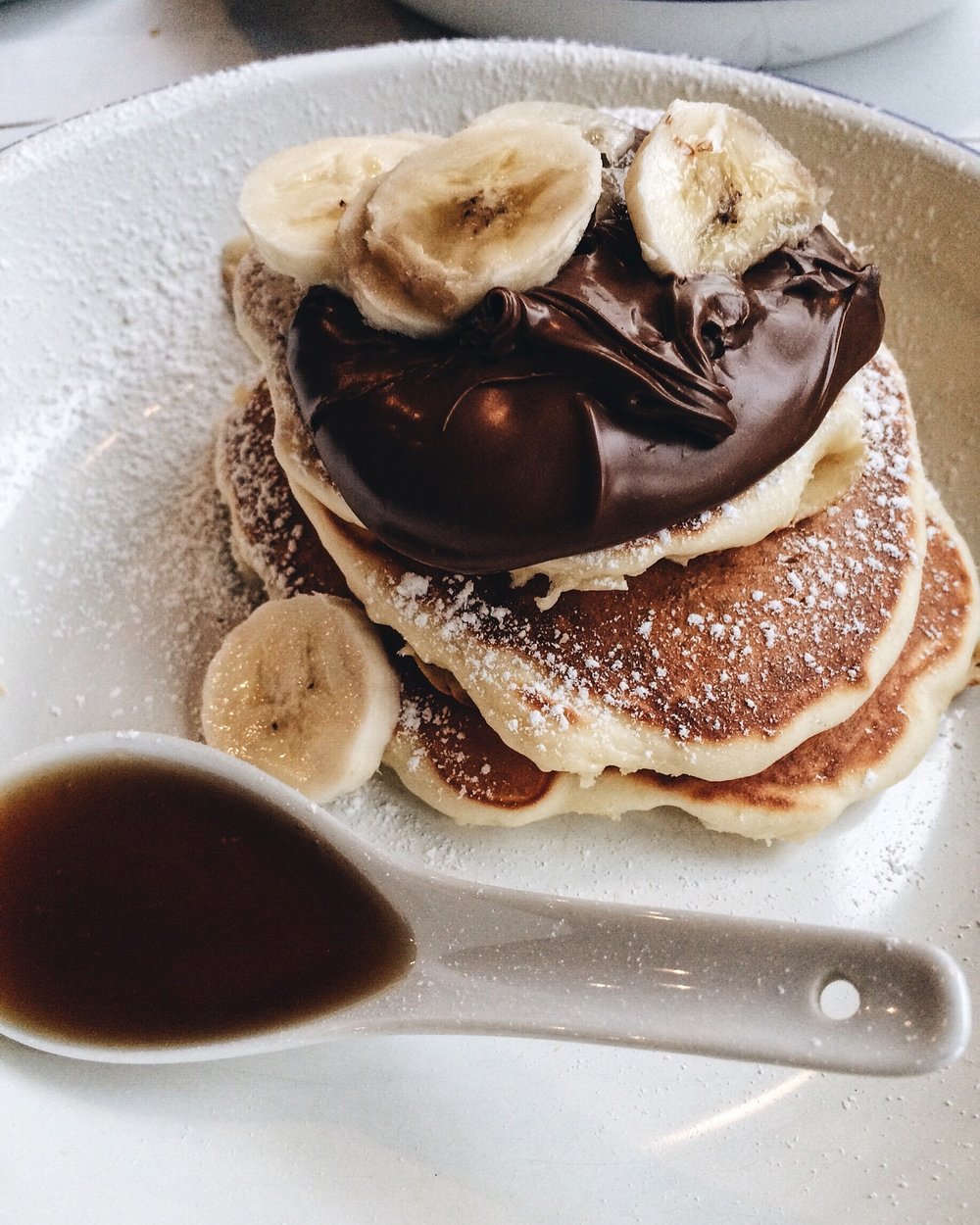 Can Dende – It's impossible not to fall in love with this tiny little place. The food is fantastic, the deco is lovely, and the service wonderful. A full review of Can Dende here.
Carrer de la Ciutat de Granada 44 (Poblenou)
Hardware Société – They first opened in Melbourne, Australia, then in Paris, France, and now they have landed in Barcelona with a delicious and different menu, great specialty coffee, and cocktails to boot. They have a terrace, and a lovely space in the back.
C/ de València, 193, Barcelona (Eixample).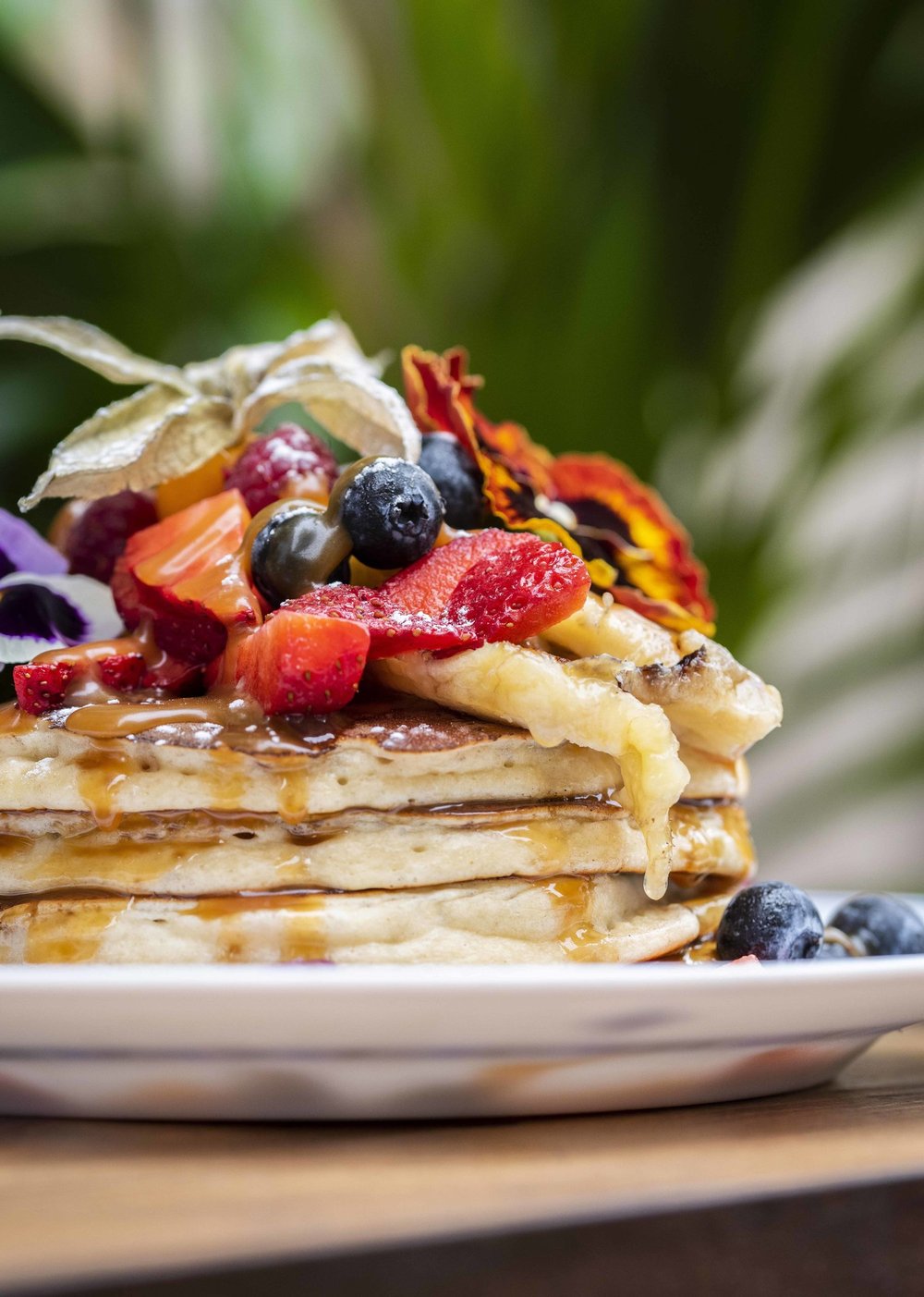 Cremat 11 – Not only is this place hidden away on a quiet street in the Born, just a hop and a skip away from the Picasso museum, but it also has a terrace! They serve a delicious brunch, with one of the prettiest pancakes I've seen. They have a new second location in Eixample. Read my review on Cremat 11 here.
Carrer Cremat Gran iXic 11 (Born) and C/ de la Diputació 200 (Eixample).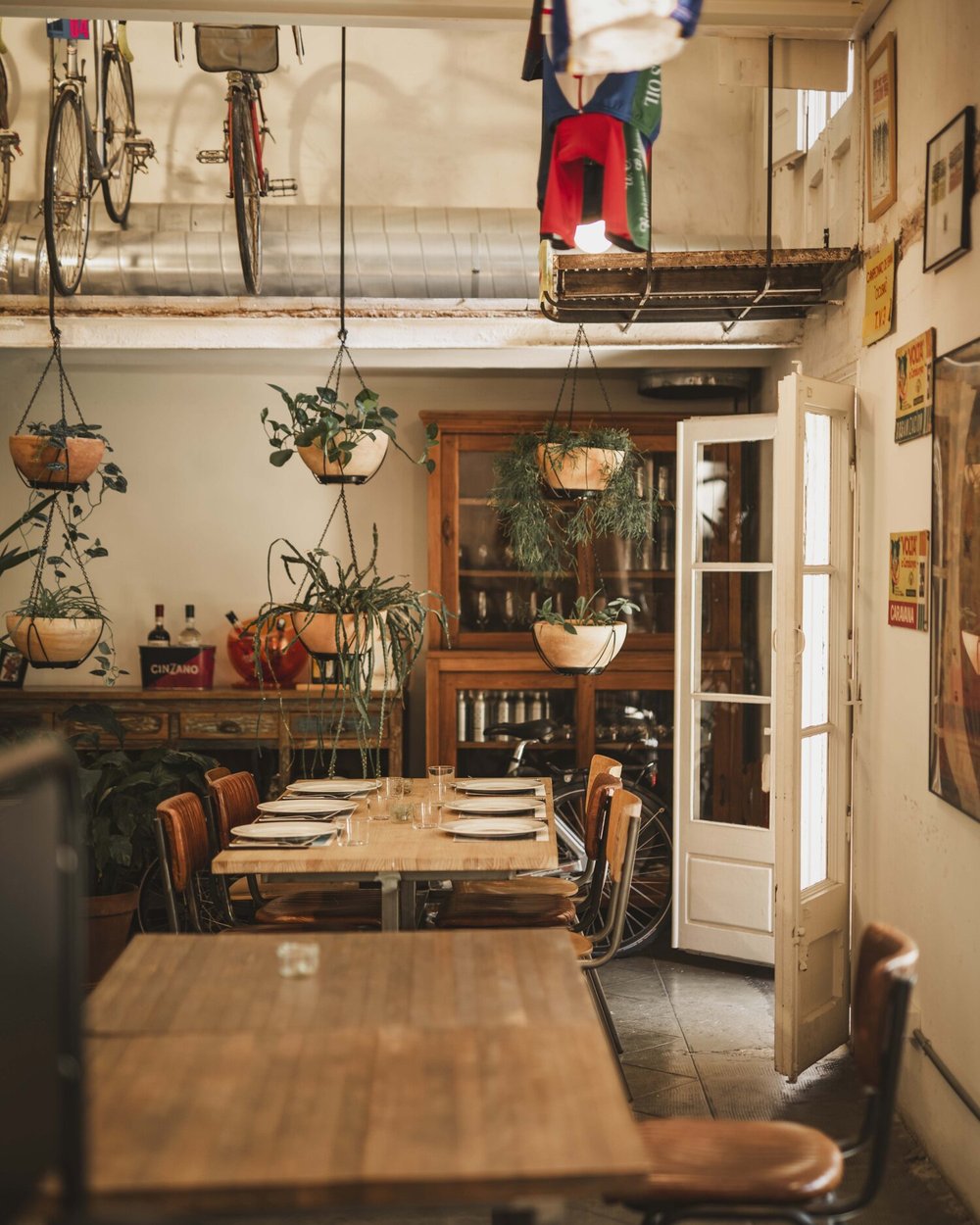 Eroica Caffe – An absolutely wonderful space dedicated to cycling (although everyone is welcome here!) and good coffee. They have a curbside terrace, but few know that they also have a lovely patio in the back. Even less people know that they do brunch on weekends! The food is really good here (their menu is all Italian), and the brunch has that lovely Italian twist.
C/ Consell de Cent 350 (Eixample).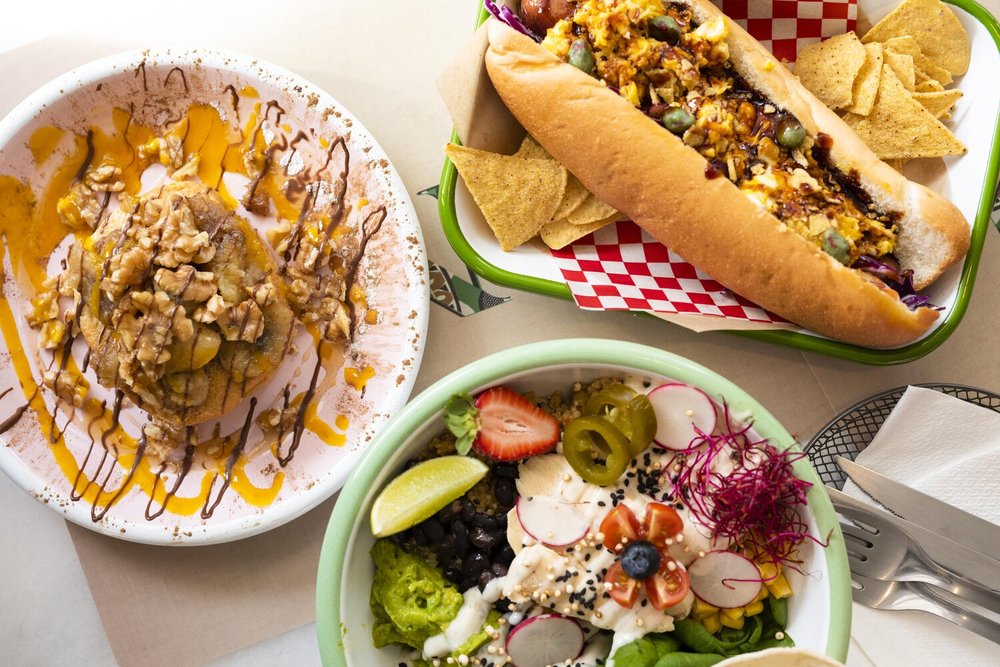 Barcino Food – A light-filled cute space with lots of plants, a terrace, and cozy sofas. Barcino Food has an interesting menu with very good brunch options, both healthy and indulgent. They also have gluten-free dishes and pastries. I love their gluten-free pancakes.
Carrer del Compte d'Urgell 222 (Eixample).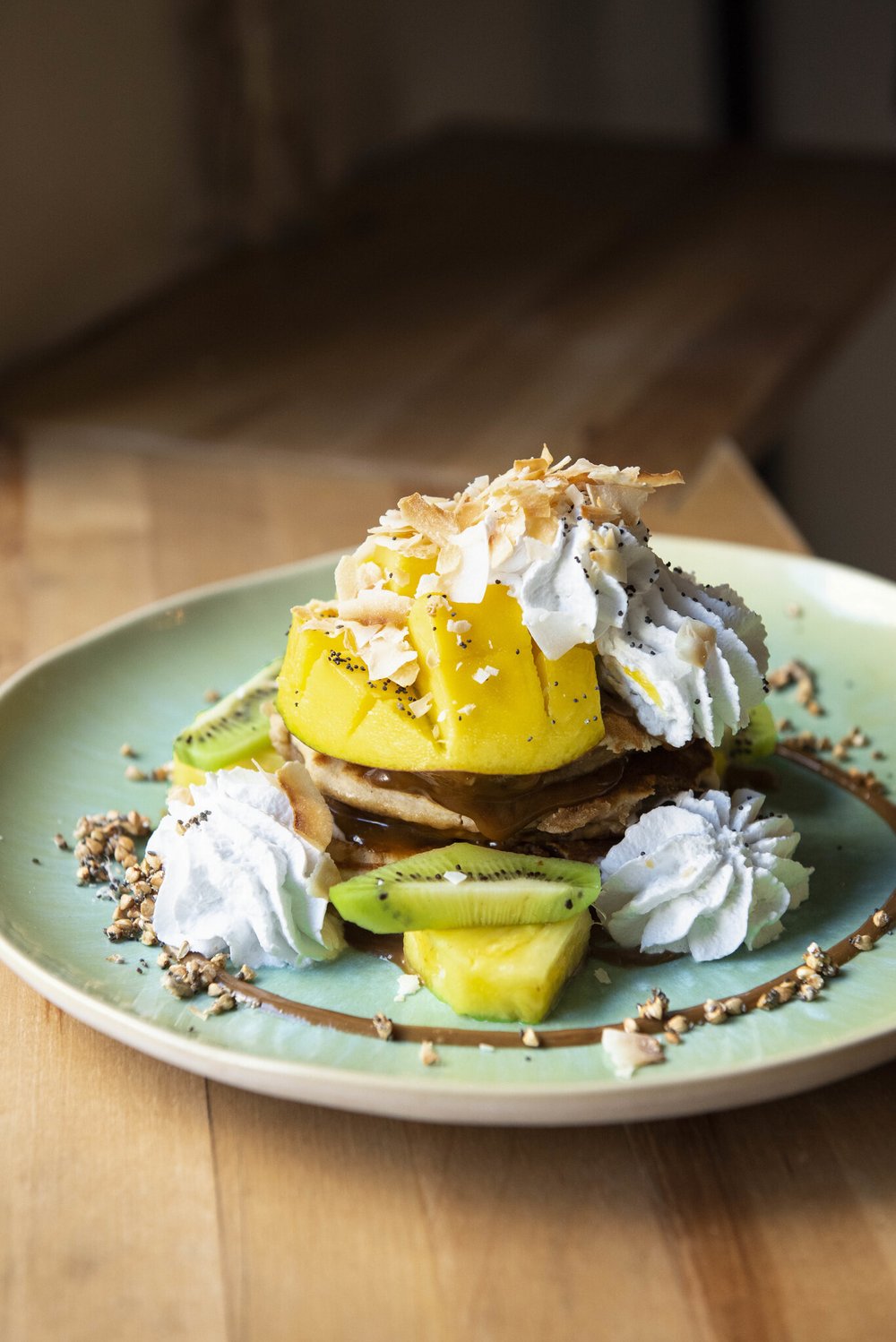 EatMyTrip – A lot of love is put into this beautiful café with gorgeous cakes, healthy smoothie bowls and specialty coffee from SlowMov. Some of their dishes are really fun and crazy, like their recent matcha waffles with salty caramel sauce, vegan banana chocolate ice cream and popcorn..! Read my review here.
Consell de Cent 378 (Eixample)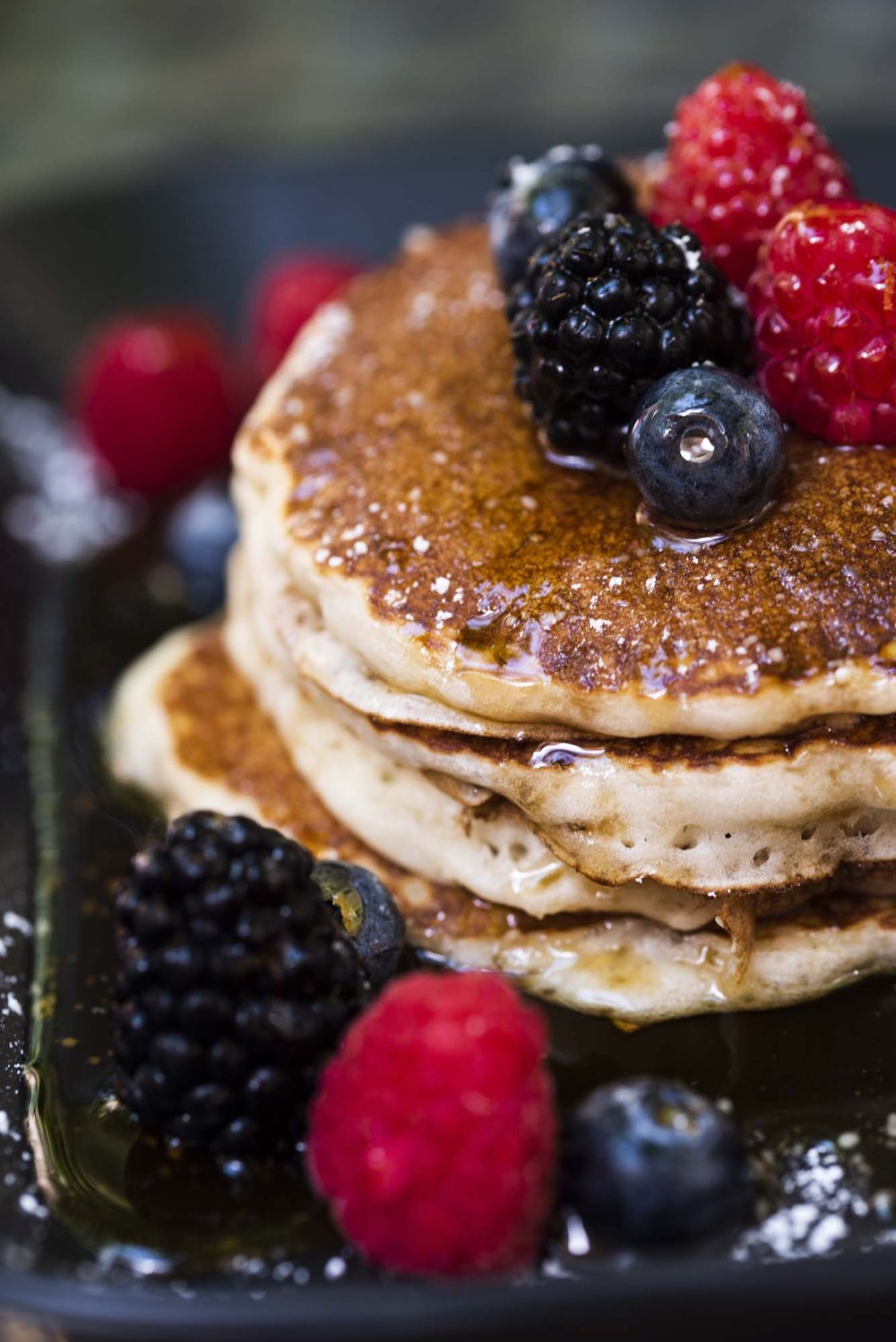 Molinet Café Antic – In Poble Sec it's not particularly easy to find a place to brunch, that's why they've made one PARTICULARLY amazing over there..! Molinet is so adorable and welcoming, with plenty of vintage furniture, a lush green patio and of course pancakes! Read all about Molinet here.
C/ del Elkano 69 (Poble Sec)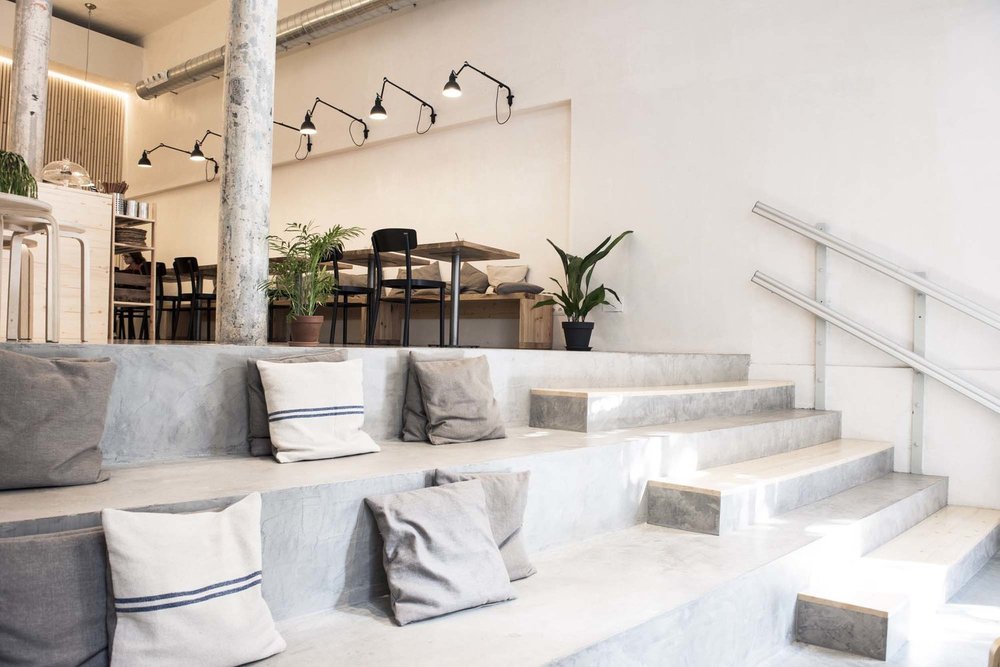 Bohl – Get a good, healthy breakfast or brunch here for a reasonable price at this adorable place. A cafe that has 4 different porridges gets a gold star in my book. Read all about it here!
C/ Trafalgar 47 (Eixample)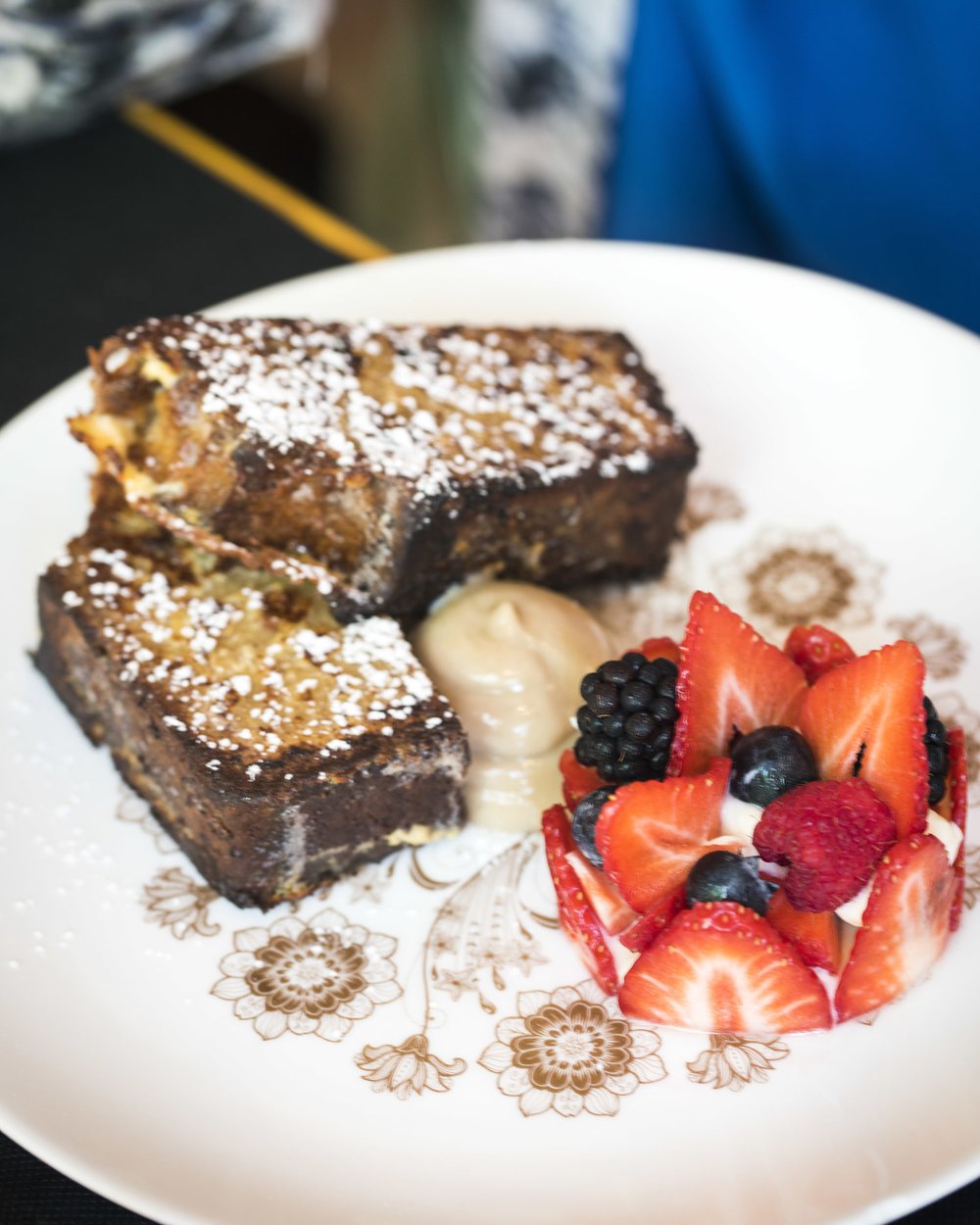 Nolita Brunch – A hidden gem in Poblenou, only a minute's walk from the metro. They have cool Brooklyn vibe to the place, and their savoury pancakes and Eggs Benedict with pulled pork are excellent. Read my review here.
C/ Llull 230 (Poblenou)
Little Fern Cafe – Poble Nou is lucky to have this cafe that is so lovely it will charm your pants off. Breakfast and brunch all day, and dumplings at night. Healthy and indulgent options, also for vegans and vegetarians. And beautiful brunch cocktails! Read my post here. 
Carrer de Pere IV 168 (Poblenou)
Bistrot Levante – For a Brooklyn kind of vibe but with a homey feeling head to Bistrot Levante, where you are guaranteed value for money. Elaborated, beautiful dishes in a pretty little place.
Placeta de Manuel Ribe (Gótico)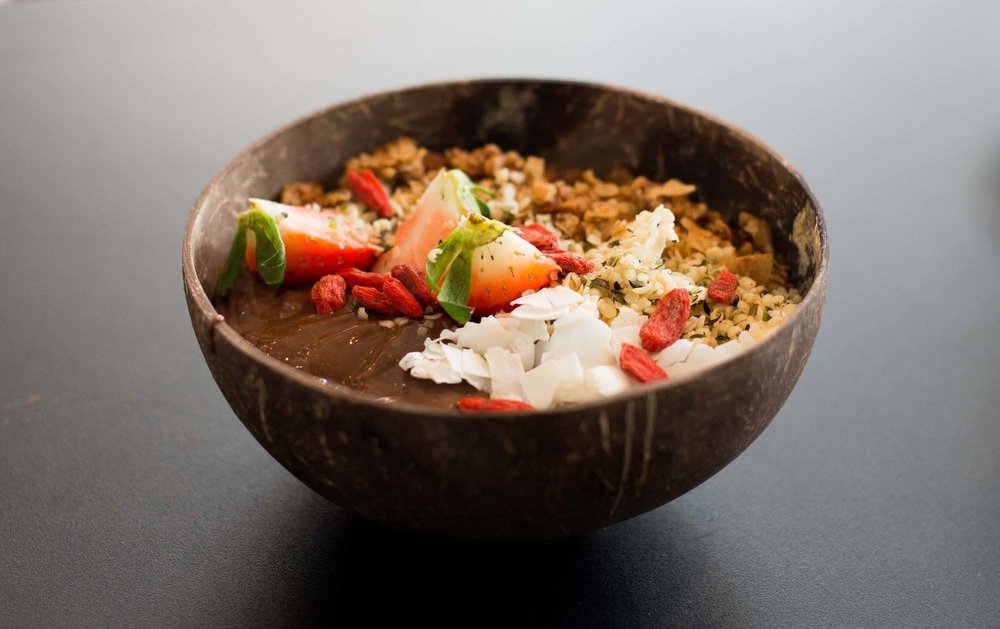 Lulu & Flyn Barcelona – This tiny little place focuses on healthy food, with really tasty (and pretty!) options. Read all about Lulu & Flyn here.
Marquès de l'Argentera 7 (Born)
Ugot Bruncherie – Flamingo wallpaper, killer cheesecakes and French Toast to die for. Go here for a wonderful atmosphere and a perfect brunch. Read more here.
Viladomat 138 (Eixample)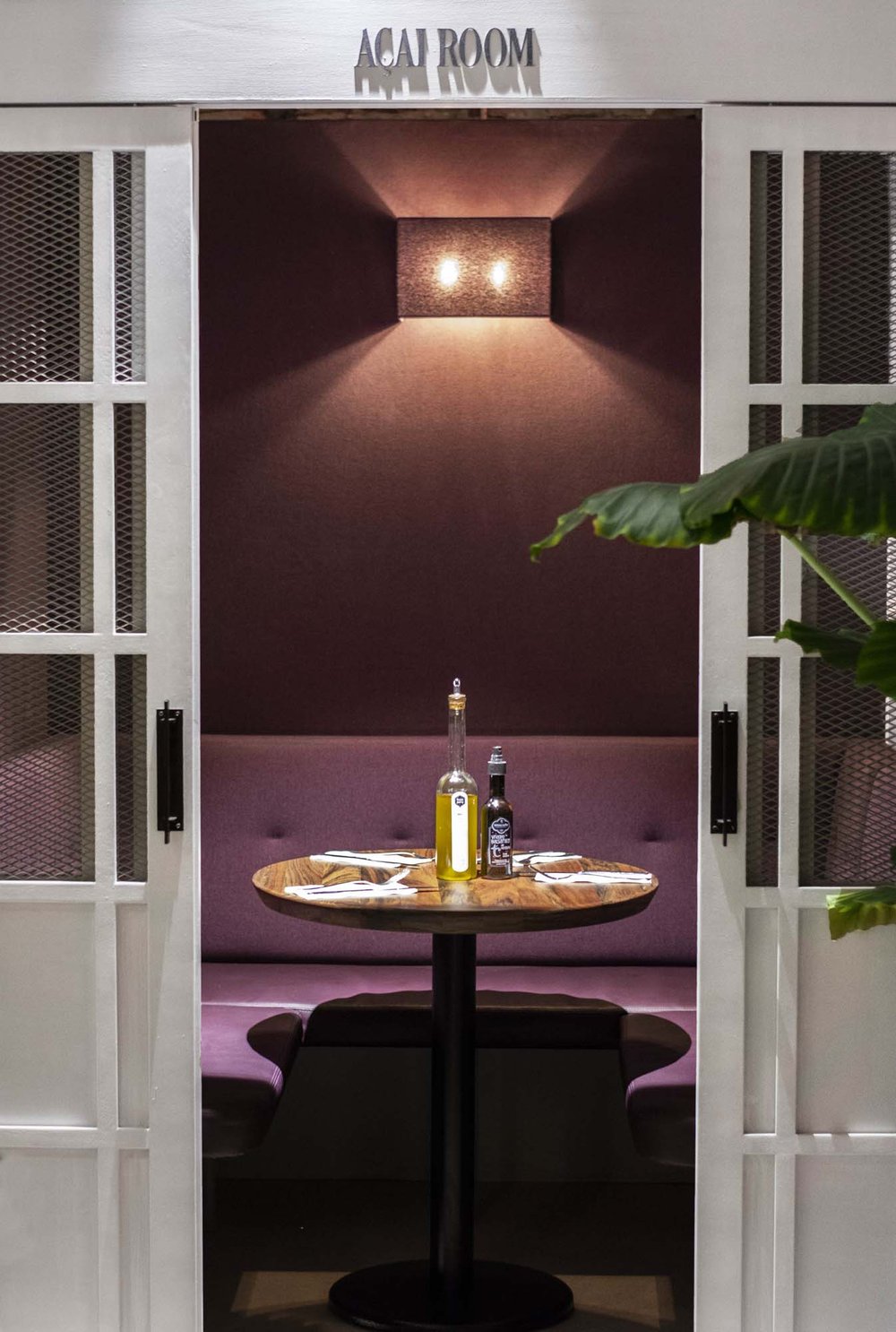 Flax & Kale – A healthy brunch in a cool space. They have various locations to choose from, of which the one on C/ Tallers with a terrace upstairs is my favorite.
Various locations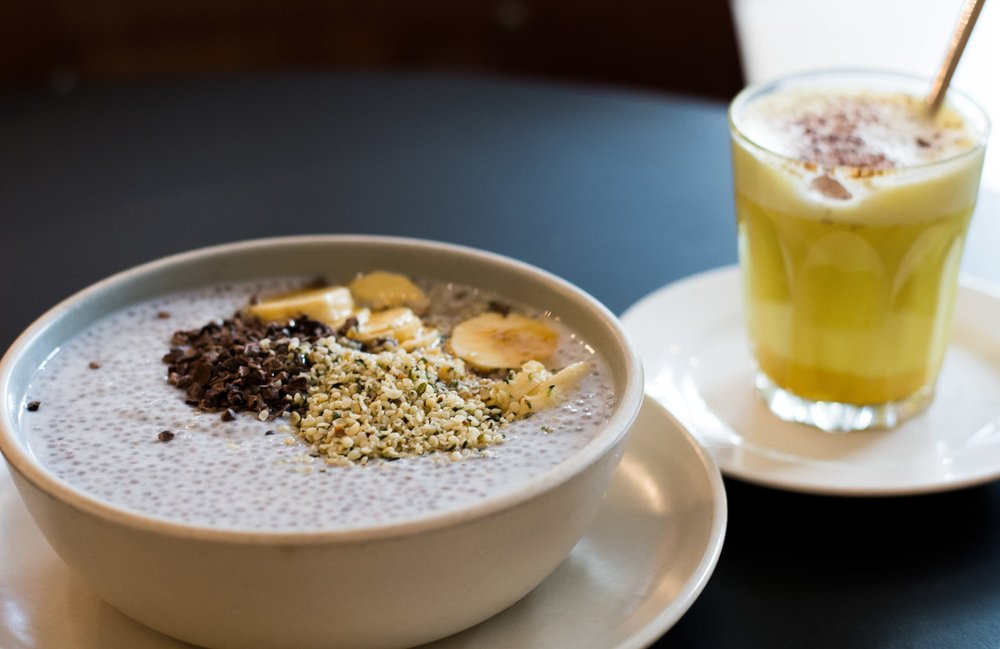 Federal Café – I love their enormous chia pudding, and it's a good place to get some work done too. Read more here.
Parlament 39 (Sant Antoni) / Passatge de la Pau 11 (Born)
Hammock Juice Station – This cosy place has plenty of healthy options, and VERY comfortable sitting hammocks to sit in. I love their yummy porridge, their pancakes, and the cookies and chocolate truffles. They also have stuff for takeaway! Read more here.
Mallorca 308 (Eixample)
Caravelle – They have all sorts of deliciousnesses (I know, it's not a word!) up their sleeve that you can't find anywhere else. The French Toast, just go for it.
Carrer del Pintor Fortuny 31 (Raval)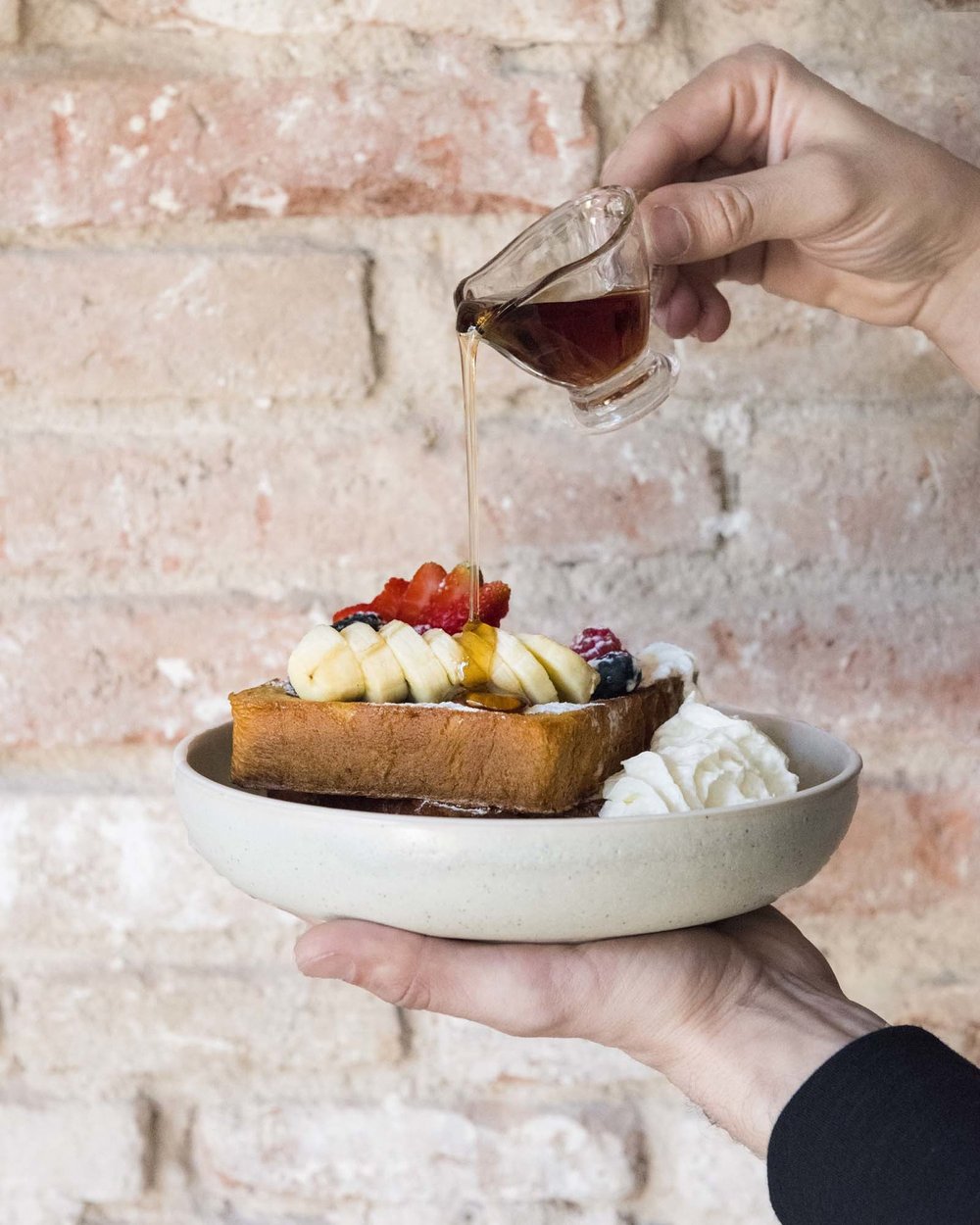 Oma Bistró – This cosy place is already a classic in Barcelona, thanks to their excellent brunches and wonderful cakes. Make sure you come early, as it tends to fill up quickly. Read my post here.
Consell de Cent 227 (Eixample)
Mama's Café – A secret back patio is a real crowd pleaser here, and they have good organic options to choose from. Plus they open already at 10 AM, which is actually a real brunch hour, not 13.00 like many places open their doors for brunch. Read all about it here.
Torrijos 26 (Gracia)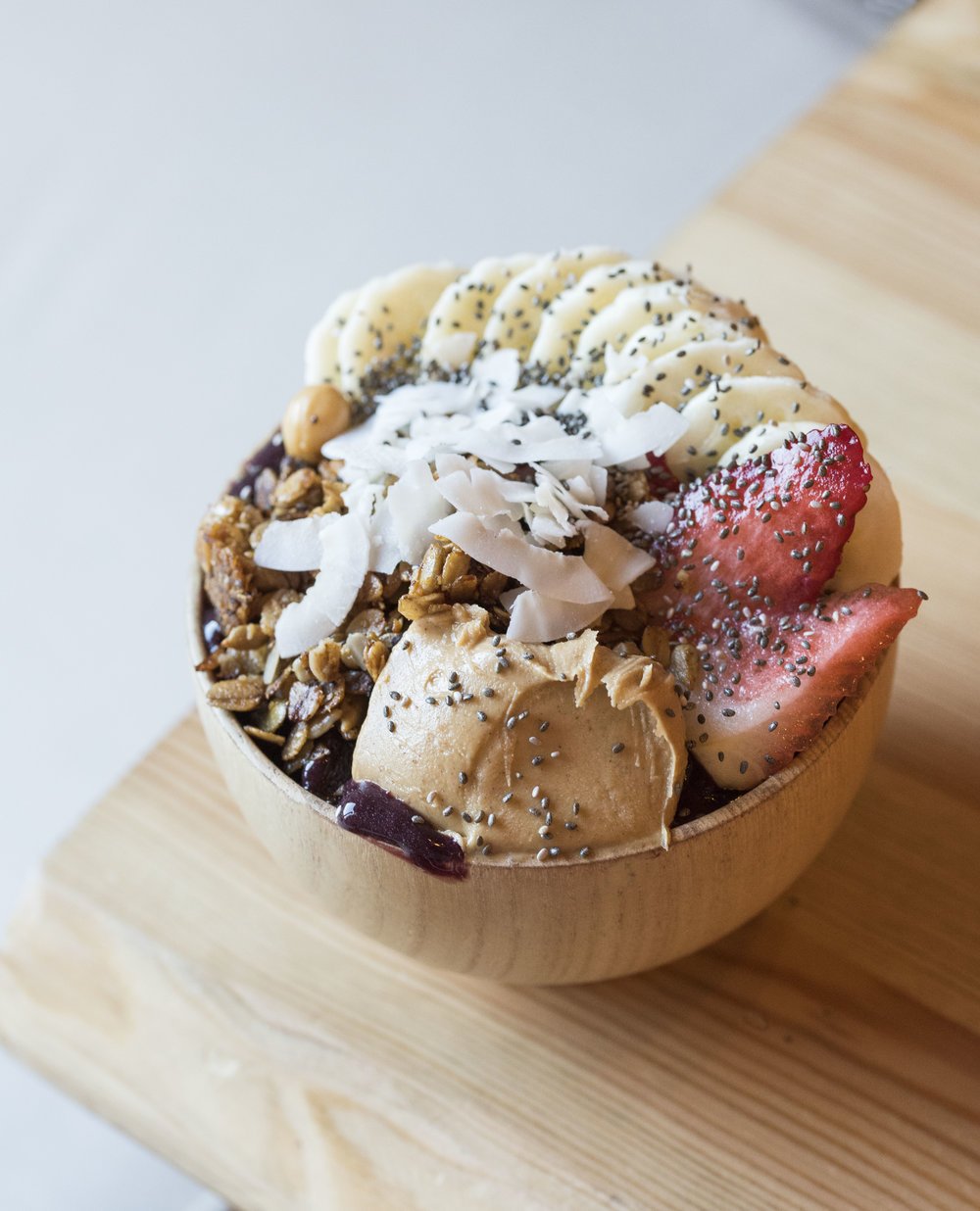 La Carioca – A wonderful, Brazilian hangout with a perfect brunch menu. Their açai bowl is one of the best I've ever had, and their cocktails are delicious (try the passionfruit mojito). They have live music on the weekends!
Plaça de Pau Vila 1 (Barceloneta)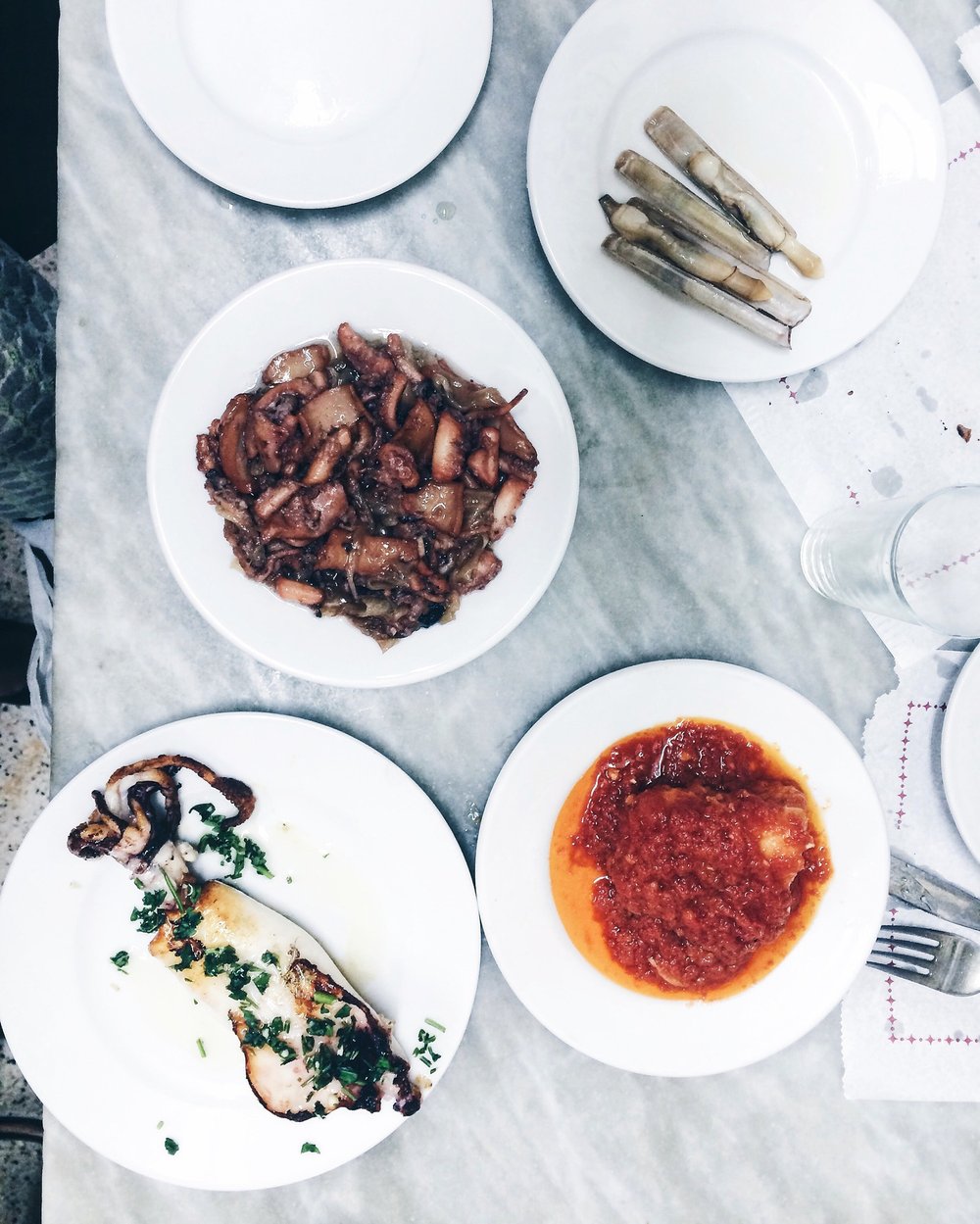 La Cova Fumada – Go old-school local and stuff your face with fish and its friends for next to nothing. More info here.
Carrer del Baluart 56 (Barceloneta)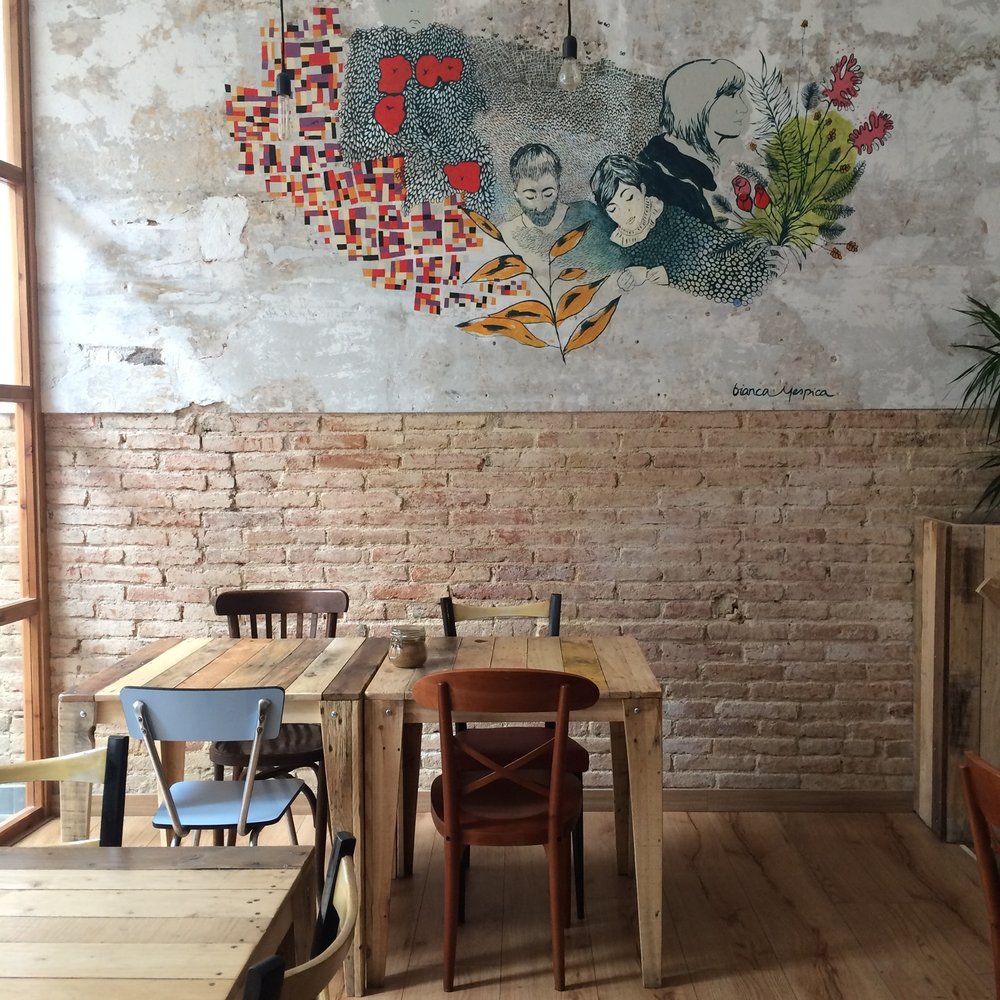 The Juice House – Healthy, inexpensive and so good! More info here.
Carrer del Parlament 12 (Sant Antoni)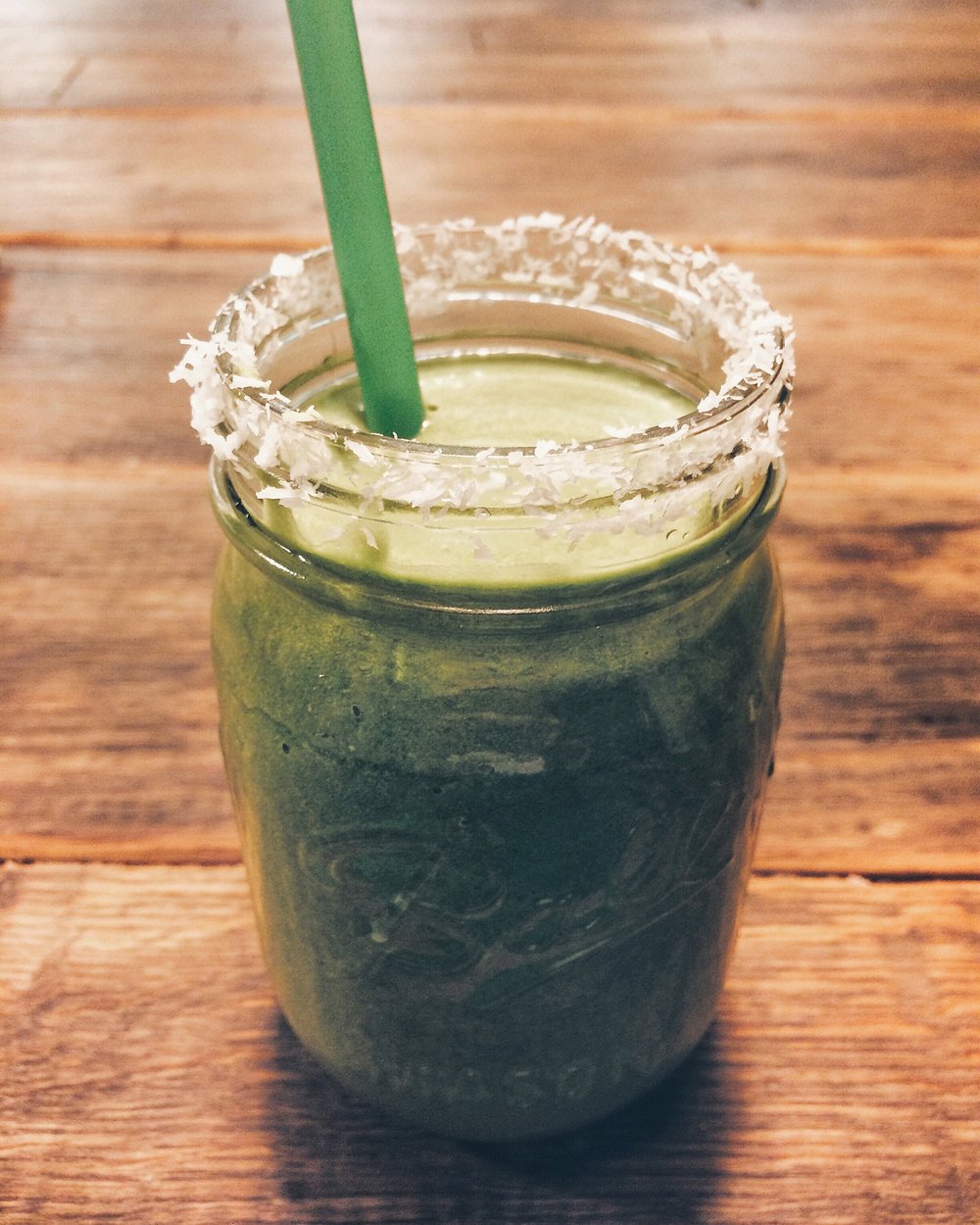 Green & Berry – A healthy brunch makes anybody feel better about themselves. Here you can find great smoothies, cold-pressed juices, açai bowls, avo toasts and tasty gluten-free cakes. Read more here.
Enrique Granados 153 (Eixample)
Maai – This place opens only Mondays to Fridays (8.00 to 16.00) but it's a great place for a good healthy breakfast or brunch. Their avocado toast is on point (with a limey twist), their açai bowl is packed with goodies and their savoury breakfast waffle is very tasty. The adzuki bean brownie is gluten free and covered in a coconut sugar caramel sauce, yummm..! Read full post here.
Regàs 30 (Putxet)
Chaka Khan – This charming and tropical Raval outpost serves eclectic brunches on weekends. Make sure to pair your tasty food with their delicious cocktails, the Sawadee Cup is amazing. Read my review on Chaka Khan here.
Carrer de l'Hospital 104 (Raval)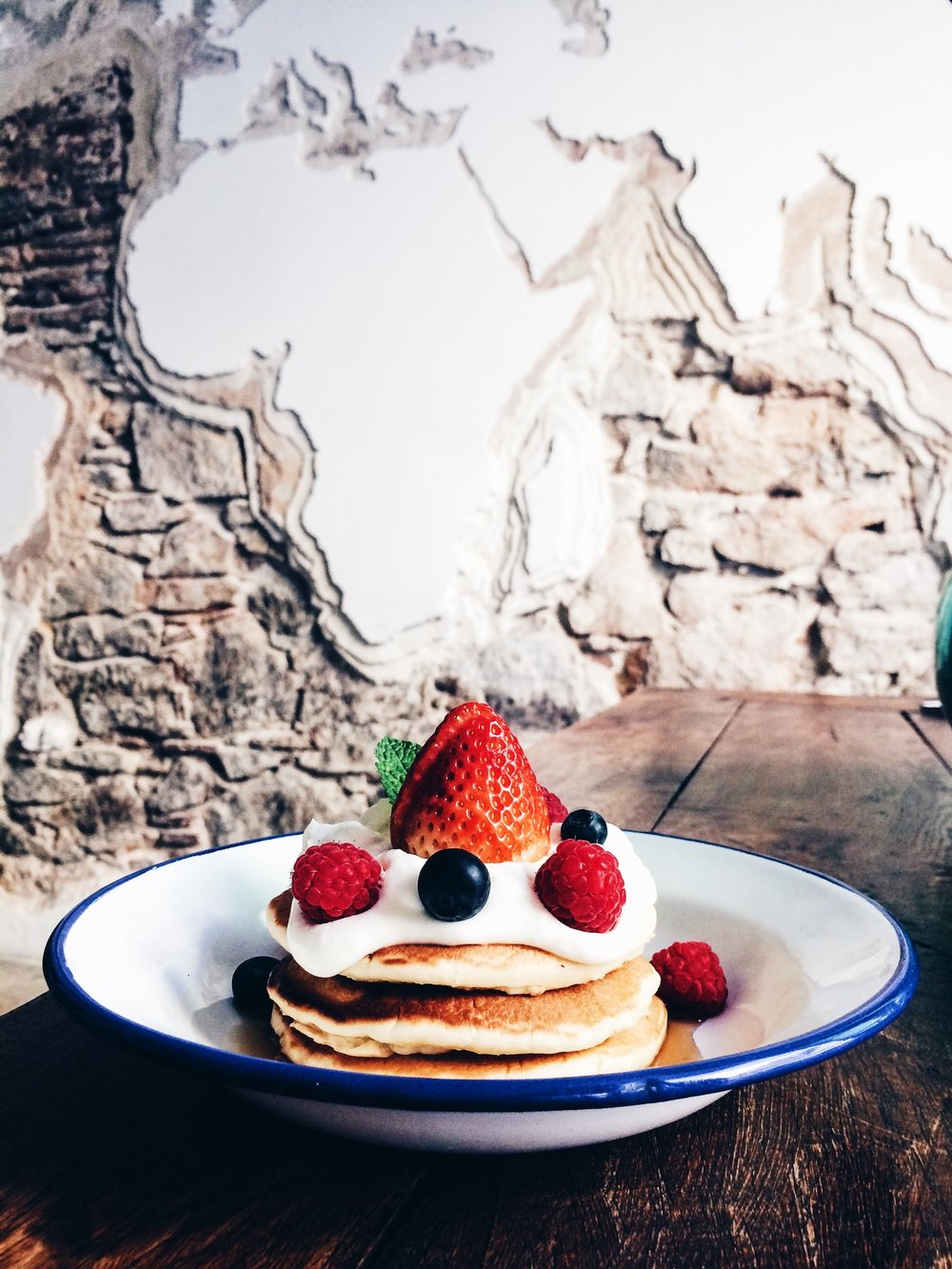 Trópico – Beautiful, tropical smoothies, fluffy pancakes and tasty Eggs Benedict. The place is cute. Read my post on Trópico here.
Carrer del Marquès de Barberà, 24 (Raval)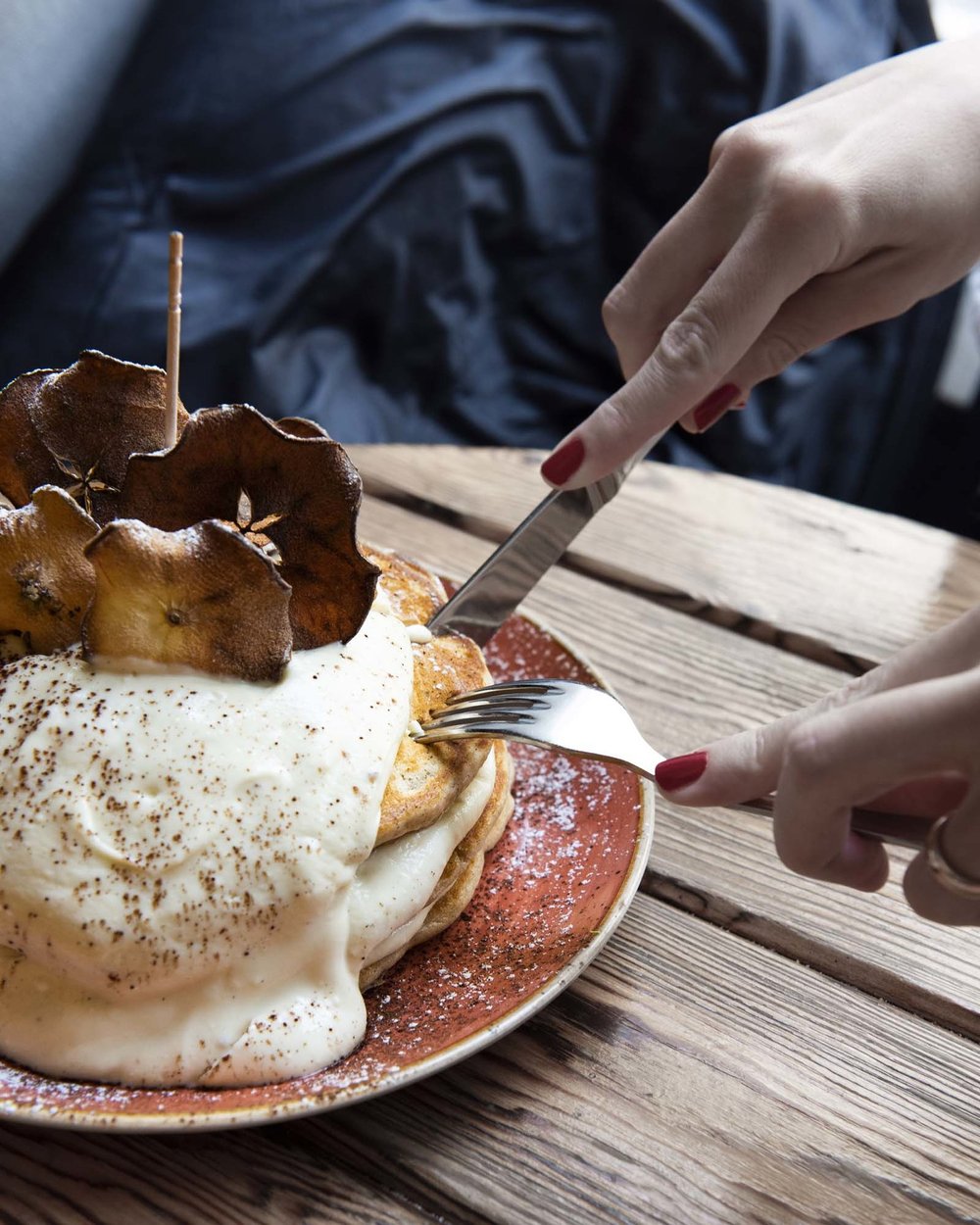 also worth checking out:
Camelia Art Cafe – They have two locations, both adorable. They are pet friendly.
Billy Brunch – They are doing something right here for sure, because it is often very busy! They have two locations, of which one has a cute garden.
By Kate – Adorable cakes, specialty coffee, and brunch. They have both vegan and gluten-free options, and are pet friendly! C/ Corsega 379 (Gracia).
Sabio Infante – This place is popular for parents with kids, and they put plenty of love into their coffee. Torrent de l'Olla 39 (Gracia)
Alsur Café – Big portions of really good sweet and savory items, and you can have them all day, any day. Don't miss their tasty brunchtails! Read more here. (Various locations)
Frenesi Café – This adorable café has a good brunch, and their açai bowl is wonderful. Make sure you get peanut butter with it! Read more here. Comte d'Urgell 115 (Eixample)
Note: This article is curated from Barcelona Food Experience's RSS Feed. To read the original article, click here.