Solo Travel Guide to barcelona for First Timers: Everything You Need To Know
If you're looking for a city that's welcoming, full of history, and filled with all the things you love (art, food, nightlife), look no further than Barcelona. It is a city of many communities and neighborhoods that share the same passion for good food, sunny beaches, and great fun.
But traveling alone to a city far away from home can be intimidating. So let's tackle the important questions you have — especially if it's your first time.
Here's your "Barcelona Solo Travel Guide" — everything you need to know about solo travel in Barcelona.
Is traveling solo to Barcelona safe?
Yes, but let's be honest — there is always some risk associated with traveling to any new place in the world. So always remember to take precautions and be aware of your surroundings.
Pickpockets are not rare, especially within the Metro and tourist area like La Rambla. A quick, but basic, travel safety tip to follow is to invest in a small travel pack that you can wear in front, or get a lock for your bag's zipper. Also, don't leave your belongings at all times.
ATTENTION! You don't want to get sick when you're traveling alone. In this seemingly continuing pandemic, make sure you follow all guidelines set for travelers and locals by the relevant authorities. Ensure that you meet all requirements to enter Spain, especially if you are coming directly outside of the European Union and Schengen countries.
To read a quick guideline on the latest entry requirement, please click here: Latest Entry Requirement to Spain
Let's always aim for safe solo travel in Barcelona!
Do they speak English?
Yes, for the most parts. Travelers won't have many issues getting by with English, especially in tourist areas. The main languages in Barcelona are Catalan and Spanish. But it is helpful to know some key phrases in the local language to get around easier. It also helps you to immerse better in the local culture.
Try this phrase to ask someone if they speak English: Parles angles? or Se habla Ingles?
When is the best time to visit Barcelona?
Solo travelers may enjoy a visit in April or May — a great time to visit if you're interested in sightseeing and enjoying the city's parks and gardens. The temperatures are mild and there are fewer tourists than during the summer months. You could easily spend hours just walking through the narrow streets of the Gothic Quarter, taking in the sights and sounds of this historic area.
June through September are the busiest months, so expect large crowds and high prices for hotel rooms and airfare. The beaches in Barcelona are a major draw for tourists during the summer months. The most popular beaches are located in Barceloneta, which is close to the city center. Other great beaches worth exploring are Sitges and Calella.
October is still warm but temperate enough for long walks, and November sees cooler temperatures without being too chilly. In autumn, there's the Festival of Sant Jordi, when men give women roses and books. Streets are decorated with flowers, and people come out to enjoy the festivities.
In winter, Barcelona comes alive with Christmas celebrations. The city is decked out in lights, and markets are selling traditional Christmas treats like turrón (a type of nougat) and panettone. There are also ice skating rinks set up in different parts of the city, and you can take a horse-drawn carriage ride through the streets to get into the holiday spirit.
Find flights with the best price below
Note: Our site is supported by readers and we may earn a commission from affiliate links at no additional cost to you.
What are the things to do in Barcelona on your own?
Barcelona is a city in Spain that is known for its art, food, and culture. While it can be enjoyed with others, there are also plenty of attractions and things to do on your own in Barcelona. You can head over to our Best Neighborhoods in Barcelona page to read a more detailed description of Barcelona's most popular districts.
For starters, visit some of the top Barcelona art museums such as the Museu Picasso and the Museu Nacional d'Art de Catalunya.
Take a walk along La Rambla, a bustling street filled with shops and restaurants. Head to Park Güell, an amazing park designed by Antoni Gaudi with beautiful mosaics and architecture.
Enjoy some tapas or paella at a local restaurant, and wander through Barcelona's old town districts. There is no shortage of things to do in Barcelona on your own – so get out there and explore!
Barcelona is a city with no shortage of beaches. But if you're looking for a beach that's away from the crowds, head to Bogatell. This beach is located in the district of Nou Barris, and it's one of the city's best-kept secrets. It's not as popular as Sant Sebastià, so you'll be able to find a spot to relax without having to worry about hordes of people. The sand is white and the water is crystal clear – it's worth a visit!
Prefer to see the different views over the city? Here are three things you can consider:
La Sagrada Familia: This church, designed by Antoni Gaudí, is a must-see in Barcelona. Not only is it an architectural masterpiece, but it also offers some of the best views of the city.
Tibidabo Mountain: This mountain is located on the outskirts of Barcelona and offers amazing panoramic views of the city. It's a great place to visit if you want to get away from the hustle and bustle of the city center.
Port Vell: A popular spot is this port that juts out into the Atlantic Ocean. You can get a fantastic view of the city and if you go at sunset, you can see the sunset over Barcelona.
How to get around in Barcelona?
Barcelona is a city best explored on foot. The narrow streets and medieval architecture make for a charming backdrop as you lose yourself in the city's culture.
La Rambla is a great place to start your walk through the city. Here you'll find street performers, souvenir vendors, and plenty of restaurants and bars to stop in for a drink or bite to eat.
Make your way to the Gothic Quarter for a glimpse of Barcelona's oldest architecture, then continue to Park Guell for some stunning views of the city. Finish up your day by exploring Barceloneta, the old fishing district that has been transformed into a lively beachfront neighborhood.
A different way to explore and discover the charm is through its metro and bus network around the city. From €15.58, you can get unlimited journeys from 48 to 120 hours with the Hola Barcelona Travel Card. Did I forget to mention that it includes travel using the airport's metro and train?
Prepare a map — free!
Always know where you are with a map. The first place to try is the tourist office. They usually have a good selection of maps, and can give you helpful advice on the best ones for your needs. Another option is bookstores.
Or, simply use Google Maps. Save and download an area to your mobile phone. Once done, you can use it when you're offline — no internet connection is necessary. Find out here how to Download Areas & Navigate Offline with Google Maps.
Where to stay in Barcelona?
Finding the best accommodation in Barcelona depends on what you want. Some solo travelers like to splurge on accommodations, many prefer hostels.
If your ideal accommodations are hotels with many sparkling stars, head to the Eixample neighborhood. It's where you'll find the Eixample Hotel and the InterContinental Barcelona. You can also stay at the Ritz Esmeralda, which has earned a 5-star rating.
While Poble Sec, El Raval, and Barceloneta have many mid-to-budget offerings, a little further away are Gràcia and Poblenou.
Poblenou is a district in Barcelona that is known for its nightlife and its range of places to stay, from hostels to luxury hotels. It is also close to the Gaudi-designed Park Güell, which is home to the famous Modernista architecture.
Prefer to stay in hostels? There are many hostel types to choose from like dorms, private rooms, and party hostels. Most of them are around the central. Just like hotels, the closer you are to the center, the higher the cost. Take a look around the Gothic Quarter and El Born. It's worth your time to check out the Montjuic area also — slightly far from the central area, but a beautiful neighborhood to stay.
Head over to our guide to Barcelona's Best Neighborhoods for some recommendations or find the best hotel below.
Note: Our site is supported by readers and we may earn a commission from affiliate links at no additional cost to you.
What to eat?
When in Barcelona, Spain, it is important to know what to eat. The city is known for its tapas, small plates of food meant to be shared.
Hold up! This is the guide for a solo trip to Barcelona — why do we need to talk about "sharing"? Shouldn't we be dining alone?
When it comes to food, the Spanish culture is big on communal eating. And in Barcelona, tapas is the must-eat food for many. Some solo travelers would join a Food Tour to enjoy the best foods the city has to offer — especially those guided by the locals.
Still want to go at it alone? You can still enjoy tapas on your own. Many tapas joints welcome solo diners. No need to feel awkward and ask for a table for yourself.
Another local favorite is paella, a rice dish that can be made with seafood or chicken and vegetables. There are also plenty of dessert options in Barcelona, including churros con chocolate (fried doughnut sticks dipped in chocolate) and crema catalana (a custard dessert). So whether you're looking for a light snack or a hearty meal, there's something for everyone.
Where to eat?
There are many great places to eat in Barcelona, but some areas have a higher concentration of restaurants than others.
La Rambla is one of the most popular areas for foodies, with a wide variety of restaurants to choose from.
If you're looking for something more traditional, head to the Gothic Quarter or El Born. These neighborhoods are home to some of the city's best tapas bars and seafood restaurants.
For a more international flavor, check out the beachside neighborhood of Barceloneta or the trendy district of Poblenou.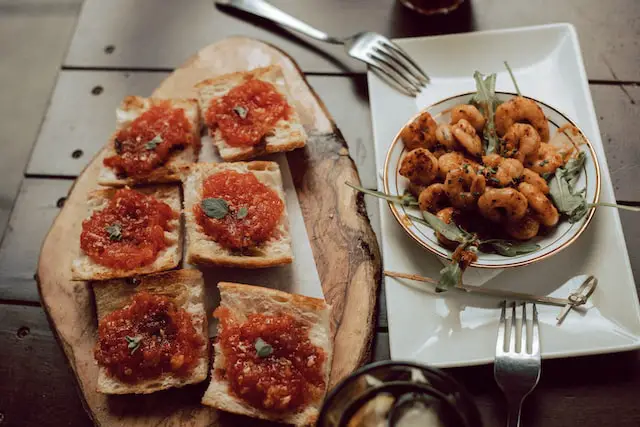 How much does it cost for a solo travel to Barcelona?
The cost of a trip to Barcelona depends on what you plan on doing while there and when you visit. According to championtraveler.com, the average solo travel forks out $1,249-$2,439 including the airfare.
Airfare can vary depending on the time of year you go and how far in advance you book your ticket. For example, flights from the United States to Barcelona in the summertime can be around $1,000-1,500 round-trip.
Lodging is another expense to consider when planning a trip to Barcelona. If you want to be close to the action, consider staying in a hostel. Hostels in Barcelona can cost from $30 per night for a dorm room to $200 per night for a private double room.
How to travel to and from Barcelona in Spain?
Barcelona is a city located in the northeast of Spain. It's a popular tourist destination, with plenty of things to see and do. If you're planning on visiting Barcelona from another city in Spain, there are a few ways to travel there. You can take a bus, train, or flight.
Many bus companies offer routes between Barcelona and other Spanish cities. One of the most popular is ALSA. They offer several buses a day between Barcelona and Madrid, as well as other destinations. The trip usually takes around 7 hours, depending on the route.
Another popular way to travel between Spanish cities is by train. Several high-speed trains offer trips between Barcelona and other cities in a few hours. Some of the most popular routes include Madrid-Barcelona, Valencia-Barcelona, and Seville-Barcelona.
Many people choose to fly into the city from other parts of the country. The Barcelona-El Prat Airport is the main airport in the region, and it offers flights from several other Spanish cities. There are 2 other airports in the city. Girona-Costa Brava is about 100 kilometers northeast of Barcelona, while Reus is located about 50 kilometers south of the city.
Some of the most popular flight routes are those between Barcelona and Madrid, which are operated by both Iberia and Vueling Airlines. Other popular routes include flights between Barcelona and Malaga, Granada, Valencia, Seville, and Bilbao.
Tickets for these flights can be booked below:
Note: Our site is supported by readers and we may earn a commission from affiliate links at no additional cost to you.
Conclusion: Travel to Barcelona as a solo traveler? Do it!
Barcelona is a great city for first-time solo travelers. With its rich history, vibrant culture, and delicious food, there's something for everyone in this amazing city. Be sure to visit iconic landmarks like La Sagrada Família and Park Güell, and soak up the sun on the beach during your stay.
Like this guide? Make sure you share it with your friends. Bookmark the page also, so you can always go back to read it later. This guide will continue to be updated with more information.