Barcelona, the vibrant capital of Catalonia, is known for its rich culinary scene that combines traditional Catalan flavors with modern gastronomic creativity.
As a solo traveler in this remarkable city, your taste buds are in for a treat! Get ready to embark on a gastronomic adventure with these 7 delicious foods you must try:
1. Tapas
The quintessential Spanish and Catalan tradition, tapas are small plates meant for sharing and exploring different flavors.
From the classic patatas bravas (fried potatoes with spicy tomato sauce) to creative seafood delights like pulpo a la gallega (octopus with paprika), tapas are a must-try in Barcelona.
Head to the lively neighborhoods of El Born or Gracia for a true tapas experience.
In addition to the typical dishes, many bars and restaurants offer their own unique takes on tapas. Pair your food with a refreshing glass of sangria or a local vermouth for the perfect dining experience. 
2. Paella
A symbol of Spanish cuisine, no visit to Barcelona is complete without indulging in a plate of mouth-watering paella.
Consisting of rice, saffron, and a variety of ingredients such as seafood, chicken, and vegetables, this hearty dish is full of vibrant flavors.
For an authentic experience, venture out of the touristy areas and explore local restaurants in the neighborhoods of Barceloneta or Poble Sec.
3. Pintxos
Hailing from the Basque Country but widely popular in Barcelona, pintxos are small bites served on a slice of bread and held together with a toothpick.
The options are endless, with toppings ranging from fresh seafood to cured meats and cheeses. Wander through the narrow streets of the Gothic Quarter and visit La Boqueria market to find some of the best pintxos bars.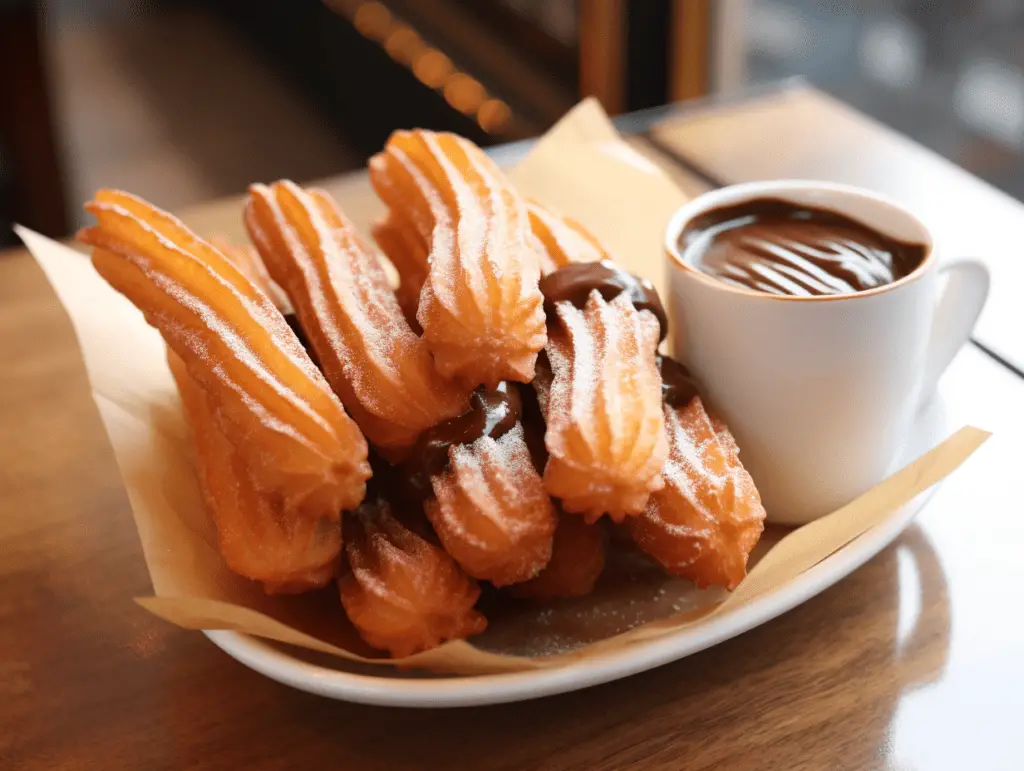 4. Churros con Chocolate
Indulge your sweet tooth with this delectable Spanish treat. Churros, deep-fried dough sprinkled with sugar, are traditionally dipped in thick, rich hot chocolate. Whether you enjoy them for breakfast or as a midday snack, you'll find plenty of places in Barcelona serving these delightful delights.
Head to Granja Viader, a historic café in the Raval neighborhood, for a memorable churros con chocolate experience.
5. Crema Catalana
A Catalan spin on the classic crème brûlée, crema Catalana is a heavenly dessert that will leave you wanting more. Made with custard infused with cinnamon and hints of citrus, and topped with a caramelized sugar crust, this dessert is the perfect sweet ending to any meal. Enjoy this delightful treat in traditional Catalan restaurants such as Can Culleretes, one of Barcelona's oldest restaurants.
6. Fideuà
Seafood lovers rejoice! Fideuà is a beloved Catalan dish similar to paella, but with a unique twist. Instead of rice, thin noodles, known as fideus, are used, resulting in a delightful medley of flavors and textures.
From succulent seafood to aromatic saffron, the combination is simply divine. Visit the coastal neighborhood of Barceloneta for a taste of authentic fideuà.
7. Cava
Don't forget to toast to your solo adventure with a glass of cava, Catalonia's very own sparkling wine. Made using the same traditional methods as its French counterpart, champagne, cava is crisp, refreshing, and pairs perfectly with the vibrant atmosphere of Barcelona.
Head to Cava Bodega, a cozy wine bar in the Gothic Quarter, and raise your glass to celebrate your culinary journey.
Eating alone in Barcelona?
Eating alone in Barcelona can be a great way to experience the city's vibrant culinary scene. Many restaurants offer bar seating or high-top tables, which is perfect for solo diners.
Tapas bars are also a popular option for solo travelers, as you can sit at the bar and enjoy small plates while chatting with the staff or other diners. 
There are a variety of places to enjoy a meal alone, outside of a restaurant setting. One of the best options is a peaceful park or scenic outdoor location, where you can sit and savor your food while taking in the beauty of your surroundings.
Another great option is a cozy coffee shop or bakery, where you can indulge in a tasty treat or hot beverage while reading a book or catching up on work.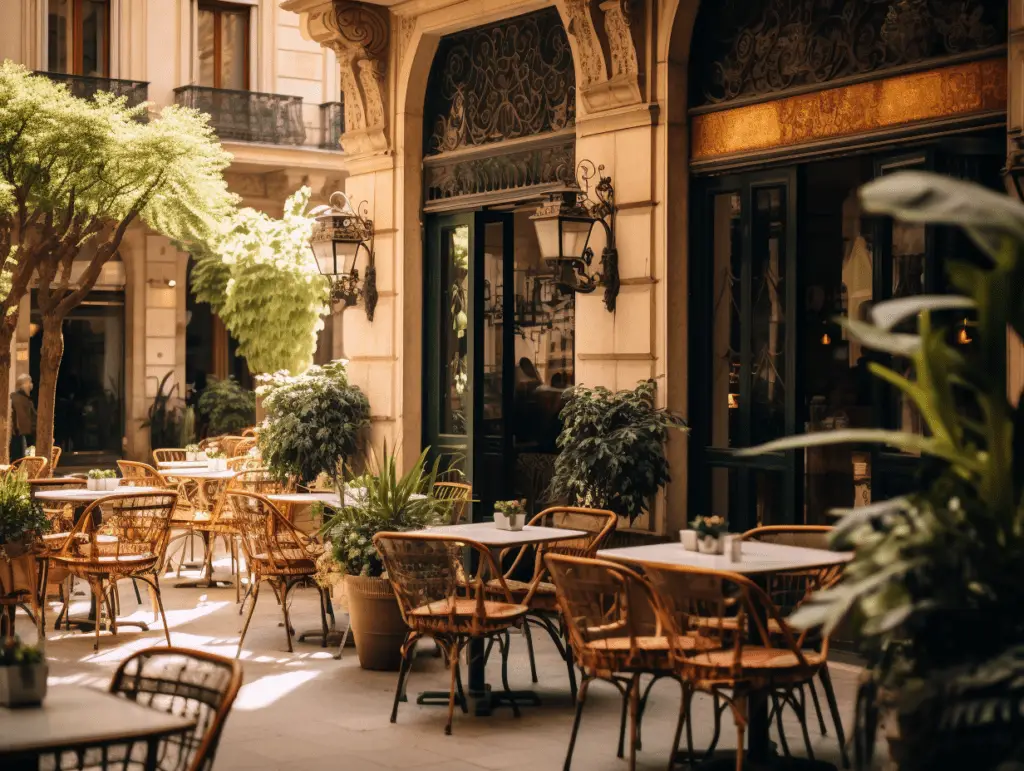 Best place for Cafe Hopping in Barcelona?
While there are many great areas to explore, the best area for cafe hopping in Barcelona is undoubtedly El Born.
Located in the heart of the city, El Born is a neighborhood known for its narrow streets, old-world charm, and vibrant atmosphere. There are dozens of cafes situated along its winding roads, each with its own distinct character and vibe.
From cozy little corners with rustic decor to modern cafes with sleek interiors, there is something for everyone in El Born.
Some of the most popular spots for cafe hopping in El Born include Cafe de l'Òpera, a historic cafe with live music, and Federal Cafe, a trendy spot with an impressive selection of coffee and pastries. Other notable cafes in the area include La Esquina, Alsur Cafe, and SandwiChez.
Embarking on a solo adventure in Barcelona is not just about exploring the city's stunning architecture and vibrant culture; it's also an opportunity to indulge in its culinary delights.
Whether you're a fan of tapas, eager to try paella, or have a sweet tooth calling for churros con chocolate, Barcelona has something to satisfy every palate. So, get ready to treat yourself to a foodie extravaganza like no other!