Barcelona is known for its breathtaking beaches and sunny weather. With its vibrant atmosphere and crystal-clear waters, a day spent by the sea in Barcelona is an experience like no other. Whether you're a local or a tourist, there are plenty of beach activities to enjoy.
So grab your sunscreen and flip flops, and get ready for a fantastic day in the sun!
Beach Heaven: Finding The Perfect Catalan Coastal Escape
Barcelona, a vibrant coastal city in Spain, offers a variety of beautiful beaches for locals and tourists to choose from.
One popular choice is Barceloneta beach, located in the bustling district of the same name. Its proximity to the city center makes it easily accessible, and its vibrant atmosphere draws in both locals and visitors alike.
With its golden sand, crystal-clear waters, and palm trees swaying in the breeze, Barceloneta beach provides a picturesque setting for soaking up the Mediterranean sun.

Another beach worth considering is Nova Icaria beach, nestled between Barceloneta and the Olympic Port.
This beach is known for its clean and spacious shoreline. Nova Icaria is popular among families and sports enthusiasts, offering a range of activities such as beach volleyball, table tennis, and even a nearby sailing club.
The laid-back atmosphere and numerous beachside restaurants and bars make it an excellent choice for a relaxing day by the sea.

For those seeking a quieter and more tranquil beach experience, Bogatell beach is an ideal option. Situated in the Poblenou neighborhood, this stretch of coastline is slightly off the beaten path.
As a result, it tends to be less crowded compared to its neighboring beaches. Bogatell beach is renowned for its calm, clear waters and is particularly favored by local residents seeking refuge from the city's hustle and bustle.
Its pristine sand and array of facilities, including showers, sunbed rentals, and beach volleyball courts, add to its appeal.

Lastly, if you're looking for a beach with a local charm and a bohemian atmosphere, head to Nova Mar Bella beach.
Located further north, away from the city center, Nova Mar Bella offers a more natural and less touristy vibe.
It is favored by locals, especially the younger crowd, and is known as a place where creative and artistic activities often take place. The beach is surrounded by green areas, making it a great spot for a leisurely walk or a picnic with friends.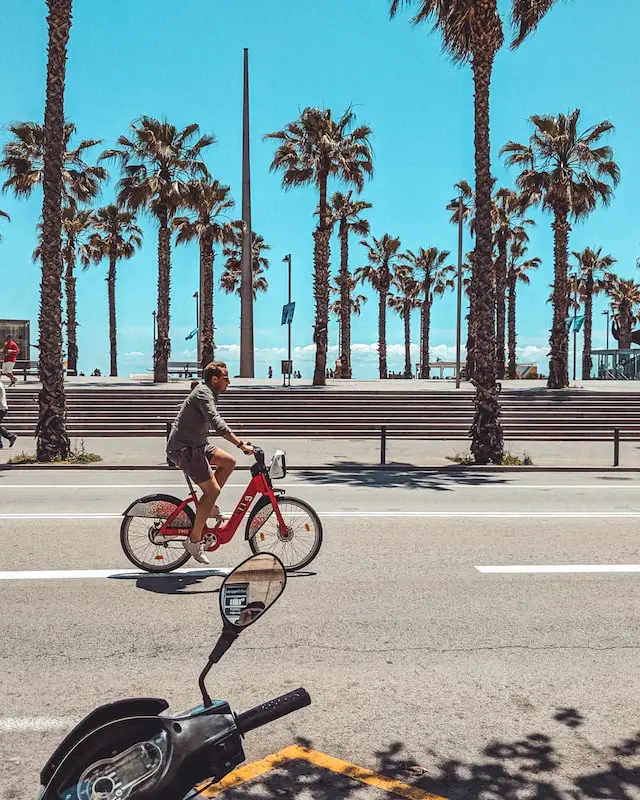 Beach Activities in Barcelona
1. Soak up the sun: There's nothing quite like lying on the warm sand, feeling the sun's rays on your skin. Barcelona's beaches offer the perfect opportunity to relax and unwind.
Find a cozy spot, set up your towel or beach chair, and let the day melt away as you bask in the glorious sunshine.

2. Take a dip in the sea: The turquoise waters of Barcelona's beaches are simply irresistible. Take a refreshing swim to cool off from the heat. Let the waves wash away your worries as you float on the gentle sea.
The Mediterranean Sea is usually calm, making it an ideal place for a relaxing swim or even some snorkeling.

3. Play beach volleyball: If you're up for some friendly competition, join a game of beach volleyball. Many of the beaches in Barcelona have designated areas where you can find a game in progress or start one yourself.
It's a great way to meet new people and stay active while enjoying the stunning beach views.

4. Try water sports: Barcelona's beaches offer an array of water sports for thrill-seekers. From jet skiing to paddleboarding, there's something for everyone.
Rent equipment from one of the beachside vendors and dive into the excitement of water sports. Whether you're a beginner or a seasoned pro, the crystal-clear waters provide the perfect playground.

5. Enjoy a beachside picnic: Pack a delicious picnic and enjoy it on the sand while taking in the breathtaking views.
Barcelona's beaches have ample space for picnicking, so gather your favorite snacks and drinks, and create a memorable beachside feast. Don't forget to bring a frisbee or a ball to have some fun games with friends and family.

6. Explore the beachfront promenade: Take a leisurely stroll along the picturesque beachfront promenade, known as the Passeig Marítim.
Enjoy the enchanting views of the sea and the iconic Barcelona skyline. The promenade is lined with charming cafes, bars, and restaurants, perfect for grabbing a refreshing drink or a bite to eat.

7. Watch the mesmerizing sunset: As the day draws to a close, don't miss the opportunity to witness the breathtaking sunset over the Mediterranean Sea.
Grab a front-row seat on the sand, and watch as the sky transforms into a spectacular mix of vibrant colors. It's a truly magical experience that you'll never forget.

Barcelona's beaches are a haven for relaxation, fun, and adventure. Whether you prefer to soak up the sun, dive into the sea, or try out water sports, there's something for everyone.
So, pack your beach essentials and make the most of your day in the sun. Barcelona awaits you with its dazzling beaches and warm Mediterranean charm!