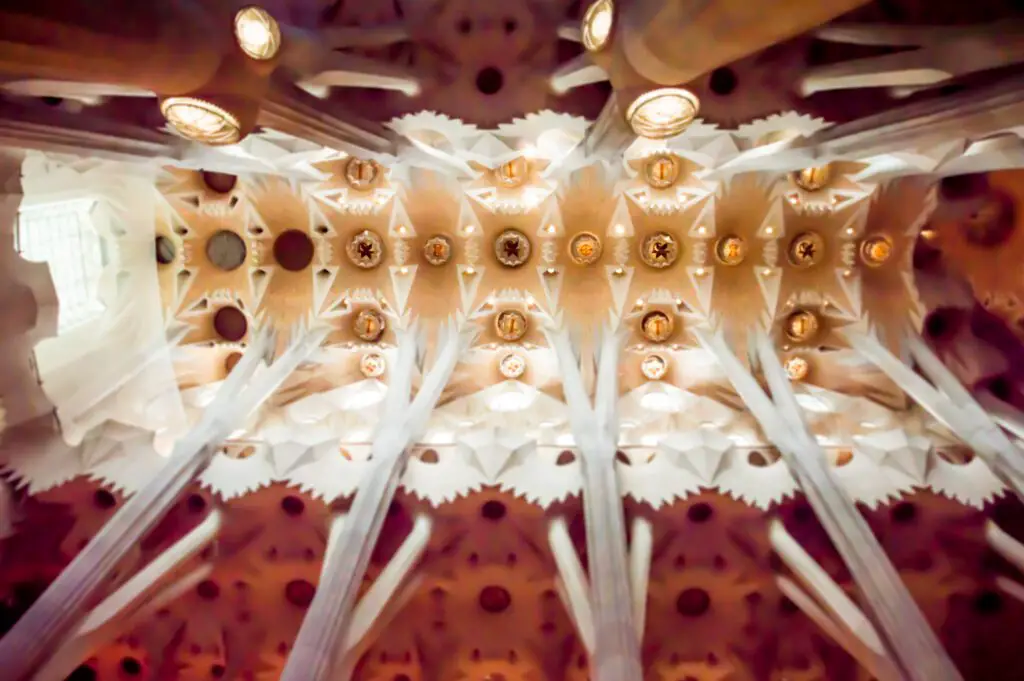 The La Sagrada Familia is one of the most iconic landmarks in Barcelona, Spain. It is also one of the most popular Barcelona attractions.
This magnificent building has captivated visitors from all over the world for centuries. Construction began in 1882 by architect Antoni Gaudi. But completion is only expected in 2026.
Is Sagrada Familia under construction? Yes.
Is it open for visitors? Yes it is despite the ongoing construction.
With its unique design and intricate detail, it's no surprise that the Sagrada Familia draws millions of tourists each year. If you're planning a visit to Barcelona, a trip to this active site should be at the top of your list!
To help make your visit as enjoyable as possible, here's our complete guide to visiting this magnificent structure.
We'll cover everything from admission fees to tips on making sure you get the best views of this stunning architectural wonder.
So get ready for an unforgettable experience exploring one of Spain's most beloved attractions!
How much is the ticket to Sagrada Familia?
When purchasing a ticket for the Sagrada Familia there are several types to choose from: basic entrance tickets, tickets with audio guides or guided tours, and even special packages for larger groups.
The cost of an entry ticket to Sagrada Familia depends on several factors such as whether you book online or at the entrance and if you want an audio guide or not. The standard ticket price is €26 (~$27 USD).
Can You Go Up The Sagrada Towers?
In short, yes. You can visit the towers and go up. But you may need to purchase a different ticket. If you want to enter the towers, the price is €36.
The unique design of the towers captures both religious symbolism and modern elements, creating a fusion between past and present.
Its many spires are adorned with intricate sculptures representing different Biblical figures such as Jesus Christ and Virgin Mary. Most notable is its central tower dedicated to Jesus which reaches 172 meters tall!
A total of eighteen spires grace each side of the building, adding another level of enchantment to this architectural masterpiece.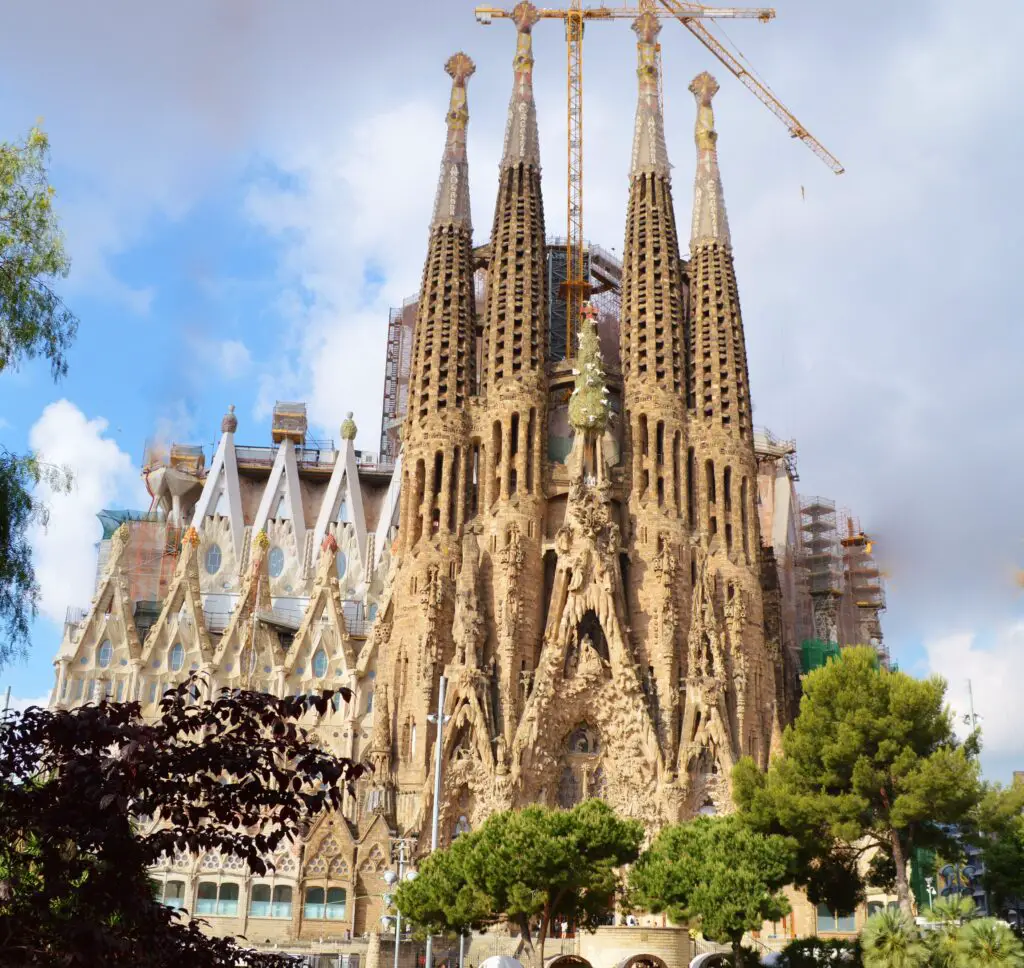 Self Guided Tour at Sagrada Familia
As a solo traveler, we recommend the self-guided audio tour by WeGoTrip. Not only a best seller, but the audio tour includes an entry ticket, allowing you to jump the queue.
And, trust us. You want to jump the queue for this magnificent place.
This interactive tour allows you to explore the Sagrada Familia on your own terms. With it, you will listen to an expert guide narrating stories about its history and design elements.
From Antoni Gaudí's unique artistry to its breathtaking stained glass windows, you'll learn about these details and more on this audio tour.
You can even take your time looking at the various sculptures and ornaments along each path for a truly immersive experience.
Note: Some of the links here are affiliate links. There's NO additional cost for you, but it does help our team to earn some coffee money to help write more travel guides for you if you make a purchase through the links.
Sagrada Familia Opening Hours
The basilica is open every day from 9 am from Monday to Saturday; 10.30 am on Sunday. The closing hours vary based on the month:
Nov to Feb: 6 pm
Mar to Oct: 7 pm
Apr to Sep: 8 pm
The management may change the time to visit Sagrada Familia. For example, during Christmas when the opening hours are shorter.
So if you want to visit La Sagrada, make sure you check the timing. The best tops for visiting is to buy a ticket online because you generally need to choose a time slot to enter.
Accessibility: Consider All Visitors
Accessibility is an important consideration no matter where you go in the world. The Sagrada Familia is built with the intention of being fully accessible for all visitors, including those with physical disabilities or other special needs.
There are wheelchair ramps throughout the building and accessible restrooms on each floor. In addition, there are audio guides available for people who are blind or visually impaired that provide additional information about its history and design elements.
How To Get to Sagrada Familia
Start at Plaça de Catalunya, which is served by four metro lines: L1 (red), L3 (green), L6 (dark blue) and L7 (light blue). The easiest route is to take Line 5 from Plaça de Catalunya until you reach Sagrada Família station, which takes about 10 minutes and doesn't require any transfers.
Rules You Must Know Before Visiting Sagrada Familia
Before you plan your visit, there are some rules that you must follow to get the most out of it.
Firstly, ensure that your clothing is appropriate for this religious site. You are visiting an active Catholic church after all.
Visitors should wear clothes that cover their shoulders and legs. Your skirts or trousers must come down to a minimum mid-thigh.
You are not allowed to wear see-through clothing. No hats inside except for religious or health reasons. And, please do not enter barefoot.
It is also important to remember that photography is generally not permitted within the church itself unless you have special permission.
For more information, check out the official rule page here.
Conclusion: Ready to Visit!
The Sagrada Familia is an iconic architectural marvel that should be on every traveler's bucket list. The awe-inspiring structure has a rich history and stunning beauty that make it one of the most visited landmarks in all of Europe.
Whether you're a first-time traveler or a seasoned globetrotter, there's no denying that visiting the Sagrada Familia is an unforgettable experience.
This guide has provided travelers with all the necessary information for preparing for and enjoying their trip to this incredible landmark. Now, you too can go with confidence knowing you're ready to explore one of Europe's greatest monuments.
With so much to offer, it's no wonder why so many people flock to visit this amazing building – now it's your turn!